Celebration
For the Love of Food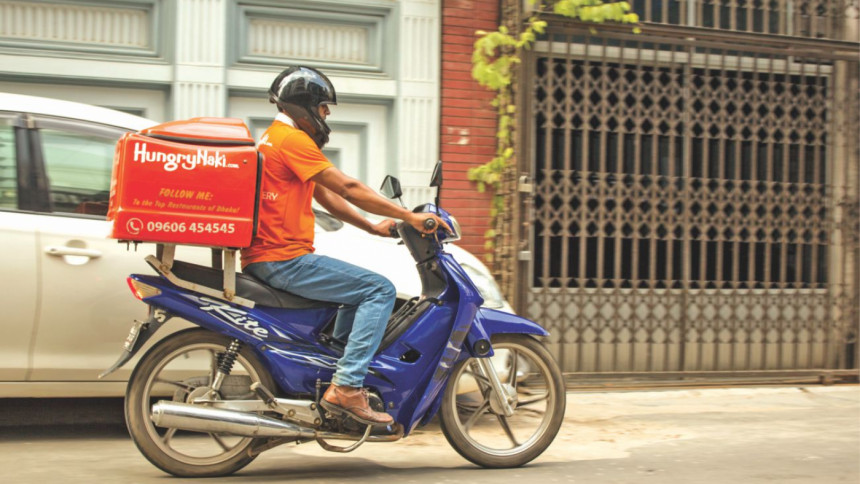 We Bangalis tend to fall head over heels for mouth watering proteins and carbohydrates. A city like Dhaka, where there are so many choices of restaurants, and so little option for recreational activities, that food has become a huge part of our culture. In a busy, not to mention jam packed city like ours, it's quite hard to find time or the energy to go out these places. That's where Hungry Naki.com makes an entrance to make us Dhakaites life a little bit easier. With a very straight forward service and a simple website, they have won the hearts of many food enthusiasts and have been the most popular food delivery system in the city. And this October they will be completing their two years in the market.
Founded by Ahmad A D, Sazid Rahman, Rifat Nabi and Tausif Ahmad the website first began operating from October, 2013.  "Like everyone else, we used to meet up after office hours and used to brainstorm business ideas," says A N M Saiful Imam, senior marketing executive. "These meetings used to take place for a very long time, and food was a must. When we struggled to order food from various places at once, we thought if there's any way to simplify this process. And so we forgot every other idea and focused on what we love the most– food!" 
Hungrynaki started its journey with just two developers, four executives and one delivery man, catering to the need of Gulshan and Banani residents. "When we started to approach the food joints, we had a hard time convincing them of how this service can widen their revenue stream, especially with the owners who are from an older age-group. But we kind of knew it was coming, because online businesses is something which is still new in our country," says Modasser Ahmed Amit, digital strategist. "But as we are growing, the restaurant owners now understand how it is helping them make more profit." Now Hungrynaki has over 60 people working for them including delivery men, and operates in Dhaka, Chittagong and Sylhet. In two years their annual turnover has been 1.2 billion taka. 
When the start-up trend first started in Bangladesh, Hungrynaki was one of the firsts to establish their grounds. "Customer service was our number one priority from the very beginning. People usually think expanding business should be their main focus, but we would rather take baby steps and prioritise the customers we already established," says MD Ehsan Ali, manager of customer experience and operations.  
Other than feeding the hungry Hungrynaki's aim is to establish the ground work for future E-Com start-ups. "Internet has always been a scary place to the people in our country and we wanted to break that.  People still hesitate to use their debit or credit cards to buy anything online. This is one of the problems we face and it is also one of our priorities is to make the transaction as simple as possible," says Mustahid Ul Islam, business development co-ordinator. People might think it is quite hard to manage a food delivery business in a traffic packed city. Hungrynaki team takes it as a blessing. "Because of the traffic, people order from us rather than going to the restaurant, so it is actually quite good for business," says the team.
For their two year celebration, Hungrynaki is planning an event for all of their well wishers. "So far it has been quite an interesting journey. There have been moments where we were on top of the world, and somewhere we were totally lost. After two years we want to share this story," says the team. The details will soon be uploaded on their website.