Dignity for Septic Tank Emptiers
Ensuring decent work conditions for all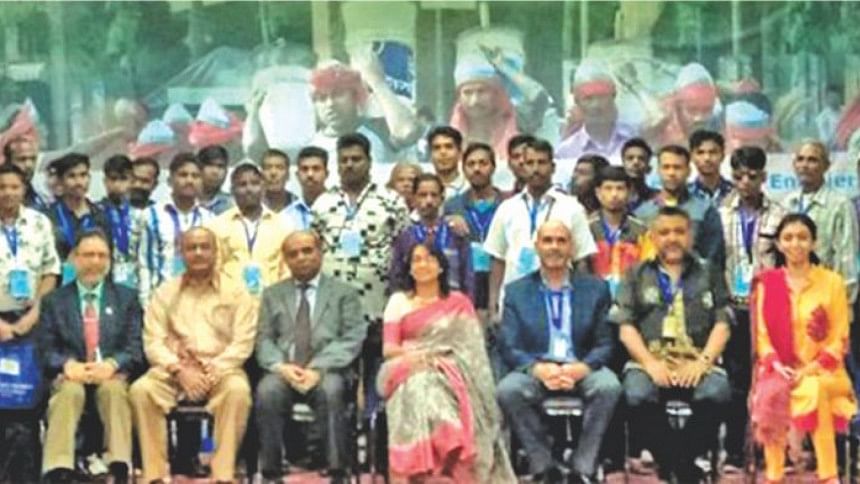 The FSM Network in Bangladesh has recently organised the first national convention for septic tank and pit emptier, as this population group often faces social stigmatisation even while risking their own lives doing work for the community on a daily basis. Almost 100 septic tank and pit emptier were brought together to share their life stories, and together with government and development officials came up with inclusive ways to improve their situation.
The progress to date on improving access to sanitation and reducing open defecation can be seriously undermined by failing to sustain the use of existing toilets and the unsafe disposal of faecal sludge. Household sanitation in urban areas consists predominantly (80%) of on-site technologies, i.e. septic tanks and pits. These require regular emptying, but presently most of them are never emptied as they are directly connected to drains or open water bodies. The ones that are, are emptied manually by sweepers and not mechanically. As the urban population is increasing exponentially, there is a need for efficient and effective faecal sludge management (FSM) services. This can only be achieved through better organisation of the current services, and by ensuring improved occupational safety and health standards for the service providers.
The national 'Dignity for Septic Tank Emptiers' convention was held at LGED Bhaban, Sher-e Bangla Nagar, Agargaon in Dhaka on 7 December 2016. A day-long event, started with an opening speech by the Honourable Kazi Reazul Hoque, Chairman Human Rights Commission, followed by speeches from septic tank and pit emptier and other special guests. Then issues related to septic tank emptying were discussed along the lines of the four domains of Decent Work as defined by the International Labour Organization (ILO): Dignity, Equality, Fair Income, and Safe Working Conditions. Suggestions and recommendations were collected from septic tank and pit emptier and other stakeholders, after which the event was concluded by a cultural programme.
About the FSM Network:

The Faecal Sludge Management Network (FSMN) is a common and collective platform for the sector actors to generate ideas, share views, influence policy and practice, and raise a collective voice to meet the challenges in the sanitation sector. The Network engages WASH stakeholders across civil society, the private sector, corporations, academia, the government, and other relevant taskforces, networks, and associations.
About SNV:

SNV is an international, not-for-profit development organisation working in over 30 countries across Asia, Africa and Latin America. In Bangladesh, SNV is implementing the project "Demonstration of pro-poor market-based solutions for faecal sludge management in urban centers of Southern Bangladesh" in Khulna City Corporation, Kushtia and Jhenaidah Paurashava. The objective is to work together with local authorities on sustainable city-wide and inclusive faecal sludge management services, leading to improved health and well-being of the urban population and the environment.
Media enquiries:



SNV Netherlands Development Organisation



Ms. Samara Mortada,



Advocacy & Communications Advisor



E-mail: [email protected]