Berlin – Art Paradise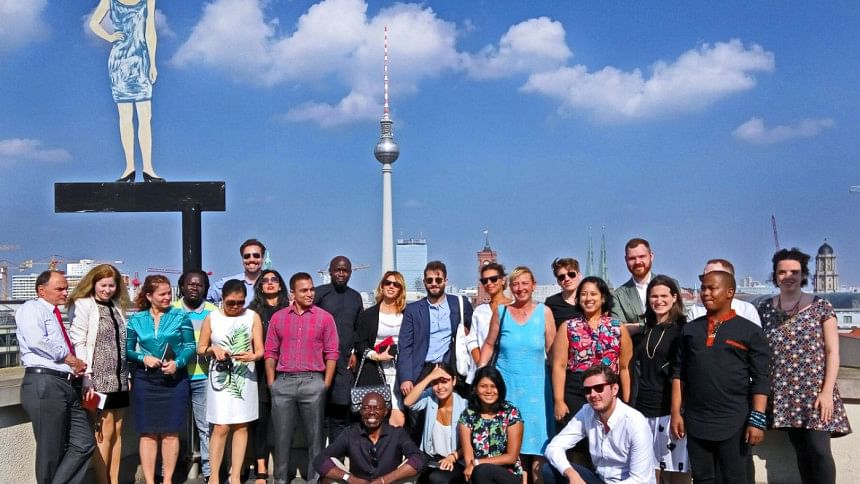 Right after I arrived in Berlin, on my way to the hotel, I asked my vivacious guide Nihan Sivridag, "Describe Berlin in a sentence." In response, Nihan quoted Klaus Wowereit, former Mayor of Berlin: "Berlin is poor but sexy." ["Poor", according to European standards, of course.] Over the next few days, I tried to understand what she meant.
The Trip: As part of the Visitors Programme, the Goethe-Institut organised this information tour on behalf of the Federal Foreign Office for artists, art experts and journalists. Twenty individuals – from as many countries [all continents except Antarctica represented] – were invited by the Federal Foreign Office in Berlin. The focus of the tour was Berlin Art Week 2016 [September 13-18].  

The Berlin Experience: With an estimated 400 galleries plus 100 project spaces, 175 museums and 140 theatres, Berlin has art in its nooks and crannies and alleys. It's no London, or Paris, or New York – the allure is more about an understated brilliance and less razzle-dazzle. Berlin's artistic soul is not unapproachable; it draws you in and encourages you to interact. Our accommodation in the Mitte area [literally "centre" in German] made the whole experience even more immersive.
The itinerary was naturally packed with appointments, meticulously arranged for us by our hosts; special thanks to our wonderful guides Ariane Pauls, Nihan Sivridag, Natalija Yefimkina, Stefano Sciulli, and Sophia Grigull from Goethe-Institut Visitors Programme.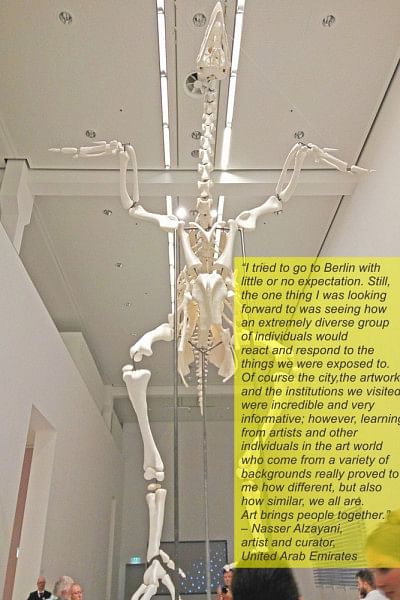 At Kulturprojekte Berlin, the visitors learnt more about each other – who we are, what we do, how our work makes an impact on the contemporary art scene in our respective countries. Over an elaborate lunch at the Federal Foreign Office, Dirk Schulz, Deputy Head of the Division for Goethe-Institut, Supraregional Cultural Projects, Literature and Film Promotion and the Arts, shared his views on the importance of cultural exchange. Ariane Beyn, Head of the Visual Arts Department, DAAD – German Academic Exchange Service, explained artist residencies and the opportunities for artists from all over the world to showcase their work in Berlin.
Dr. Thomas Köhler, Director of the Berlinische Galerie, gave us a tour of the current exhibitions. We visited the studio of artist Andreas Greiner whose ginormous dinosaur-inspired skeleton [made with a 3D printer] of a broiler chicken at the Berlinische had generated much buzz. We had the opportunity to understand, first-hand, how international contemporary artists work at Künstlerhaus Bethanien [a studio programme, and platform for artistic and curatorial projects]. We explored the Art Fair at abc – art berlin contemporary, and Berlin Biennale for Contemporary Art at Kunst-Werke Institute. 
So much to see, to perceive in such limited time. This was an overwhelming assault on our senses, in the most positive way. Our trip wrapped up with a bang: a performance titled "Gala". This unusual project by choreographer Jérôme Bel can best be described as a "collective art form", bringing together professional dancers and amateurs of diverse backgrounds, and compelling us with its light-hearted approach to shed the need to judge and be at one with the performers who seemed to be having a great time.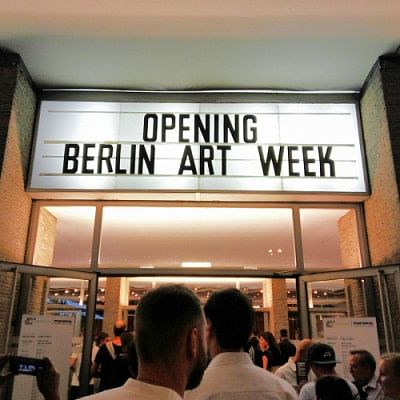 A Global Network: For us, the team of visitors, this tour became more than just about Berlin Art Week and the various official visits. Over breakfasts and lunches and dinners, friendships were formed and we realised that our association doesn't have to end with the tour. This tour and our hosts facilitated in creating a global network of professionals from various sectors of the creative industry, who can accomplish a symbiosis.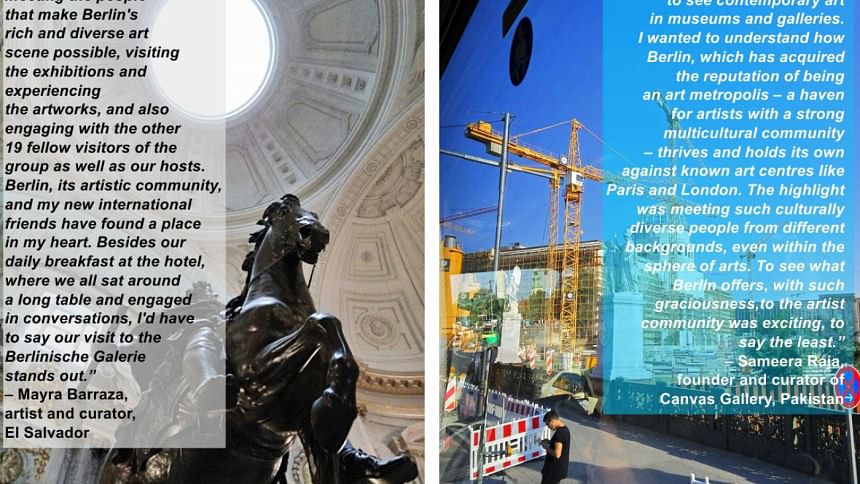 Auf Wiedersehen: So, what's my impression of Berlin? Berlin may be poor compared to the other major German cities, but it is oh-so-sexy. Where else can haven't-made-it-big-yet artists from all over the world come and avail the opportunity to display their work to a global audience because space is still affordable?
Berlin is so many things to so many people, and it will continue to be exciting because it's a constant work in progress; nowhere else have I seen the stark contrast of old buildings boasting classical architecture and ongoing construction work side by side. 
Photos and video by Karim Waheed
---
Participants of the information tour:
Alexandr Zimenko, Curator of the Art Collection Belgazprombank, Belarus 
Bradley Peter Spolding, Director of The SUBSTATION, Australia
Ludmilla Britto, artist and Lecturer, Art History at Universidade Federal da Bahia, Brazil
Rupal Shah, Strategic Programmes Officer at Toronto Arts Council, Canada 
Jaroslav Varga, Curator of MeetFactory, the Czech Republic 
Vitshois Mwilambwe Bondo, visual artist and Curator, Artistic Director of KinArt Studio, Democratic Republic of the Congo 
Mayra Barraza, artist and Curator, Director of Salarrué – National Art Exhibition Hall, El Salvador 
Francesca Mezzano, Director of the 999 Contemporary Gallery, Italy 
Miki Saito, curator and artist, Japan 
Fathimath Isha Afeef, Project Coordinator and Curator of Maldivian Democracy Network, Maldives 
Gordon Luandrow Joseph, Cultural Journalist at the Namibian Sun, Namibia
Jeff Ometite Ajueshi, artist and Curator, Gallerist of Thought Pyramid Art Centre, Nigeria 
Sameera Raja, Founder and Curator of Canvas Gallery, Pakistan 
Carolina Rachel Hausmann Hartman, Co-director of Casa Santa Ana, Panama
Ilya Shipilovskikh, Director of the Art Gallery, Yeltsin Centre, Russia 
Tarfa Fahad, artist, Saudi Arabia
Nasser Alzayani, artist and Researcher, Curator at Salama bint Hamdan Foundation, United Arab Emirates 
Thi Thu Thuy Nguyen, Director of New Hanoi Arts Co., Vietnam 
William Miko, Curator and Lecturer at Zambian Open University, Zambia 
Karim Waheed, Editor of SHOUT, youth publication by The Daily Star, Bangladesh.