Bangladesh's First Balloonist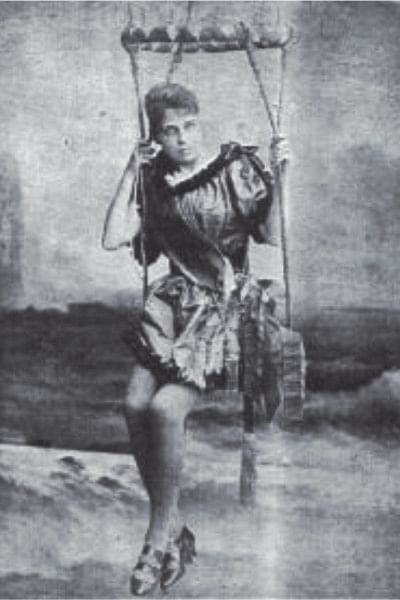 One of man's most favourite adventures is flying with balloons. The exceptional experience of tranquillity, non-movement and bird's eye view can never be found in the fast aeroplanes. The first balloon flight with passengers occurred in France in 1872. Just two decades later, a balloon flew over Dhaka carrying brave women from the USA. This spectacular incident happened in 1892 when two professional balloonists Jenny Rumary Van Tassel and her daughter Jeanette Van Tassel were invited by Khwaja Ahsanaullah of Dhaka's nawab family. Famous for his love for entertainment Khwaja Ahsanullah made public announcement in the city that a daredevil woman from America would fly over the Nawab's palace, the Ahsan Manzil. 
At 6:20 pm on March 16, 1892, the show began. Jeanette Van Tassel started his flight from the southern bank of Buriganga River to reach the roof Ahsan Manzil lying across the river. A newspaper from that time reported that thousands of Dhakaites gathered around the palace to see her flight which was completely a new experience for them. However, after floating for some time, when Tasel tried to come down, a fatal accident occurred. All of a sudden, a gush of wind carried her off to the Ramna garden in Shahbagh and to the utmost shock of the spectators her balloon got entangled with a bamboo thicket. While climbing down, holding on to a bamboo, Tassel fell on the ground and got critically injured. She died a couple of days later in a hospital. Jeanette Van Tassel was buried in Narinda Christian graveyard where her tomb can still be seen today. Thus, the first flight over Bangladesh's came to such a tragic end.