The illustrious life of Satyajit Ray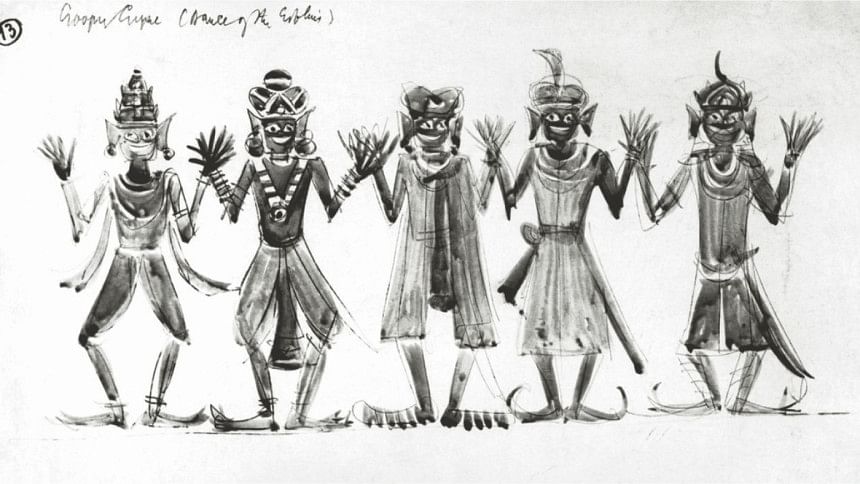 Satyajit Ray started as a graphic illustrator before his emergence as a Bengali film icon. He designed book covers, film posters and illustrated children's books among other things and even created two award winning Bangla fonts. What is profound in his work is the sophisticated experimentation with various artistic styles and traditions, both local and foreign, without compromising an aesthetic of authenticity. His forays into graphic design and calligraphy continued throughout his career and often webbed strongly into his filmmaking. Satyajit Ray was indeed a master of visual art in its broadest terms.
Ray had an early interest in the fine arts. He learned and practiced art under Nandalal Bose and Benod Behari Mukherjee at Santiniketan where he was inspired by "Oriental Art" (here it refers to East Asian Art). Benod Behari Mukherjee's Oriental influences were evident in Ray's work such as the book cover design for Tintoretto'r Jishu (1983).
In 1943, he joined a British advertising agency as a junior visualiser. Here, he was asked to illustrate commercial products that gained him well deserved fame. Ray's advertisement often presented a single image of the product reproduced on a larger scale. The enlarged and half-opened soap in Margo Soap and the pack of cigarettes with one stick sticking out in Tenor Always both employ this technique; it not only provides the audience with an interior glimpse of the product but also familiarises the product with the audience's memory due its highlighted isolation.
Ray's advertisement includes a combination of words and images rendered unique with folk motifs. In his illustration Tea with Music, the flatness with which the woman's face is outlined is akin to Bengali folk figurative art. The strings expressed with three simple lines render this folk image absolutely modern.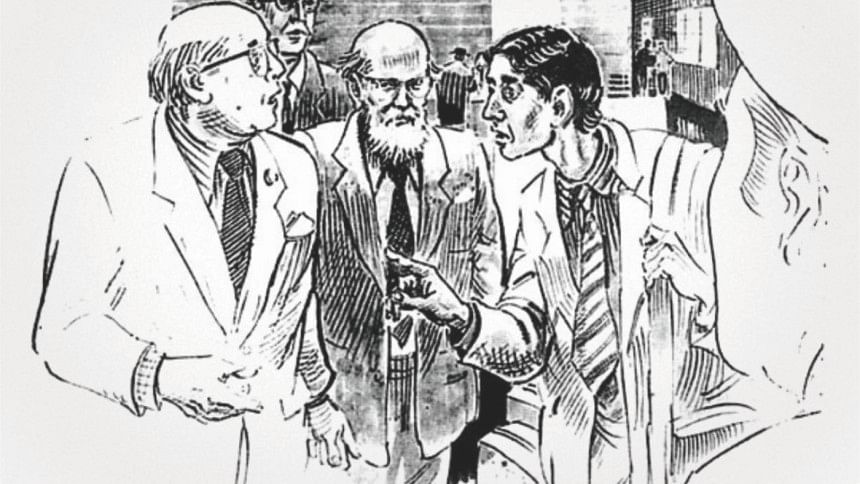 Ray's use of folk motifs comes up more significantly in his illustrations for the magazine Sandesh. In 1961, Satyajit Ray relaunched the children's magazine that was originally found by his grandfather. The cover designs incorporate colourful geometric and floral patterns native to alpana art done by Ray himself. They appear in saturated primary colours and have a texture similar to wood block printing. The foregrounded figures are painted in folk motifs similar to the woman in Tea with Music but with added energy.
Traditional (pre-digital era) illustrators would have to stick to a realist mode of creative visualisation. This is mostly because illustration often worked as proxy of photographs. During Ray's years as graphic designer, photography was already commonplace and digital effects were taking up spotlight in the commercial sphere. This created ample space for Ray to experiment with creative illustrations which were realist enough for its narrative qualities but also exercised Ray's artistic license to portray the imagined.
Another unique element of Ray's illustrations was its Bangla typeface. He created two new types of Bangla typeface: architectural (reproductive) and calligraphy (non-reproductive). This instance exhibits Ray's deep understanding of the mechanic and the organic. Ray was trained in brushwork, which he used to pen Bangla calligraphy. During his time at Signet Press, Ray was asked to illustrate for Bangla poems and book covers and he felt that metallic typeface could not adequately convey the essence of Bengali content which led him to incorporate calligraphy into his illustrations.
Satyajit Ray revolutionised book jacket designs in Bengali literary traditions with his incorporation of styles beyond the depiction of book content. The designs are a progression of different artistic styles that Ray has mastered overtime. These graphic techniques later transferred over to his poster designs as well.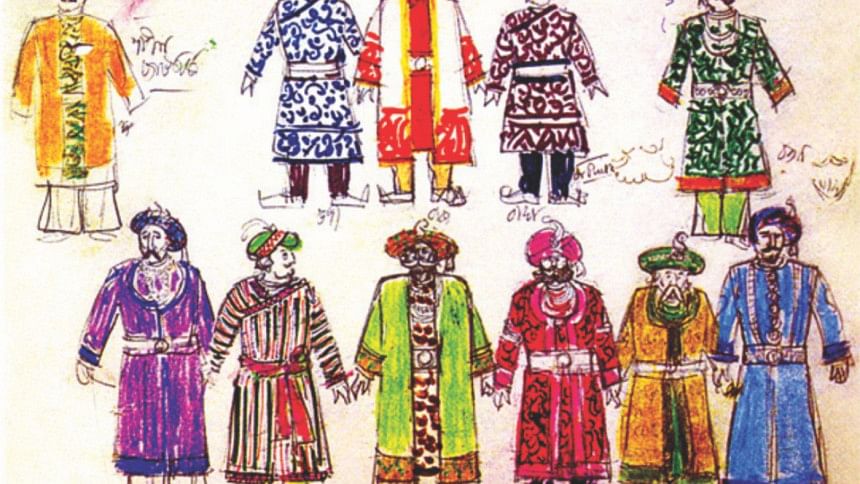 His illustrations for the detective-adventure series Feluda, for example, are studies of silhouettes highlighted through colours that contrast against each other. Shonar Kella (1971), Koilashe Kelengkari (1974), and Gorosthaney Shabdhan (1977) have book covers of this sort where colours of opposing hues merge together forming a play of light and dark. The silhouettes express an ambience of mystery without compromising the element of adventure and excitement present in the Feluda stories.
Book jacket designs for Gangtoke Gondogol (1971), however, is reminiscent of psychedelic art gaining momentum in the 70s global advertising culture which were more common in Ray's designs for his science fiction Professor Shonku series. Ray was clearly ahead of the curve with elaborate and bold elements of the fantastic amidst the mundane in his book jackets from the 70s. Artwork such as Professor Shonku'r Kandokarkhana (1970) and Shabash Professor Shonku (1974) push the envelope on naturalist illustrations. These drawings are far away from the rigidness of naturalistic representation. With Shonku's skin coloured pink or in the other case, Shonku's head experiencing a state of visual transparency, these illustrations convey the excitement and dynamism of Shonku's adventures.
Ray's etchings of scenes from the Feluda and Shonku collections tread away from such creative conceptions and retort to traditional illustrative styles. He deploys a style of narrative realism where the characters are outlined poignantly with little background noise and adhere close to actual proportions and scale. The traditionalism is apparent in the sketchy nature of the drawings that were prevalent in older woodcut etchings used in publishing. The scenes are grounded and convey a pictorial reading of Ray's fictions.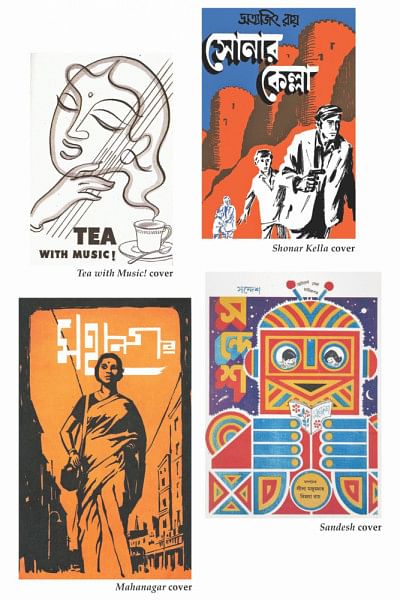 His expertise as a narrative illustrator influenced his filmmaking methods heavily. In fact, Ray came up with the idea of his first film Pather Panchali when he was illustrating Bibhutibhushan Bandyopadhyay's children book of the same name for an abridged version entitled Aam Antir Bhepu. Ray is known predominantly as an image-driven storyteller due to his phenomenal scene compositions. He owes much of this grace to his storyboard creation phase. Ray spent a monumental amount of time painting his scenes which materialised in every frame as a composition of the greatest merit.
In 2016, Harper Collins India published Pather Panchali Sketchbook edited by Ray's son Sandip Ray which contained images from the storyboard of the film giving us an insight into Ray's creative process. Sandip Ray writes in the preface to the book, "He [Satyajit Ray] did some sketches in a drawing book after he had come back from London in 1950 and illustrated a succession of pictures (in pen, brush and ink) for the sequences of frames as they would come up in the film."
Composing the perfect frame also consisted of imagining the separate components constituting that frame including character looks and costume design. Ray's now famous kherorkhata (Red Notebook) contained numerous drafts of costume designs and character outlooks. The decorative appearance of the ghosts from Goopy Gyne Baagha Byne (1969) and the costume designs from Hirok Rajar Deshe (1980) were both sketched initially in Ray's kherorkhata. This sketching process lends itself to the ornate composition of Ray's frames.
Lastly, it goes without saying that Ray's poster designs for his films depict an exceptional brilliance of the graphic arts. He was undoubtedly global in his imagination of the local. He experimented with photomontage well before it took off in the mainstream Hindi-language film posters in India. In the poster for Mahapurush (1965) and Pratidwandi (1970), Ray creates a surrealist photomontage suggestive of the Dada era in European art. The artwork for Mahanagar (1963) and Seemabaddha (1971) takes up after the minimalist pop-art movement. It reproduces the feeling of totality with the least amount of expressive lines with a single splash of an accentuating colour closely resonant of the Andy Warhol tradition.The poster for Ray's 1985 film Ghare Baire is a digital maturation of the chiaroscuro, an age-old technique where the contrast between light and dark executes the depths and volume of the whole composition.
Satyajit Ray as a masterful graphic designer encapsulated the fine blend of functionality and aesthetics of illustrations. His images contain firm purpose and are aware of their widespread audience. And they manage to remain beautiful and eye-catching as pure art is supposed to do.
Sarah Shahid studied Art-History at McGill University, Canada and is a columnist of Star Weekend.