AN APPLE A DAY
Sad but True!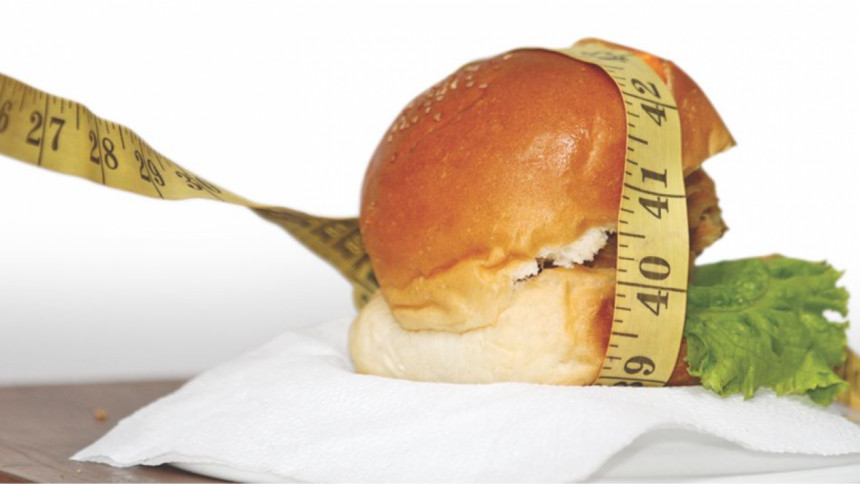 Photo: Prabir Das
Your hangouts, facebook check-ins, get-togethers, occasions every where, there is an inseparable word today. Guess what? It's 'Fast food/junk food/rich food', whatever you say. Now-a-days, it has become a crucial part especially among the youngsters, though the majority of them don't know the dangers of eating such foods that affects important parts of the human body like kidneys, liver, heart, bone, skin etc. Many of us can not resist our temptation, though its dangerous effects on humans last longer than the immediate concerns. Statistics shows that fast-food has a bad impact on the human body, especially on respiratory, digestive, cardiovascular and central nervous systems. Also it can cause harm to your child!
Doctors totally forbid having junk food as the quality and nutritional value of these foods are not conductive for human health. Dr Shamsunnahar Nahid, a Dietician and Nutritionist of Birdem Hospital says that the oil that is used for making junk food becomes toxic for continuous uses and hence, there is a risk of increasing Low Density Lipoprotein (LDL) cholesterol (also known as bad cholesterol) in the blood. "When LDL increases in blood, it affects the blood circulation process which results in various heart diseases." says Nahid. "Children and teenagers are also at great risk for consuming fast-food as it creates hormonal imbalance and hypertension at an early age", she adds. The overall risks are:
Fast food contains large amount of Trans fat, high cholesterol, added sugar, salt, carbohydrates which make a large amount of calories. If a person consumes more calories then he/she needs everyday, it results in obesity which leads to digestive and cardiovascular diseases. According to the National Institutes of Health, increased consumption of fast food has created a 250 percent increase in obese teens between 1980 and 2008. Weight gain is also responsible for many chronic health problems like certain cancers, diabetes, heart diseases and many more.
Just a meal at a fast food restaurant may contribute a huge amount of sodium for one day. It is more or less known to all that added amount of sodium is another dangerous reason for high blood pressure. Also there are risks for kidney stones, stomach cancer, and kidney diseases. The thing which we must keep in mind is that, heart diseases and strokes are interrelated with the term- high cholesterol and high blood pressure.
The negative effects of having junk food have also a great impact on the respiratory systems. Obesities due to large amount of calories can disturb one's breathing and create asthmatic problems. Apart from these, there may be problem in central nervous systems. It is proved by many studies that consuming hamburgers, pizzas, hot dogs, cakes, donuts etc. can develop depression. Having excessive amount of junk food can create headaches too. 
Your teeth, skin and bones are not free from the harmful effects of rich food. Excessive consumption of greasy foods, chocolates which contain a lot amount of carbohydrates are responsible for acne. Also, excessive amount of sugar and carbohydrates can create cavity attacks and cause harm to teeth by destroying the enamel. Added sodium can make your bones thin!
Most of the beverages like milkshakes, sodas, juices, cold drinks are very high in sugar, salt and preservatives.
Apart from these things, eating too much snacks, pizzas, and spicy chips can cause ulcer. Furthermore, irregular timing of eating can hamper the appetite of a person. The most important thing to remember is that, having excessive amounts of junk food is not only harmful for one's health, but also it's a wastage of money.
It is about time people realised the far reaching effects of having junk food. In stead of having harmful foods by wasting money, people can make a healthy diet chart for a fresh and healthy lifestyle. If nutritious homemade food replaces fast food in your diet, it can lead to a improved lifestyle and health.