An apple a day
PROTECT YOUR CHILD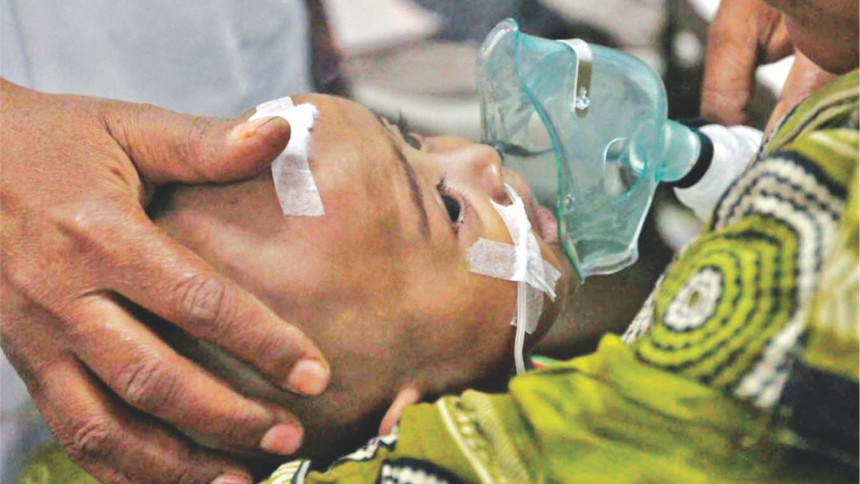 Photo: Prabir Das
Child Pneumonia, also known as paediatric pneumonia is a very common malady for children, mostly in winter. Basically, it is a kind of irritation or infection in one or both of the lungs that affects people of all ages. But it is particularly dangerous for infants and young children.
Babies and toddlers, predominantly those who are born prematurely, have the highest risk of pneumonia. As most forms of pneumonia are connected to viral or bacterial infections, some of these are spread from person to person by coughing or by direct contact with the infected person's mucus. Furthermore, having abnormal airways or lungs, children may have a higher risk.
The infection usually occurs by viruses and bacteria and in children, especially young children, viral pneumonia is more in common. In most of the cases, pneumonia comes after a viral upper respiratory tract infection, such as a cold or flu. The lungs become inflamed and filled with fluid, causing a cough and make it difficult to breathe.
Depending on the children's age and cause of pneumonia, the signs and symptoms vary. Most of the time, a cough, fever or trouble in breathing can be the first signs. The overall symptoms are-
Bad cough with yellow, brown or blood stained mucus, appetite loss, chest pain while coughing.
Rapid breathing Often noticeable the ribs 'sucking in' with each breath.
Nausea from a big coughing.
Medium to high fever attack, usually over 102 but not always.
Grunting sound while breathing (wheezing).
While pneumonia was dangerous in the past, today most children can recover from it within a couple of weeks through receiving proper medical attention. For the easygoing symptoms, most children are able to be treated at home. First of all, they need a lot of rest. In addition, they need to drink a small amount of fluids so that they don't get dehydrated. There should be arrangement for comfortable sleeping with more than one pillow rather than lying completely flat. For chest pain, they may need some pain reliefs.  
If these don't work, and the cough is getting worse again or is not getting better after four weeks, parents should take their child to see their doctors. Doctors usually tend to use different medicines and therapies depending on the causes of the pneumonia as viral and bacterial pneumonia have separate treatment systems. Like, Antibiotics are usually used to help fight the bacterial infection where for viral, it's not applicable. Chest pounding therapy- taking hot shower and breathing steam, physiotherapy- to clear the mucus from the lungs, oxygen therapy- to ensure the body gets necessary oxygen, vaccine etc. are used as the treatment for child pneumonia.