Remembering Prof. Rafiqul Islam
A Witness to the Language Movement and the Liberation of Bangladesh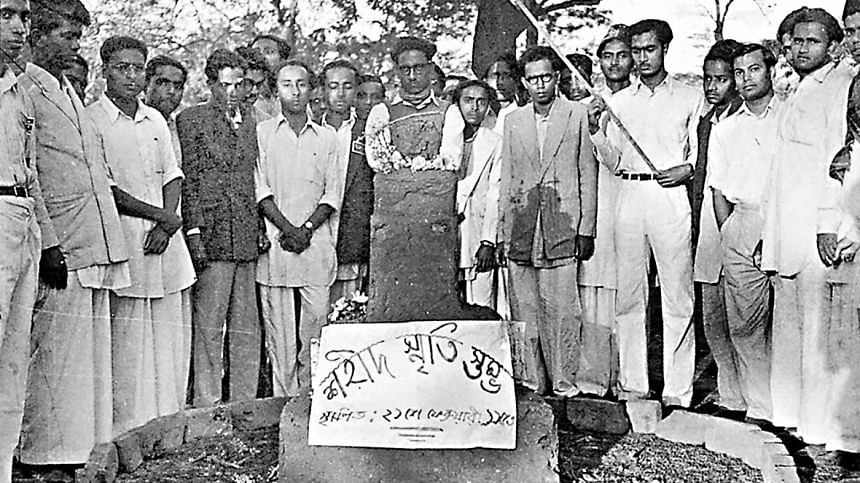 One fine February morning of 2018, I had approached Dr. Rafiqul Islam, the eminent educationist and litterateur who had lived on the Dhaka University Campus premises from 1943 to 2000, to tell me something about those turbulent days of 1952 when the Language Movement took place. Even though I knew of him (who doesn't?), I had never really "met" or talked to him before. But the conversation we had that day opened my eyes to a lot of things, especially the role of the University of Dhaka in the making of Bangladesh.
He did not look at me once. His eyes were engrossed in deep thought; to me he seemed to be dipping in the deep waters of memory. Bent with age, he sat at his desk.
"When do you want to talk?" he asked.
When did I want to talk? I stuttered, "Whenever you want, Sir. We can talk even now." He nodded just very slightly and went quiet again. I waited. And suddenly he asked,
"What's your question?"
I had prepared questions. I had a list of them, actually. But suddenly, I felt at a loss and wondered what I should ask. As a Bangladeshi, I knew the basic history of our nation. I have read about the history of the Language Movement, we all have heard the names of Rafiq, Salam, Barkat, Jabbar- the Language Martyrs. I knew how the oppressive powers took aim at the unarmed student body that walked the streets on that fateful day of 1952.
 I had always been proud of my knowledge of history, but at that moment, I felt like a naïve and ignorant child. I was sitting in the presence of somebody who saw it all. He was very much the part of the Language Movement, lost friends and comrades during those years. To him, it is not a distant past; it is an integral part of his very existence. Language Movement is not an isolated event; it is part of a chain of events that culminated in the Liberation War of Bangladesh in 1971, the year I was born. What could I ask him to tell me? I grew red and perspired, but finally, I took a deep breath and asked,
"I heard you speak the other day of your involvement in the Language Movement of 1952. You talked how you took pictures in the one camera you had; pictures that later became historic documents. Perhaps you can tell me something about a few specific moments that are etched in your memory?"
Again, he went very quiet; and I thought I saw shadows of the distant past flickering in his large eyes. He did not lean back, nor change his posture. He just sat there, slightly stooping, and by now, I knew that he would speak. And speak he did:
"I used to live in the railway colony. My father was a doctor. I had seen them around 1948—those who spoke up for our language, mostly students participating in the procession. How old was I? I sat for matriculation in 1949; so I was a student of Class X. I was very young then. But in 1951, I became a student of Dhaka University. And as a student I became directly involved in the Bangla bhasha, Shahitya and Sangskriti Andolon (Bengali Language, Literature and Cultural Movement). We staged a play in 1951 titled Jobanbondi ( Confessions) by Munier Choudhury." At this point, I was not looking at him and scribbling away as fast as I could. I was never good with recording, but at this moment I fervently wished that I had a recording device with me,
"You know what happened in 1952. It's history now. I had a Voigtländer camera with which I took pictures. I was in the procession that day, too. No, I was not one of the wounded," he paused.
"You ask me what particular event is etched in my memory? Well, I can tell you about that one scene I encountered… some people brought in a dead body of a man who was shot in the head. There was so much blood and I can still visualize the blood and liquid brain oozing out…" Another pause. After a while, he continued, "In 1953, we virtually had claimed the Bardhaman House for Bangla Academy, and one of the 21-point manifestos of the United Front was to build an institution which would be a research centre for Bengali language and literature.  When the United Front was victorious in 1954, the education minister Syed Azizul Haque placed the order that the academy be built." The sage stopped and said, "And oh, I forgot, Munier Chowdhury was imprisoned for his role in the Language Movement and in 1953, he wrote his famous play Kabor from jail. His inmates acted out the play inside the prison house. And in '54 we staged it. But the United Front was temporary and the Government of Pakistan took over in a few months. In '55, there was riot yet again as the Central Government ruled against observing Ekushey February under Section 92. The history of '52 was repeated and many students of Dhaka University were killed and injured. There were female students too, who participated in the rally and were wounded. The authorities had built a special prison for women.
"Situation was somewhat better in '56, '57 and '58 because the United Front had regained power. Ekushey February was observed peacefully. However, by the end of 1958, things changed for worse, again. There was military coup in Pakistan and we saw the end of democracy. Yet we continued to celebrate Ekushey February. Then I was out of the country—went abroad to study. From '59 to '60 I was away. The Movement continued. Occasionally, the Government acquiesced and the Shahid Minar was finally built on a small scale, and on the 21st February in 1963 we were able to pay obeisance to our Language Martyrs properly. But it was a struggle every year as Shahid Minar was a symbol of the Bengali spirit that the Government of West Pakistan wanted to subdue."
Here Professor Rafiqul Islam sighed and said, "You see all these are interconnected--the Mass-Uprising of 1969, the release of Bangabandhu from the Agartala Conspiracy Case. The Ekushey February of 1969 was a Victory Day for the great Mass-Uprising. It was bloodied, but it was a glorious day. All of it led to the War of 1971. So many of us were killed. I was imprisoned too. I was set free only because some friends in Washington DC pressurized a Senator who spoke to Zulfiqr Ali Bhutto. He inquired about the welfare of some teachers of Dhaka University who were in prison, and I was one of them. Our release order came, but we were also ordered to be hunted down and killed. Most of us fled. Dr. Khair was one who could not. So many of them died! So many! I am a witness to all that mass-murder."
At this point, our meeting had to be postponed. It seemed that Dr. Islam had another appointment. Before I could take my leave, he spoke again: "Have you seen that banyan tree in front of the Kala Bhaban? It's not the original one, you know. When Senator Kennedy came after the Liberation War, we had him plant a segment from the original tree which was cut down by the Pakistani army. But can you really cut off a tree like that? The roots remain."
When I spoke to Prof. Islam in 2018, I thought there would be many occasions to go back and we did chat on and off. Yet somehow, I failed to make the best use of all the opportunities being busy with many other everyday things. Then the Covid-19 struck and our lives changed forever. It's hard to believe that he would never be seen again walking down the hallway of ULAB Campus A. Nor would he be there in the lush green permanent campus of the university (when it finally opens for offline classes) he loved and taught for many years. But I am sure that he will be remembered through his books and the precious memories he left with those who had come in contact with him.
Sohana Manzoor is Associate Professor in the Department of English and Humanities at ULAB. She is also the Editor of the Star Literature. This article was originally published in 2018 and is republished with some changes.