. Bibhutibhushan Bandyopadhyay's "Obhoyer Onidra"
Obhoy's Insomnia
An abrupt noise woke Obhoy up in the middle of the night and throughout the rest of the night his eyelids would not shut. What was the matter with him? He had been sound asleep; then suddenly he woke up as if someone was battering at the gate of his senses.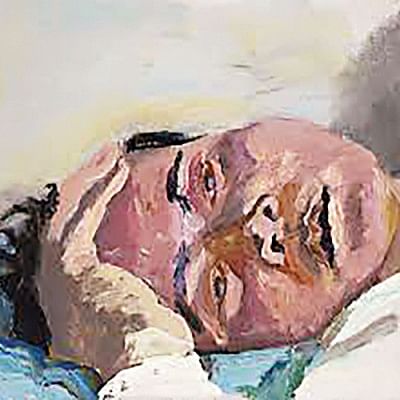 An abrupt noise woke Obhoy up in the middle of the night and throughout the rest of the night his eyelids would not shut. What was the matter with him? He had been sound asleep; then suddenly he woke up as if someone was battering at the gate of his senses. Slowly, Obhoy sat up on his bed and lit the oil lamp. He looked around the room; everything seemed perfectly alright. What was he so afraid of then? He sat still and tried to listen. No, there was no sound. He was worried for no good reason.
Then his gaze fell on the empty space on his bed. Even seven days ago, someone used to sleep there. Three years earlier, he had married Bokul. There had been a full moon in the sky just as it was today. His mother was alive then and they were all happy together. Then one day, his mother died. Bokul took up the responsibilities of his household. Initially, it was difficult for her, but she learnt fast. She was able to replace his mother only too well. She did everything herself—from keeping the accounts to cooking and washing. She got up early in the morning and worked till midnight. She had no time to visit her parents even. Obhoy could not tolerate being without her for a day. The next-door neighbor Champa had observed once, "O dear, you look awful!"
"I have so much to do, you know," replied Bokul.
Champa said, "You could work a little less, I'm sure."
Bokul answered as a complacently happy housewife, "How can I work less? It's my home and my family. Even if death comes to take me today, I have to ask him to wait."
Champa shuddered, "What kind of talk is that?"
"Don't worry. Death won't take me."
So, Bokul had brought order in Obhoy's disorderly household. Not only that, people said that he even had fallen in love with his wife. Obhoy, who couldn't bear to live without his friends, stopped visiting them after his marriage. His friends made fun of him, but he pretended as if he did not hear anything.
As days passed, Obhoy's friends began to shun him. Nobody saw him frolicking with friends or colleagues after office. His friends also stopped visiting him. Obhoy seemed relaxed and happy. Bokul asked, "Why don't your friends come any more?"
Obhoy laughed uproariously. "Too much expense, my dear."
Bokul said, "But you know, everyone is going to blame me for your transformation."
"What do you mean?"
"I mean that people will think I've made you stop all these."
Obhoy laughed again, "Let them."
Within two months of her marriage Bokul had understood that her husband was quite a miser. Marriage basically gave him an opportunity to get rid of his friends.
Slowly, three years passed by. Then one night, Bokul became ill. On Wednesday night, she called out to her husband. Obhoy asked, "W- what's wrong?"
Bokul whimpered, "I feel so cold… ahh.. ooh.. close all the doors and windows. Let me have the quilt, all my clothes too. Oh, God, why is it so c..co…old? Give me everything in the house…"
Obhoy put everything he had on her. Still, she felt cold. Obhoy put his palm on her forehead and felt she was burning. It was late at night; where could he go? Should he call in a doctor? But that meant he would have to spend money. Meanwhile, Bokul kept on screaming, "O I am burning… O..O..O."
Obhoy said to himself, "She went to bed all good. What happened? Is it Malaria? I'm sure it's just Malaria."
By this time, Bokul had started uttering gibberish.
Obhoy felt miserable. He sat by his dear wife and fanned her through the night. He was ready to do anything that required physical labour. But he certainly was not going to spend money for nothing. In the morning, a local doctor was called in. The doctor took time in examining Bokul and passed the verdict that she had typhoid. And it was a difficult case too. She needed a lot of care.
Obhoy was horrified. He felt like crying his heart out. But instead of doing so he became magnanimous and spent ten taka on his wife. If Bokul had lived longer, he would have to spend more. But to save her loving husband from extra expenditure, the considerate wife died the very next day.
Obhoy fell on the floor, crying and whimpering like a woman. His precious home had fallen like a house of cards. He had failed miserably to protect his wife, and hence the only option for him was to wail at the top of his voice. His friends from the old days came to console him. They had carefully avoided Obhoy through the last three years, but the situation was different now. Seeing him cry so piteously, all of them shed tears too.
After burning her at the funeral pyre everybody went home in the evening.
***
People said that Obhoy's love for his wife was sublime. Bokul would often laugh at him and ask, "What would you do when I die?"
"I'll build a Tajmahal for you."
"Oh, please, don't spend all your money on me."
Obhoy would say, "All that I have is yours. What's so great about it?"
"Okay, so we have tons of money? Why don't you go and get a fancy soap for me?"
 "You want to spend four anas and a half on bubbles?" Obhoy chided his wife. "No, no, we can't afford that kind of luxury here."
Now that Bokul was gone, Obhoy barely ate for six days and six nights. His friends and relatives were worried over him. They tried to console him in every possible way.
Finally, after six days and nights he was able to think of his surroundings, and he fell asleep. That is when he heard the loud sound and woke up in the middle of the night. He gazed at the empty space where Bokul used to sleep and his entire being screamed.
Suddenly, a thought crossed his mind. He hoped his dead wife was not back. Poor Obhoy felt goose bumps all over his body. He certainly was not ready for that kind of love.
Then he heard the sound again. Someone was pushing the door from outside. Obhoy jumped up and looked through the hole. In sheer astonishment he spied a fat rat pressing itself in desperation at his door before finally disappearing round the corner.
Obhoy heaved a sigh of relief. He decided to take out his key and see if everything was in order. While looking through the list, he felt thirsty and almost called for his wife. Then he remembered that Bokul was gone. Now he would have to get a servant and pay at least ten taka per month as salary. He shuddered at the thought of the huge amount accumulating by the end of the year.
It was two at night. Obhoy was ransacking his boxes, his hair disheveled, his eyes bulging out from sockets; he was perspiring heavily. He fell on his wife's side of the bed and wept with abandonment. He looked at the single photograph of Bokul, hanging on the wall. It was old and faded as it was taken quite a while ago.
The clock struck three. Was he going mad over his deceased wife? He threaded his fingers through his longish hair. He opened the window and looked out into the moonlit night. Obhoy felt a sense of vast emptiness inside him.
He had spent the last six days and nights in fear and suspense.
Taking out his wife's jewellery box he started going through its content against the list he had. No, that particular item was surely missing. Tears ran freely down Obhoy's cheeks. He felt cheated. He had taken everything off Bokul's body before the cremation; everything except the pair of gold earrings she always wore. Hidden beneath her dark locks they had travelled with her to the funeral pyre.
Obhoy could endure the pain of losing his wife, but the loss of the gold earrings proved too much. Whenever he closed his eyes, the earrings appeared in his dreams with a vicious brightness that did not allow him to sleep.
Didn't they say that wives of the fortunate die early? Obhoy kept awake through the night wondering how and why fortune eluded him at the death of his wife. (Abridged)
Sohana Manzoor is Associate Professor of English at ULAB. She is also the Literary Editor of The Daily Star.