Musing on the Revolutionary Poetics of Sukanta Bhattacharya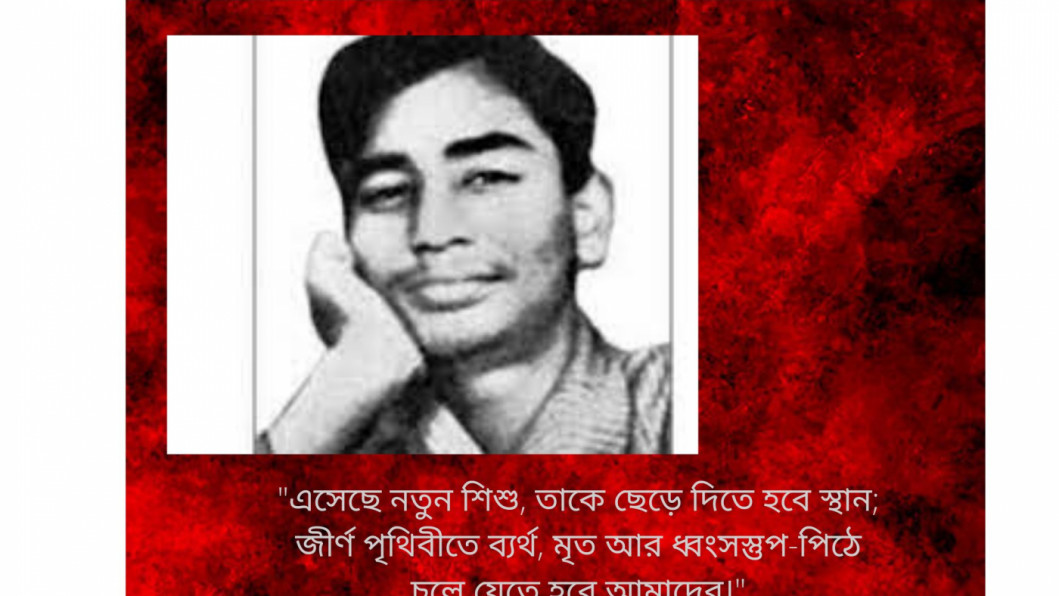 My association with Sukanta Bhattacharya dates back to my early teenage. It was a time when my conscious and unconscious were in a continuous exchange of multicolour dreams and desires and my heart was in need of a continuous supply of those life elements. Sukanta Samagra came as an inspiration to dive into the world of poetry and literature. I was thirteen then, and I wanted to be like Sukanta, write poems so that I could become immortal before the age of twenty-one, and die with eternal glory.
This August 15 marks Sukanta's ninety-sixth birth anniversary and we still remember the poet even in this era characterized by long term public memory loss and the individual short span of attention. Sukanta is very much alive in me and many of the Bengalis of this age. The Road-Safety Movement lead by the teenagers of Bangladesh proved that Sukanta resides in the hearts of our next generations as well. They celebrated "the sudden yield of consciousness in (their) innocent fields."
Sukanta was a poet who wanted revolution to make the world liveable for the upcoming generations. He declared that in the very first poem of his first poetry collection published after two years of his death titled Chharpatra. The eponymous poem cheers the birth of a new-born, imagines her/his (thanks to Bengali language for not having gendered pronouns) cry as if she/he is declaring her/his rights over the world. At the end of the poem, the poetic persona takes an oath to become history after making this world liveable for the new-born baby.
In his poetry, Sukanta follows a style of his own. He did not follow any of the giant poets of his time, neither Rabindranath Tagore, nor Kazi Nazrul Islam or anyone else. He used words with a great precision and employed unique metaphors and imageries that touch the core of sensibilities and create long-lasting impression in the readers' mind. Unlike the modernists, Sukanta was an optimist who did not lose hope for the people. But he was angry with the system that make people suffer. He wanted to change the system with revolution and in his poem "Lenin" he declares himself Lenin personified.
We know Sukanta or the party Sukanta was involved with could not bring revolution for the Indian subcontinent. Sukanta could not even see his country freed from the British rule, though interestingly it happened on and around his birthday in 1947. But the young poet had already succumbed to tuberculosis earlier that year. The revolutionary poetics Sukanta developed, which is different from Nazrul's, brought a change in the Bengali literary scene. Unlike Nazrul, his anger is streamed in a calmer manner where the strength of the poems is not attained through a monotonous use of matrabritta, the fastest paced rhythmic pattern in Bangla. Rather he used aksharbritta, the slowest-paced rhythm, more frequently with a great mastery over the language. He frequently used juktakhars, the conjoined consonants, that create the sonic effect appropriate for revolutionary poems. It is not that Sukanta did not write in matrabritta, he loved matrabritta and wrote many poems in this rhythm, but his matrabritta is free of any kind of monotony.
Sukanta also wrote rhymes for children in swarabritta. It is a wonder that he mastered all three distinct rhythms of Bengali language to the highest precision and at the same time managed to create a distinct style of his own. He also wrote a musical drama, some short stories, songs and a number of letters to his poet friend Arunachal Basu. In all his works it is evident that he was very much rooted to the ground, located in his surroundings with an outlook that was international. He wrote poems titled "Cigarette," "Tale of a Chicken," "Stairs," "Seedling," "Pen," "Knife" by using metaphors and imageries from everyday observations to signify the oppressed people struggling for their rights all over the world.
It is unfortunate that we did not get the chance to see this revolutionary poetics of Sukanta flourishing with greater set of experiences of life as the poet died at a very early age. In my opinion, his style made a great impact on the later poets like Tarapada Roy, Birendra Chattopadhyay and Shankha Ghosh. All these poets dealt with simple but original images and metaphors capable of creating great impact with a powerful but simple sonic effect with a kind of revolutionary zeal. We can discuss this issue at a greater length some other time, but now let me conclude this essay by citing two lines from his "Future" (Agami) in my translation:
Not an inanimate object, not dead, not even mineral darkness
But I am a life, a seed germinating.
Md. Mashiur Rahaman is a graduate student of English at the University of Liberal Arts Bangladesh.