Which is the best Test batting pair?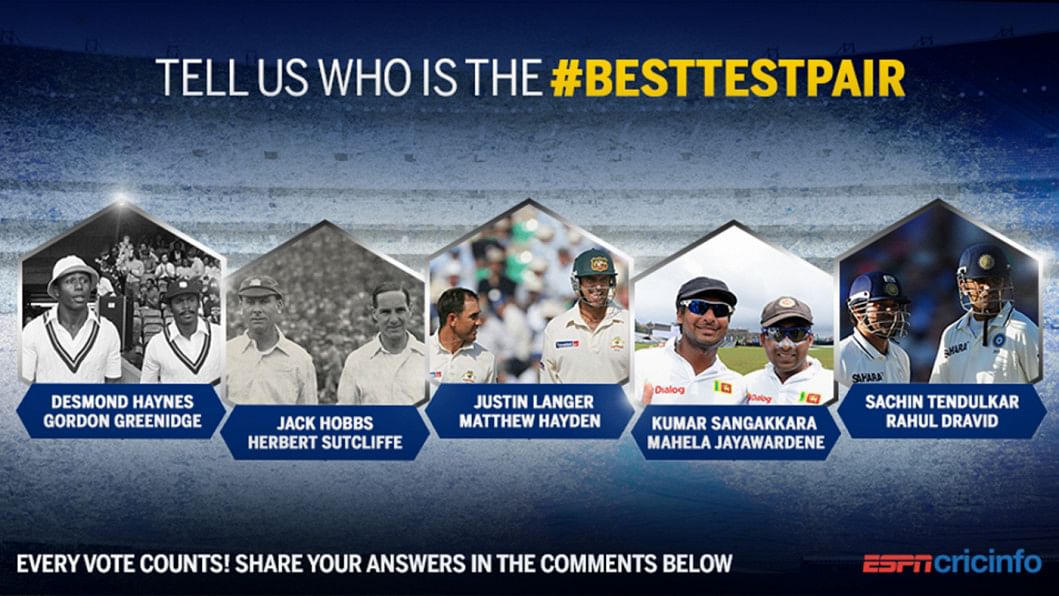 Gordon Greenidge and Desmond Haynes
Span 1978-1991 Innings 148 Runs 6482 Average 47.31 100s/50s 16/26
The most prolific opening pair in Test history, and also the pair to have batted together the most innings in Tests.
The two greats set the tone for West Indies' all-conquering side of the 80s, browbeating bowlers even before Viv Richards, Clive Lloyd and the rest came out to bat. Greenidge, five years older than Haynes, was the senior partner: "We always had a battle on. He wanted to face the first ball, and I would say, 'No, you haven't matured yet.' I wouldn't just let him."
Rahul Dravid and Sachin Tendulkar
Span 1996-2012 Innings 143 Runs 6920 Average 50.51 100s/50s 20/29
For years, the presence of Dravid and Tendulkar in the middle was among the most reassuring sights for Indian fans, as two of Test cricket's most reliable batsmen set about demoralising the opposition.
From the time they put on two large partnerships in the Caribbean in 1997, they provided a torrent of runs for India's third wicket.
Even as late as the Boxing Day Test in 2011, they were raising Indian hopes with a century stand, but the innings unravelled after their partnership was broken.
The current holder of the record for most partnership runs in Tests, a record they are set to hold for years to come.
Matthew Hayden and Justin Langer
Span 1997-2007 Innings 122 Runs 6081 Average 51.53 100s/50s 14/28
Like Haynes and Greenidge, this was an opening pair that laid the base for a dominant team.
Hayden played only seven matches in the six years after his Test debut, and Langer only eight in nearly the same time.
After Michael Slater lost form in the 2001 Ashes though, the pair spent six run-filled years at the top of the Australian order bullying attacks around the world.
They began with a 158 at The Oval, before reeling off four double-century stands in the next six Tests.
They kept churning out big runs till Langer retired in 2007 after England had been whitewashed and the Ashes emphatically regained.
Kumar Sangakkara and Mahela Jayawardene
Span 2000-2014 Innings 120 Runs 6554 Average 56.50 100s/50s 19/27
Like Langer and Hayden, Sangakkara and Jayawardene are famously good friends.
Our Sri Lankan correspondent Andrew Fernando describes their relationship: "United in battles in Sri Lanka against administrators, as they have been on the field, at each end of the pitch, or at keeper and slip, Jayawardene and Sangakkara have lived out perhaps the greatest cricket bromance of all time."
The pair were the mainstays of the Sri Lankan batting order for over a decade, during which they became cricket's second highest run-accumulators.
Their monumental 624-run stand against South Africa in 2006, remains a record not just in Tests, but in first-class cricket as well.
Jack Hobbs and Herbert Sutcliffe
Span 1924-1930 Innings 39 Runs 3339 Average 87.86 100s/50s 15/11
When Hobbs and Sutcliffe batted at the top of the order for the first time for England in 1924, only one opening pair had put together more than 1000 runs.
By the time Hobbs and Sutcliffe batted together for the last time at the top of the order, against Australia at The Oval in 1930, they had amassed more than three times that. Other pairs came along later and scored more runs, but none have scored them at such a prolific rate.
In only 39 innings, they had 15 century stands; Greenidge and Haynes had one more century partnership than that, but they had 109 more Test innings.
Their average per innings (87.86) is 40 more than than Haynes-Greenidge.