Who is the best left-hand batsman in Tests?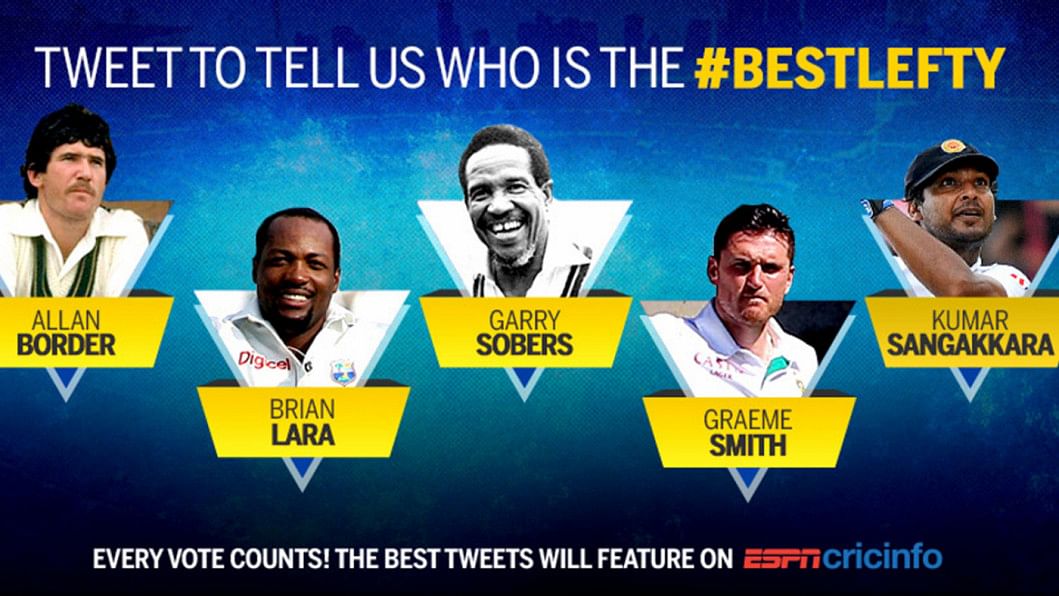 A great batsman, and a supremely stylish one as well. In 131 Test matches, the Prince of Port of Spain scored 11,953 runs with 34 centuries at an average of 52.88.
What is even more impressive, however, is that those runs include one score of over 300 and one of 400, two centuries in one Test, and some of the finest innings in the history of the game: an unforgettable 277 in Sydney and a match-winning 153 not out against Australia at Kensington Oval.
And they were scored against some of the best bowlers of all time, including Shane Warne and Muttiah Muralitharan. Lara was the lone star of the West Indies batting on many occasions.
Matches 131 Innings 232 Runs 11,953 Average 52.88 100s/50s 34/48
Sobers was simply the original Mr Cricket. Starting as a slow left-arm orthodox spin bowler and developing into a left-arm swing bowler and a slow left-arm back-of-the-hand spin bowler, he became not only a great batsman but arguably the best batsman of his time and one of the best of all time.
Sobers stood tall and elegant at the crease, his drives, particularly off the back foot, and his hooks were strokes of beauty.
When he retired, he had the record for the highest Test score (365*) and the most runs in Tests (8032).
Matches 93 Innings 160 Runs 8032 Average 57.78 100s/50s 26/30
The modern saviour of Australian cricket, Border dragged the team from the bottom in the 1980s while picking up a then world record 11,174 runs.
Border parlayed three shots and a fanatical zeal about not giving away his wicket into the most durable career that cricket in his time had known.
At his retirement he had featured in more Tests, more consecutive Tests, more Tests as captain and more catches than any other player - and a batting average of 50 as well.
Matches 156 Innings 265 Runs 11,174 Average 50.56 100s/50s 27/63
In a word, "Biff". In other words, crushing, dominant, aggressive, huge, courageous, influential, confident (arrogant?), gregarious, liked, loved, and despised.
As a player, a man to go to war with. As a captain, a man to lead others into battle. He was also a man for the big challenges: as South Africa's youngest captain he was tasked with rebuilding South Africans' faith in the integrity of game, and as a batsman he built up a reputation for scoring the tough runs - his average in the fourth innings is higher than that in the other three.
Matches 117 Innings 205 Runs 9265 Average 48.25 100s/50s 27/38
Having started off his career as a wicketkeeper-batsman, Sangakkara went on to become one of the greatest batsman of his generation.
He is Sri Lanka's highest run-getter, and has the highest average among the 11 in the 10,000-run club - next-best Jacques Kallis is more than two runs behind.
An impressive batsman when he kept, Sangakkara's run-making prowess took off after he gave up the gloves.
Sri Lanka's middle-order rarely looked more solid than when he was batting with Mahela Jayawardene - the pair added 6554 Test runs together.
Matches 133 Innings 230 Runs 12,310 Average 57.79 100s/50s 38/52