West Indies, England and the skewed WT20 record
21 days, 16 team and 34 matches - all done, and we are just a match away from discovering who the champions of ICC World Twenty20 2016 will be.
Tournament favourites India, Australia and South Africa have crashed out and two unlikely contenders will fight it out for the trophy on Sunday (April 3) at the Eden Gardens in Kolkata.
Two teams which played the fewest T20 Internationals between the last and the current World T20s have made it to the finals, and the team that handles the nerves better will emerge victorious.
Some pointers from the finals of five previous editions and a brief look into the numbers of the two teams' exploits in the tournament so far.
87 The numbers of players to feature in the five World T20 finals so far. India and Sri Lanka have fielded most players - 19 each.
3 Most World T20 final appearances for a player. Mahela Jayawardene, Kumar Sangakkara, Tillakaratne Dilshan, Angelo Mathews and Lasith Malinga all featured in three finals each - 2009, 2012 and 2014. The most matches played in World T20s without ever making the final is 30 by AB de Villiers.
9 Number of players from the squad of West Indies and England to have played earlier in a World T20 final. West Indies have eight from their final in 2012, while Eoin Morgan is the only one remaining for England from 2010.
4-1 Teams winning the toss went on to win the final on four occasions so far. Pakistan in 2009 is the lone exception.
3-2 Teams chasing have won on three occasions - in 2009, 2010 and 2014. 148 by England in 2010 is the highest total chased down, while 137 by West Indies is the lowest total successfully defended in a World T20 final.
111 by Craig Kieswetter and Kevin Pietersen is the only century partnership in the final of a World T20. It is also the highest in a knockout game in World T20.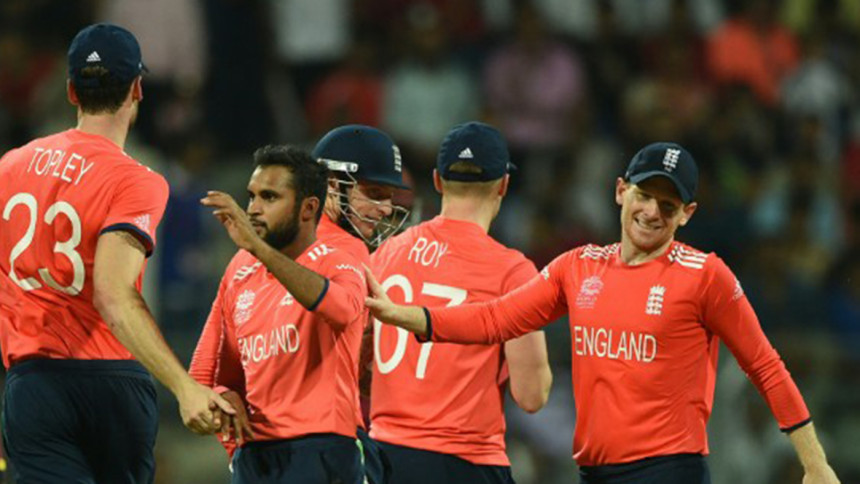 Kumar Sangakkara's 138 is the highest aggregate in World T20 finals. He played three matches and his scores are 64 not out, 22 and 52 not out.
78 scored by Marlon Samuels against Sri Lanka in Colombo is the highest individual score in a World T20 final.
Ajanta Mendis's 4 for 12 against West Indies in Colombo (RPS) in 2012 is the best bowling figures in the final of a World T20. His four wickets are the joint highest for a bowler in World T20 finals. Umar Gul has also taken four wickets in his two appearances in World T20 finals.
Till date, Yusuf Pathan is the only player to make his international debut in the final of a World Cup in any format. He made his debut in the final between India and Pakistan at Johannesburg in 2007.
Australia's Simon Taufel stood as umpire in three World T20 finals - 2007, 2009 and 2012 - the most by any. Aleem Dar of Pakistan is the only other umpire to stand in more than one final.
West Indies vs England head-to-head
West Indies have beaten England nine times in 13 T20Is played between them - the most they have won against a team. It is also the most England have lost against an opposition.
4-0 England have lost all their four games in World T20s against West Indies. The margin of losses being five wickets (Oval, 2009), eight wickets (Providence, 2010), 15 runs (Pallekele, 2012) and six wickets (Mumbai, 2016).
Chris Gayle has 354 runs against England in nine innings and Alex Hales has 340 runs against West Indies in eight innings - the leading run-scorers in head-to-head encounters between the two sides.
Eoin Morgan's contribution to the side in this World T20 is 61 runs and four catches. His counterpart Darren Sammy hasn't done much either - six runs, one wicket in two overs of bowling and two catches.
45.44 The dot ball percentage for West Indies, the highest for a team since the start of Super 10. The corresponding figure for England is 33.85%, only behind South Africa's 33.48%.
19.24 The boundary percentage for England - the highest for a team since the beginning of Super 10. 78 fours by England is 14 more than the next best, while 36 sixes by West Indies is the most for a team followed by England's 34.
18.61 The boundary percentage conceded by England - the highest for a team since the beginning of Super 10. They have conceded 68 fours and 42 sixes so far, both being the highest. No other team has conceded more than 25 sixes since the Super 10 began.