Pakistan beat UAE by 7 wickets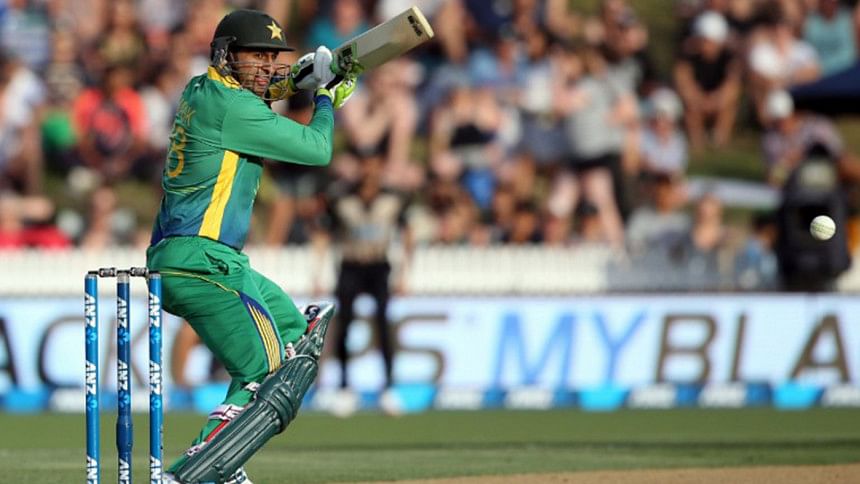 United Arab Emirates 129/6 (20.0 overs)
Pakistan  131/3 (18.4 overs)
United Arab Emirates won the toss and elected to bat
An unbroken 114-run partnership between Shoaib Malik and Umar Akmal in the fourth wicket steered Pakistan to an emphatic 7 wicket win over the United Arab Emirates in the sixth match of Asia Cup at Sher-e-Bangla National Stadium in Mirpur.
Shoaib Malik and Umar Akmal both scored two prolific fifties to keep Pakistan steady in chase of 130 runs, and finally secured the victory with eight deliveries still remaining. 
Pakistan struggled initially as UAE skipper Amjad Javed picked up Sharjeel Khan, Khurram Manzoor and Mohammad Hafeez early in the innings.
Earlier, a timely partnership in the sixth wicket between Amjad Javed and Muhammad Usman and a last over cameo by Mohammad Naveed pushed UAE to a decent score of 129 at the end of 20 overs. 
Mohammad Amir broke the 31-run partnership by picking up Muhammad Usman for 21 in the 19th over. 
Mohammad Irfan picked up Shaiman Anwar, his second wicket of the match, right when he was looking dangerous and was trying to build up a partnership to repair the UAE innings.
Shaiman scored a prolific 46 off 42 deliveries to give UAE some momentum after they were left struggling as Pakistan bowlers picked up four wickets in quick succession early in the match. 
The UAE won the toss and opted to bat first. 
This is the first time Pakistan and the UAE locked horns in a T20I encounter.
The UAE are yet to cause any upset in the ongoing Asia Cup T20, but it is beyond doubt that they are enjoying every moment in the big tournament.
ALSO READ: Bowling-heavy teams duel for first points
Pakistan Team:
Mohammad Hafeez, Sharjeel Khan, Khurram Manzoor, Shoaib Malik, Umar Akmal, Sarfraz Ahmed†, Shahid Afridi*, Mohammad Nawaz (3), Mohammad Sami, Mohammad Amir, Mohammad Irfan
United Arab Emirates Team:
Rohan Mustafa, Muhammad Kaleem, Mohammad Shahzad, Shaiman Anwar, Muhammad Usman, SP Patil†,Amjad Javed*, Fahad Tariq, Ahmed Raza, Usman Mushtaq, Mohammad Naveed