ICC Cricket World Cup 2015
The lingering image of Rubel Hossain
Short, slight, fast, skiddy, moves it sideways, in-drifts it, and gets good bounce. And the last Australia probably saw of him was two one-over spells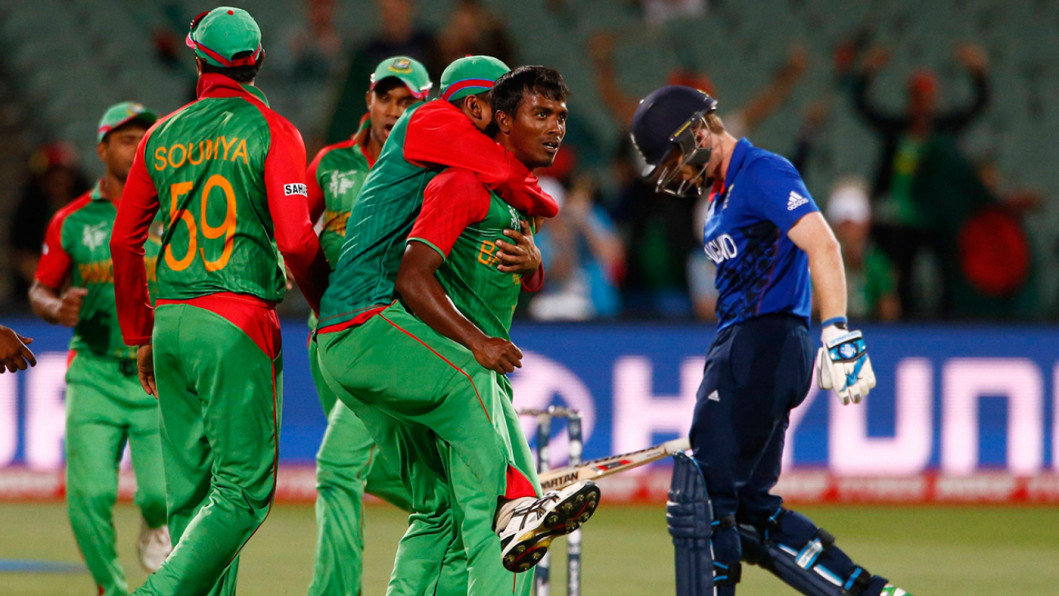 Up in Section Q22 passing jets are your neighbours and you hear and see every breath of the beast that is, but last week wasn't, the MCG.
Women danced, children babbled. A lesser emphasis on beer was palpable. Young guys practised their hornblowing, a smile when they got its moan right.
Tambourines. Drumbeat. People were texta-finessing hand placards.
Below, a green flag - 20 fans wide - had a red circle in the middle.
Bangladesh were putting their everything into ruffling the daddy-roosters, India, in a quarter-final.
Three seats from my girlfriend's seven-year-old and me was a guy and his girlfriend. She read magazines. He, standing, leaned on the black metal rail, which was high and sturdy, holding it, and occasionally easing himself down onto his seat for ten seconds, and getting up again. Sometimes he pulled out a phone. Stuffed it back away. For a long while this was how we were, the four of us.
A security man sidled down a hundred steep concrete steps to tell the guy that standing beside the black rail was forbidden. Only sitting was allowed. He went on to explain why, and the guy craned his neck closer to try to catch the explanation, as did I. The security man was talking low, like he was embarrassed, like the words themselves were reluctant to exit the security man's mouth, and I can't swear what he said but I think he said, and there's little else he could have said, People might jump.
There are worse ways to go than by bowling a one-over spell. But it is a cruel and thankless way and it is how Rubel Hossain departed these shores when Bangladesh lost. Two one-over spells, actually: the 46th over and the 50th. Who knows if he will be seen back in Australia. It's uncertain. Rubel is short and slightly built yet fast and skids it, and jags it both ways sideways, and in-drifts it, and gets good bounce, and he injected something unusual and sporadically precious into each passage of play in which he bowled this tournament. His first spell, a proper spell, at the MCG that day had been one such jewel: 6-0-14-1 were his figures.
Virat Kohli gets itchy early. No one ever talks about Kohli's starts. This day, first ball, he carves a flighted-up yorker from a spinner wide of the cover sweeper and sprints two, narrowly making it. It is the first day in 21 months and 57 ODIs in ten countries that he has scored anything better than a single first ball. Kohli's first-ball strike rate, runs per 100 balls-wise, in that period? 13.7. After the two to deep cover, a single keeps him on strike for the next over, Rubel's over.
There's the Super Kohli on people's TV sets. And there is Kohli as you see him from the plastic seats of the venerable old ground, a humbler Kohli, anxious to give the people pleasure. As he lopes towards his long-off fielding post, the Castrol Oil lemon people dance at him from their dancing podium. Kohli's hips swing and he mini-dances back at them. He head-bops to a song blaring from the stands. Every bop gets an ovation. So he bops some more. Wide-striding out to bat in his invisible tunnel he looks lithe, slim, alone, nervous. My girlfriend's seven-year-old is captivated by Kohli. And based on what, his contribution? Three runs. But it was a thrillingly watchable 3.
Death bowling - it's the pits. It is a personal sacrifice; it is doing the team thing; it is a suppression of a fast bowler's wilder insides. Would Jeff Thomson have agreed to one over?
Rubel bends his back to near-snapping point in his opening salvo at Kohli. That one clears Kohli's head. The next one is also fast and rising, and Kohli defends it, and Kohli fixes Rubel with a black glare. Kohli has eyes like painted glass some days when he bats. Now you see him, but really you don't; this over, it is like we are looking right into Kohli. Rubel bombs three more outside off stump. Kohli defends them, impatience burning, and the one after that is fuller, wider and, suckered in, Kohli edges. It is one way we have of remembering Rubel.
But those one-over spells lay ahead. The one-over spell is in vogue. Late in an innings, bleeding runs, a team calls its best bowler back fleetingly to soak them up, like gauze. It works sometimes. Sucks to be the bowler all times. There's a lottery element. A fast bowler of classical action pitches balls up, because the law says he must, to late-order hitters with village blacksmith backswings who top-edge boundaries to where fielders are legislated against standing. Either that or the hitter slogs singles to where the deep-set fielders are. No one enquires or cares about the bowler's rhythm.
One over. Short notice. Was it more painful being Rubel, or watching him? When the World Cup is over we won't see again, in Australia at least, Sanga, Jaya, Taylor, Misbah, Afridi or Majid Haq, and Anderson probably, Gayle possibly, maybe even, there's no telling, a prominent Australian. It is 50 years this month since the death of RC Robertson-Glasgow, who wrote the essay "Old Clarke":
He was as little inclined to receive as to confer a favour; but he was one of the truly great men of cricket, which he loved in his own jealous, tyrannical, and grimly humorous manner.
Rubel is only 25. But Bangladesh don't tour the big powers often.
There was an actress. He was marrying her. He is not marrying her. It's complicated.
He did time. And who can say when his time may be done. In 22 Tests he has a bowling average of ----; if you have to, look it up. Numbers are meaningless. Or mean little. Or mean only so much. Statistics are purportedly a preservation tool, keeping yesterday's cricketer in our consciousness. Rubel, a revelation of this World Cup, is equal-26th in the tournament's wicket-taking charts and 73rd for economy, his figures wrecked by one-over spells, of which, as the attack leader of a thin attack, he has bowled a heap.
Death bowling - the one-over spell is its sub-branch. It is not really a "death". But it's the pits. It is a personal sacrifice; it is doing the team thing; it is a suppression of a fast bowler's wilder insides. Would Jeff Thomson have agreed to one over? Or would Thommo shuffle up to tell his captain to go whang? Of Rubel Hossain, an image lingers, and it is already dimming: a man at the top of his bowling mark, peering at the seam of the white ball in his hand and methodically placing two long fingers down the stitching, guided by sight not feel.