Australian Open
Nadal, Fed renew classic rivalry
Roger Federer and Rafael Nadal make their unexpected return as Grand Slam finalists on Sunday in a classic Australian Open decider that nobody saw coming but which has sent tremors of excitement through the sport.
Even the two combatants would never have predicted they would meet again in the Melbourne final, but the stars have aligned after the early exits of top seeds Andy Murray and Novak Djokovic.
It promises to be a final to savour between the two old warriors, who have both returned from injury to set up their 35th career meeting and ninth for a Grand Slam title.
Either Federer, 35, will expand his record haul of major singles titles with his 18th, or 30-year-old Nadal will close the gap on the Swiss legend by winning his 15th.
"It is special to play with Roger in a final of a Grand Slam, I cannot lie," Nadal said, after surviving a nailbiting, five-set semifinal with Grigor Dimitrov.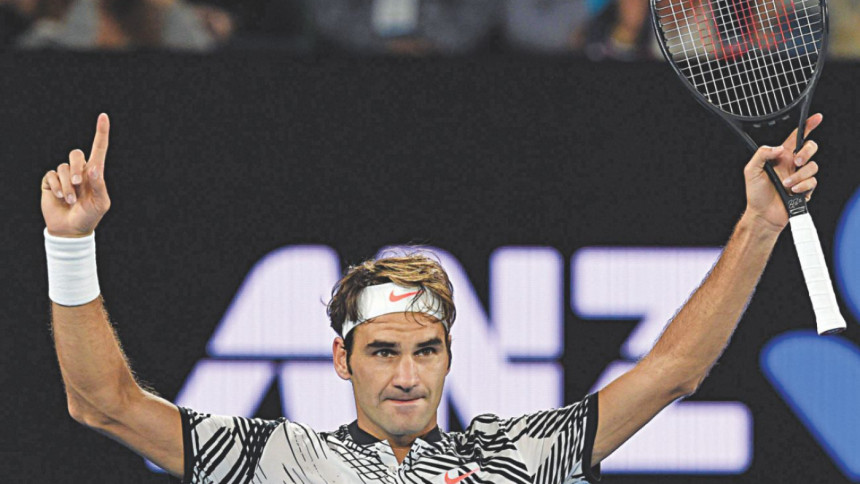 Federer, who also needed five sets to get past world number four and fellow Swiss Stan Wawrinka in the semis, spoke of the "magnitude" of his match against Nadal.
But Dimitrov described it best. "I just know that two of the greatest players of tennis are going to square off on Sunday, and it's going to be a freakin' amazing match," he said.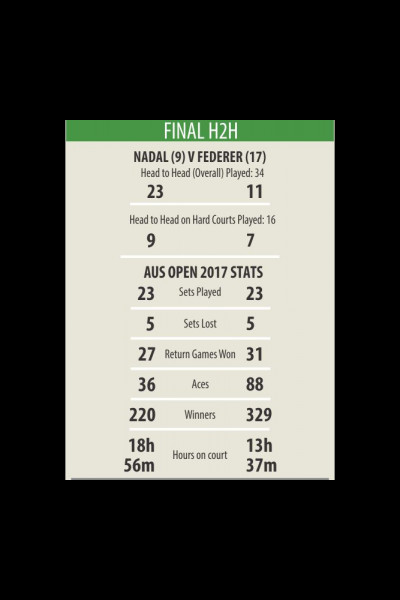 Nadal appears to hold the edge over his great rival, at least on paper, with a 23-11 win-loss record against Federer, 6-2 in major finals and 3-0 at the Australian Open.
But Nadal insists his past Grand Slam supremacy over Federer will have no bearing on the outcome.
The Mallorcan has spent well over five hours more on court than Federer, and has one fewer day of rest before the final after his epic semifinal wrapped up in the early hours of Saturday.
Yet Nadal has done it before in Melbourne in 2009, when he pounded out a longer five-set semifinal against Fernando Verdasco, and two days later conquered Federer in the final -- in another five-setter.
Perhaps significantly, in five out of the past nine years, the man who has played his semifinal second has gone on to win the final.
Both players stand to make plenty of history in the final.
At 35 years, 174 days Federer can become the second oldest Grand Slam champion in the Open era, after Australia's Ken Rosewall. Meanwhile Nadal is bidding to become the first man since 1968 to win each of the four major titles twice.
It will be Federer's sixth Australian Open final and 28th Grand Slam decider in total, and caps a marvellous comeback after the second half of last season was ruined by a knee injury, with his ranking dipping to 17.
Nadal, the ninth seed in Melbourne, has also been out of the Grand Slam limelight since his last title success at Roland Garros in 2014, as injuries sidetracked his glorious career.
Both have a deep respect and admiration for each other. Federer even travelled to Mallorca for the opening of Nadal's tennis academy last October.
"I just think he's an incredible tennis player. He's got shots that no other one has. When you have that, you are unique and special," Federer said of Nadal.
"Plus he's got the grit. He's got the mental and physical ability to sustain a super high level of play for years and for hours and for weeks.
"I think he's been tremendous for the game. I have a lot of respect for him on many levels."
Nadal underlined that reputation with his gripping win in Friday's semifinal which was on a par with some of his very best matches.
The Spaniard, who is into his fourth Australian decider and 21st Grand Slam title match, says his rivalry with Federer is one that draws notice from outside of tennis.
"It's the combination of two different styles that makes the matches really special," he said.
"It's a different way to play tennis. Both of us have a lot of good success with these two different styles."