Djokovic defeats Nishikori in Rogers Cup final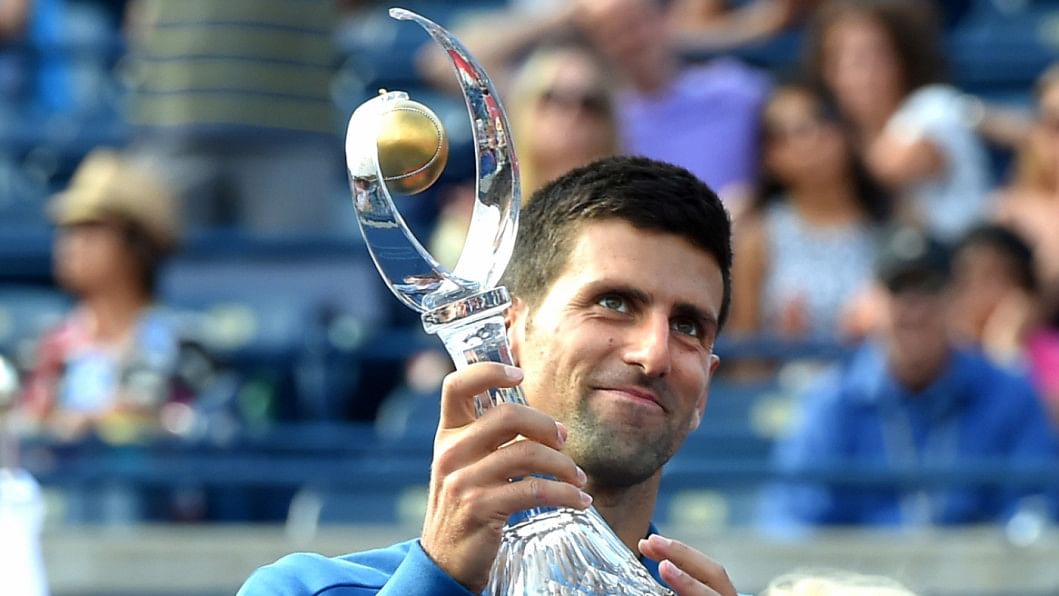 -Bounces back from Wimbledon disappointment
-Beats Nishikori for ninth straight time
-Turns focus to Rio
World number one Novak Djokovic continued his dominance of Kei Nishikori with a 6-3 7-5 victory in the final of the Rogers Cup in Toronto on Sunday.
After clinching his 30th ATP World Tour Masters 1000 title, Djokovic immediately started to turn his attention to something more elusive, an Olympic gold medal.
In his first tournament since an upset third round loss to American Sam Querrey on the grass of Wimbledon four weeks ago, Djokovic returned to his winning ways and became the first four-time winner of the Rogers Cup.
The 29-year-old Serb seized the opening set in just over 30 minutes, and then dug deep during a spirited back and forth in the final stages of the hardcourt match.
Djokovic was bolstered by a strong service performance as he won 82 percent of his first serve points and recorded five aces.
"I worked on it (with my coach)," Djokovic, who struggled on serve earlier in the tournament, said in a courtside interview.
"I had to change something, I was not getting many of the free points (as I did today).
"It allowed me to be more aggressive. It was my best (serving) performance of the week."
With the second set tied at 5-5 and the score at deuce, Djokovic won a pair of rallies to earn the decisive break.
Djokovic put extra loft on a forehead to create an unforced error from Nishikori on game point, before triumphantly pointing at his head to illustrate his savvy.
He served out to close the match.
Nishikori fought hard to stay in the final set but seemed to be bothered by his rackets as he made multiple trips to the side of the court to change.
The Japanese player recorded his fourth straight Memphis title in February for his 11th ATP Tour victory, but he cannot seem to solve the world's top player and has now lost nine straight times to Djokovic.
"It was a shame to lose but this was my first time final here in Toronto," Nishikori told the Canadian crowd. "So, it was a great week."
Djokovic, a 12-time grand slam champion, will now turn his focus to the Rio Olympics, a tournament he has yet to conquer.
He earned a bronze medal in singles at Beijing in 2008 and fell just short of a medal at London in 2012.
"I don't need to explain that every athlete dreams of being a part of the Olympic Games," he said. "I'm competing in singles and doubles.
"Hopefully I'll get at least one medal."