Taskin's 'Test basics' prove decisive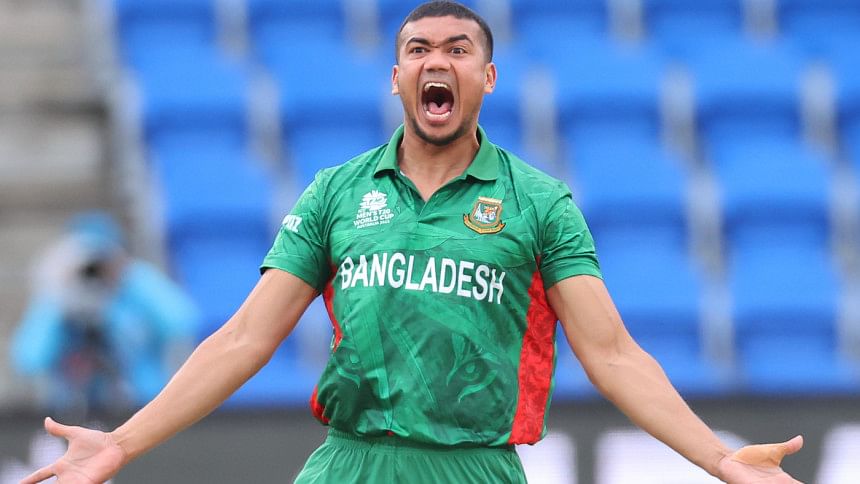 Taskin Ahmed most probably expressed the whole team sentiment when the right-arm pacer pointed out the urges of his side's hunger for victory following a nine-run win against the Netherlands in their opening T20 World Cup match in Hobart today.
The Dutch, who battled through the preliminary round to reach the Super 12, held the Asian nation to 144-8 but were all out for 135 on the final ball to ensure the Tigers' first-ever Super 12 win at the event.
Taskin was the hero of the match by scalping four wickets for 25 runs -- his career-best figures in the format -- including two wickets in the very first over with superb deliveries and his effort helped the Tigers to get out from the gloom of one defeat after another. 
"It's a good win for us and we needed it. We played well as a team, happy to have contributed," said a delighted Taskin during a post-match presentation. 
The Dutch got off to a horror start in the run chase, losing two wickets in the opening two balls to Taskin, then slumped to 15-4 in cold conditions at Hobart to put them on the back foot.
When asked about his first two wickets, Taskin said: "I stuck to my basics, saw there was movement in the first innings. So I bowled Test-match lengths."
"I can move the ball both ways, that was the main focus. I worked on that coming into the World Cup," he added.
When the defeat was a heavy blow for the Netherlands with two points desperately needed in a group that features heavyweight opponents India, Pakistan and South Africa, it was a relief for Bangladesh, who qualified directly for the Super 12 but have suffered from poor form since the 2021 World Cup, playing 19 T20 internationals, losing 14, before meeting the Dutch.