Foes on field, friends in life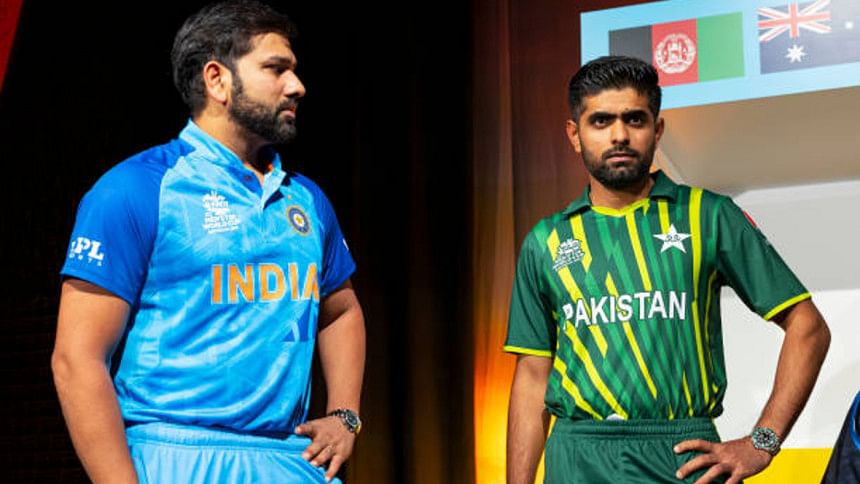 India and Pakistan will face off in Melbourne on October 23 in the ICC T20 World Cup, which will be the third meeting between the two sides in 2022, with both of them having won one match each during the Asia Cup.
India captain Rohit Sharma and Pakistan skipper Babar Azam were quizzed while addressing the captain's press conference today about the India-Pakistan rivalry and the importance of the match, but both of them downplayed the 'hype' surrounding the match.
The International Cricket Council (ICC) organised a Captains' Day today, involving all 16 captains of the T20 World Cup 2022 teams ahead of the tournament opener on Sunday. During the event, the skippers posed for a group photo and talked to the media.
After the press conference, Rohit and Babar, along with all the captains took part in the official photoshoot for the T20 World Cup, and fans couldn't keep calm after seeing the photos.
While some fans compared the duo of Rohit and Babar to famous Bollywood film characters 'Karan and Arjun' portrayed by Shah Rukh Khan and Salman Khan, others posted hilarious memes and compared the photo shoot to that of a pre-wedding photoshoot.
Rohit and Babar seemed like two friends who just happen to play cricket for different countries. They were all praise for each other throughout but the bond between India and Pakistan was explained beautifully by them when one journalist asked about the conversations they have during tournaments.
"Rohit Sharma is older than me. I try to take as much experience as possible from him as he has been playing for a long time," said Babar.
The feel-good mood notwithstanding, Babar was fully aware of the importance of the match. "Any match against India is always a high-intensity contest," said the 28-year-old. "Fans also wait for them. On the field, we enjoy it a lot and give our 100 percent."
India skipper said, "We understand the importance of the game (India vs Pakistan). But there is no point in talking about it all the time and creating that pressure within yourself."
Rohit further added, "Whenever we (India and Pakistan) players meet, when we met at the Asia Cup, we talk about our families, ask about what's happening in our homes. We talk about life, what new car did you buy. That's all we talk about. That's all. From the interactions that I have had with Babar's teammates, we talk about such stuff only."