'The main difference was energy'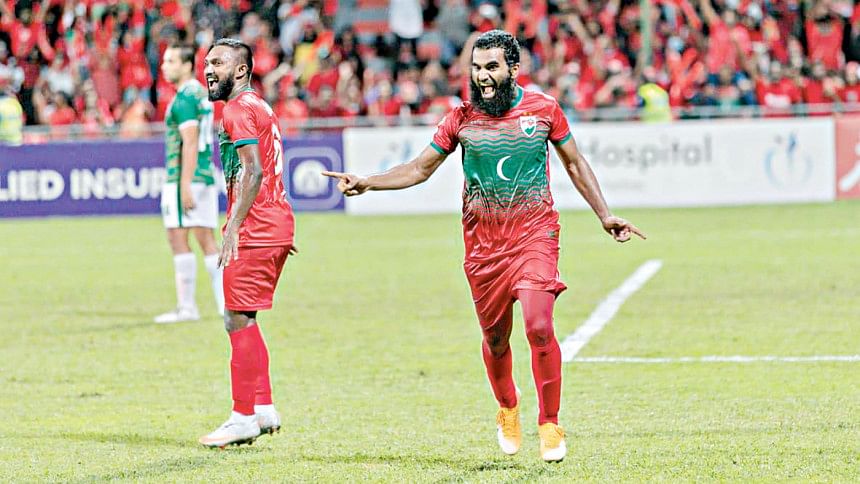 Bangladesh coach Oscar Bruzon blamed fatigue for a 2-0 loss to hosts Maldives in their SAFF Championship match at the National Football Stadium in Male yesterday night.
"First of all, I want to congratulate Maldives. They were better tonight and nothing worked for us," the Spaniard said.
"Maldives were better throughout the 90 minutes and the main difference was energy. Maldives were much more energetic than us because they played their last match five days ago while we were playing back-to-back matches in 72 hours. So we could not maintain our momentum despite having high expectations," said Bruzon, who will now likely have to get something from Bangladesh's last game against Nepal to qualify for the final.
"Next match we will be coming in fresh [after a five-day break]. I hope this energy will be on our side against Nepal. Plus, we still have a chance to qualify for the final. We have one more bullet left in our attempt to qualify for the final," the 44-yar-old added.
The Bashundhara Kings coach also lamented the standard of refereeing.
"The referee was biased from the very first minute. We can't have such a referee. The reason for the defeat was not referee, it was because Maldives were better. They don't need assistance to win matches. It was a reason, but not the main reason for the defeat," said Bruzon, who was booked by the referee at half-time.
"In the second half, we changed the formation. We tried to launch more attacks and Maldives played 4-2-4 and they felt more comfortable. In the first half, our defence was up to the mark but although we had some problems on the left, they could not create a single chance in the first half. In the second half, they were excellent and sped up and the game slowly went out of our hands," said Bruzon.
"The first half was 50-50. There were some tactical tweaks in the midfield and we contained all of their players well. The boys conceded the first goal and did not know how to react so I changed some players and tried to change the formation to attack more but Maldives were the better side tonight," Bruzon said, adding that there were no excuses and that it was simply not their day.