Bruzon has plans for Chhetri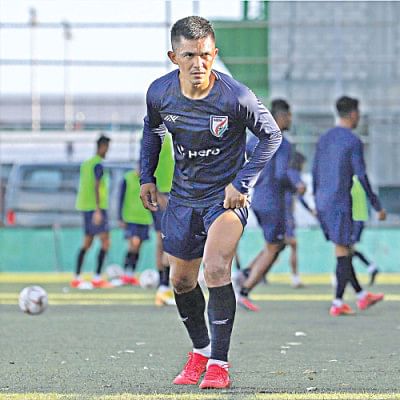 With the clock ticking down during the World Cup qualifying match against India at the Jassim Bin Hamad Stadium in Doha in June, Bangladesh were expecting to register their fourth successive draw against their neighbours but Sunil Chhetri broke the hearts of the men in red and green with a glancing header in the 79th minute before adding another in stoppage time with a deft finish with his right foot inside the box.
It was not the first time that Chhetri rescued India in the dying moments of a match against Bangladesh. The veteran striker brought India back in the game with equalisers against Bangladesh in 2013 SAFF Championship in Nepal and in a friendly match in Goa in 2014.
India have always been blessed with genuine strikers who made the difference in matches against Bangladesh. Shishir Ghosh, Bikash Panji, IM Vijayan and Baichung Bhutia made the difference with their goal-scoring ability. Chhetri, at his fag end of career, is still a big threat for Bangladesh ahead of today's crucial match between the two sides in Maldives. 
Bangladesh coach Oscar Bruzon has already said he has a different plan for the 37-year-old forward, who has scored five goals in the last four matches against Bangladesh.
"Of course, Sunil is a talented player. Sunil will be a player we need to control and he is best in his left position and in the box. If he has half a second or half a metre, he tries to make his space in the box and he will do it," said Bruzon, who worked with the India captain during his time with Mumbai FC in Indian Super League in 2017.
"In endurance and physical fights, Sunil struggles, so we must have a plan for him because he is the most dangerous player. If you saw the last match, Sunil scored goals and he is the player who has more responsibility to attack. However, I am not scared. Sunil is a good player but we also have our own defenders for him tomorrow," said the Spaniard.
When asked how much the Indian team depended on Chhetri for winning matches, India coach Igor Stimac said, "I don't underestimate other players. I am very confident that if we go without Sunil, we can do well. If you saw the past, India drew against Qatar without Sunil."