England coach Mott blasts dressing room unrest claims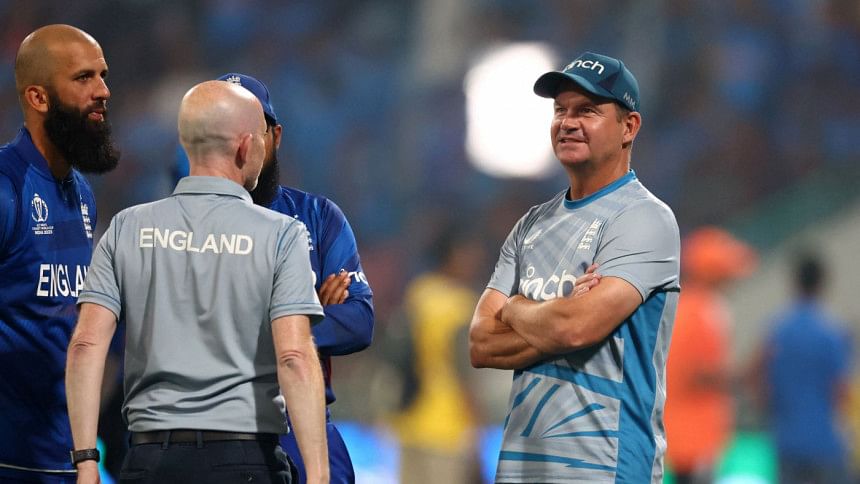 England coach Matthew Mott on Sunday said the team remains an "incredibly tight-knit unit" despite a 100-run thrashing by India which condemned the defending champions to a fifth defeat at the World Cup.
Mott's claims came after former England captain Eoin Morgan insisted that there were splits in the camp which were causing the champions to under-perform.
"I've never come across a sports team that has underperformed like this, given the level of expectation," 2019 World Cup winning skipper Morgan told Sky Sports.
"There's something within the team that is definitely unsettled. I think there's something else going on – there has to be."
Mott was quick to refute the claims.
"I don't think that at all. I think anyone that's inside our tent at the moment would say that despite our results, we're an incredibly tight-knit unit," he said.
"I can only say from my opinion the group's been incredibly strong in that part. If you see our training sessions, they're full of fun. People are putting their arm around each other, trying to help them."
Pressed on the topic and Mott said: "Eoin's entitled to his opinion. He's obviously been away for a couple of weeks with the birth of his child.
"He hasn't been in and around the rooms, but I'll certainly take that up with him and have a chat to him."
Lack of runs 
Jos Buttler's England suffered a fifth loss in six games at the tournament to all but slip out of the semi-final race.
Their bowlers kept India down to 229-9, but the batting once again collapsed to 129 all out against an Indian attack led by Mohammed Shami and Jasprit Bumrah.
England's batting folded for 156 in their previous loss to Sri Lanka, but Mott said the team will not throw in the towel in their next three matches.
"I think it's tough. I'm sick of coming up and speaking to you guys about the same thing, but that's what professional sport is," he said.
"And we've got to keep pushing hard here. We've got a fair bit to play for to the back end of this tournament."
"The first half we did our job the second half was one would rather forget and we've got to find a way. There's some world-class players in there that unfortunately aren't scoring the runs that they're used to scoring."
England languish bottom of the 10-team table with a chance of missing out on the 2025 Champions Trophy, where the top seven teams from this World Cup and hosts Pakistan are expected to compete.
However Mott said they got to know about the qualification scenario only "about an hour and a half ago".
"Well, the ICC (International Cricket Council) do change the rules quite a bit with qualification and to be honest I don't think it would affect in any way the way we've played in this tournament so it's not a big deal," said Mott.