Why the Emir of Qatar gave Messi a tunic, what it means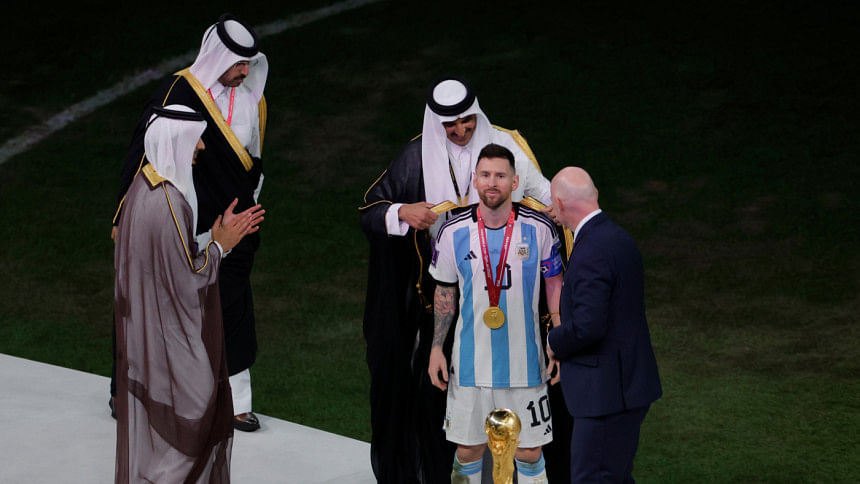 This Sunday, December 18, although it may seem strange because of the date, the Qatar 2022 World Cup ended with Argentina as champion, winning the cup again 36 years after Maradona lifted it.
The person in charge of lifting the trophy was Leo Messi, the great captain of the Albiceleste and MVP of the tournament.
At 35 years of age, the Argentine star has won his most prized title, which he had been trying to win in five World Cups. The image of Messi with the cup will go down in soccer history, but this one will also stand out, as he is wearing a tunic that has been put on the player.
This garment is golden and with golden details, the ones in charge of putting it on have been Gianni Infantino, FIFA president, and the Emir of Qatar, Tamim bin Hamad.
This image has gone around the world because of this tunic worn by Messi, which is called Besht. It is made in the souk and is worn by ministers and important people in Qatar.
In addition, this Sunday was the national day of the country in which it is commemorated that Sheikh Jassim Mohammed bin Thani united all the tribes of the peninsula and began to build the foundations of the state. As it is such an important day in the country, Qatar dresses up in its best clothes and there is even a military parade and fireworks in the evening as a celebration.
The tunic, called Besht, is made in the souks to be worn by Qatar's top leaders and on days as important as this one, it is worn over the clothes.