Szczesny's moving father-son moment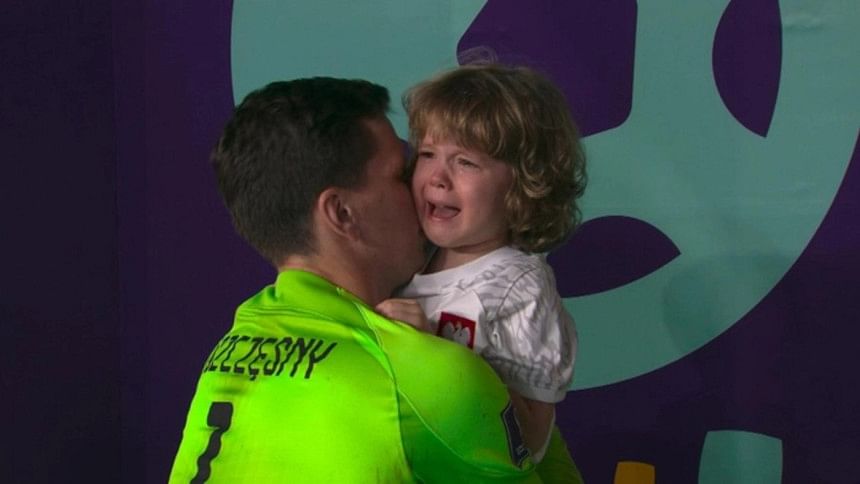 In one of the most poignant off-field moments at the Qatar World Cup, Wojciech Szczesny was seen comforting his distraught child.
Poland goalkeeper had an emotional moment with his son Liam after Poland were knocked out of the World Cup following a 3-1 defeat by France on Sunday.
His World Cup dream had just ended. But Wojciech Szczesny was the one doing the comforting as his tearful young son reacted to Poland's exit from Qatar 2022.
This tender moment was captured in the aftermath of the Poles' last-16 defeat at the Al Thumama Stadium.
After the full-time whistle, the goalkeeper's son was in tears after seeing his father bow out of the tournament rather early than he might have expected.
Szczęsny spent almost a minute embracing and consoling his Liam and probably apologizing for letting his number one fan down.
Olivier Giroud opened the scoring with his record-breaking 52nd goal in French stripes to overtake Henry as the Le Blues' all-time leading scorer on the brink of halftime. The ever-brilliant Kylian Mbappei grabbed a brace to take his tally of goals in the tournament to 5 and push the French advantage to 3 goals. Robert Lewandowski got a consolation for Poland, deep into added time but the damage was already done.
Szczesny, who has been one of this World Cup's most impressive goalkeepers - saving two penalties during the group stage - certainly earned plenty of new admirers for this display of fatherly care and affection.