Messi to win Golden Boot and Golden Ball in Qatar, Mash predicts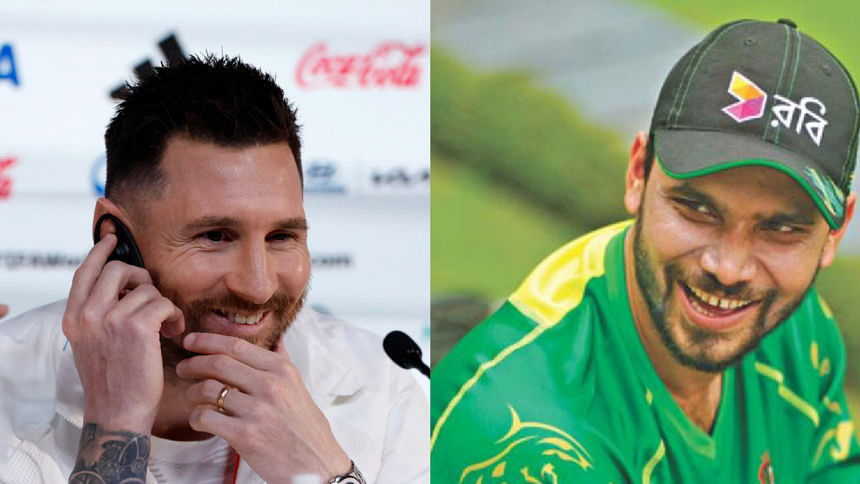 The FIFA World Cup fever is raging as fans across Bangladesh are glued to their TV sets desperate to stay updated on the ins and outs of their favourite teams. 
That fever has also drummed up the World Cup spirit in former Bangladesh cricket team captain Mashrafe Bin Mortaza, who is an avid Argentina fan and predicts that Argentina skipper Lionel Messi would score seven goals and take away both the Golden Ball and the Golden Boot this time around.
Interestingly, Mashrafe's allegiance is completely opposite to his family members, who root for the five-time champions Brazil.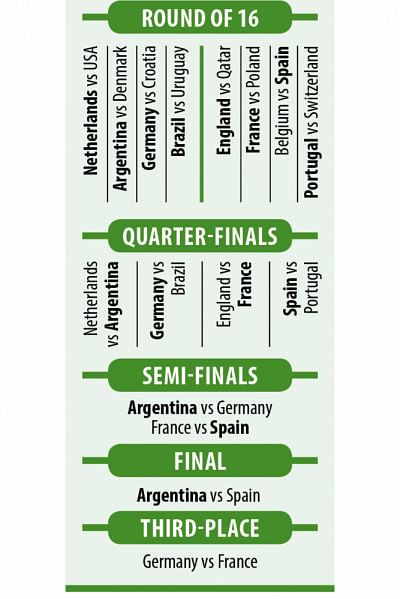 It is, however, a very common scenario in a lot of Bangladeshi households to see family members divided by their choice of teams during the time of World Cup.
Mashrafe's Argentina convictions sparked when he saw the magnificent Diego Maradona enchant fans around the world with his magical touch in the 1990 World Cup.
The charismatic former Bangladesh skipper, however, admitted that he didn't know much about football back then.
"I was only eight when I saw the 1990 World Cup. I couldn't have known much about football," the Narail Express told The Daily Star, adding, "I used to follow the ones who could dribble well. And Maradona used to dribble past all the players and go through on goal."
Mashrafe was mesmerised, and that embedded an unconditional love for Argentina despite the fact that all his family members have been fans of the Albiceleste's archrivals Brazil.
"My father and my uncles always rooted for Brazil and told me tales of the Brazil team but only I liked Maradona and am the lone Argentina fan in my family," the 39-year -old said.
Argentina last won the World Cup in 1986 amid the most controversial of events centering Maradona. The forward, in a Houdini act, managed to disguise his punch that guided the ball to the back of the net against England in the quarterfinal, an incident which only English goalkeeper Peter Shilton protested. But despite the foul play, it brought Argentina their second World Cup trophy.
The Albiceleste were runners-up in the 1990 World Cup and got very close to winning it again in 2014. In the final of that edition eight years ago, the Argentines, including Lionel Messi, missed a number of chances that saw their glorious opportunity of bringing the trophy home slip away to Germany.
An ardent Maradona fan, Mashrafe admitted that he has a lot of admiration for Messi; perhaps not as much as Maradona but he banks on Messi's magic if Argentina are to go all the way this time around.
But the former Bangladesh captain still carries regrets about that 2014 final.
"What did Messi do on that day?!" he commented on Messi's left-footed miss in the 47th minute. "Who misses that kind of opportunity? He finishes that chance nine times out of ten in any other match but he just had to miss that chance on that day," Mashrafe added.
 
Unsurprisingly, Mashrafe has tipped the Messi-led Argentina to lift the World Cup in a prediction segment in The Daily Star.
He asserted that Messi, despite all his achievements, would have to win the World Cup to match the feats of Maradona and Brazil's Pele.
"Messi has won everything but he must win a World Cup which is something Pele and Maradona have done.. I think Messi will score seven goals this time and will also be the best player of the tournament," Mashrafe said before making the bold prediction about Messi.