Wood says Taskin showed the way to England seamers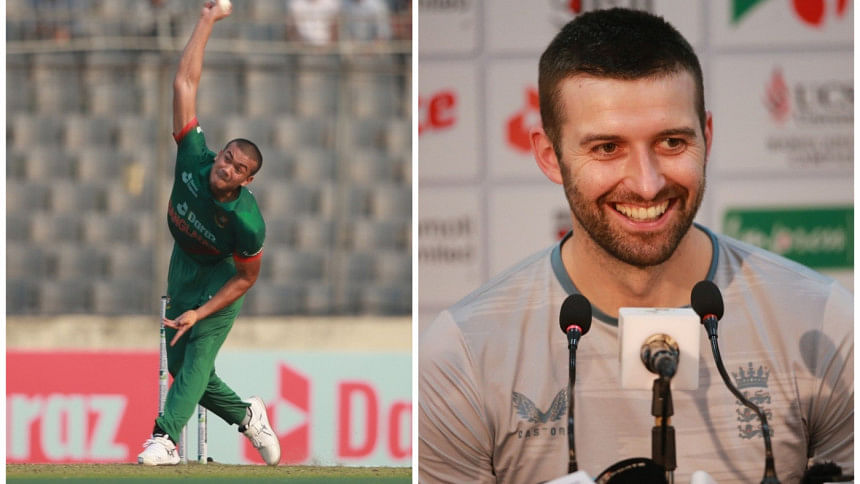 There was a bit of laughter and light moments during Mark Wood's press conference today. The Chattogram track looks hard but Wood provided some comic relief with the way he answered how much help fast bowlers will have on this wicket. The pacer also divulged on his England teammates views on Taskin Ahmed.
The Chattogram wicket produced over 400 runs in the third ODI against India recently. When Wood was asked about how much help he expected for the fast bowlers in the third ODI against Bangladesh tomorrow, Wood took a pause to say: "No. Not really."
Taskin Ahmed has been performing really well in recent ODIs and caused quite a bit of discomfort for England bowlers.
"Taskin is mighty impressive. I think he's impressed everybody not just me. The whole team has said how well he has bowled and he's bowled quickly, hitting good lengths," the England pacer said.
The pacer felt that Taskin showed them the way in terms of how to bowl at Mirpur.
"In our first game, he showed our seamers where to bowl really. We took a lot from his performance, myself, Jofra and Woaksy. The areas he bowled, put us under pressure. He kept it tight as well, not just taking wickets but keeping things tights. Mighty impressive and someone who the [England] batters said has performed really well," said.
Bangladesh will take on England in the third and final ODI at Chattogram's Zahur Ahmed Chowdhury Stadium, having already lost the series 2-0 and although Wood did not want Taskin to do badly, he didn't want him to bag a lot of wickets either.
"I don't want to see him [Taskin] do badly but hopefully he doesn't mock this game and take lots of wickets," Wood opined.