Tamim unwilling to stir up controversy by commenting on Shakib's 'plan'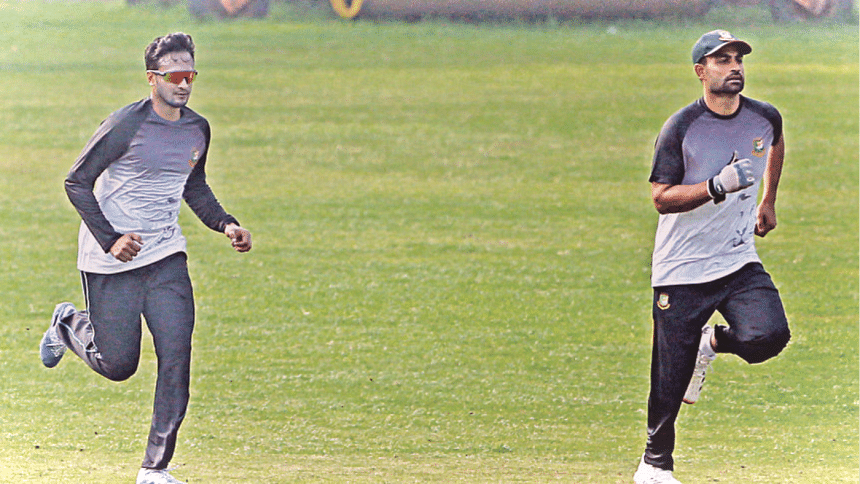 Tamim Iqbal was reluctant to remark on ODI skipper Shakib Al Hasan's game plan for the ongoing Asia Cup since the former Bangladesh captain believes the Tigers' thinktank is following a certain blueprint in the tournament.
Tamim, who is recovering from a lingering back injury, had already started batting with low intensity at the nets. The southpaw spoke to the media during a launching ceremony of a shop in the capital on Friday.
"When I was the captain, I had my own thought process while the new captain may have his own plan which I'm not aware of. I think it will create a controversy if I comment over someone's plan without knowing it properly. I think the new captain and the team management has got a good plan and they are heading accordingly," said Tamim.
The Tigers are going through a topsy turvy ride in the ongoing Asia Cup after kicking off their campaign with a huge defeat to Sri Lanka. A batting failure resulted in Shakib and Co getting bundled out for 164 runs.
Bangladesh, however, bounced back brilliantly to beat Afghanistan comprehensively by 89 runs and practically ensure their advancement into the next round, the Super Four.
Unable to carry the momentum, Tigers' batting again faltered in their Super Four opener against Pakistan. Despite a 100-run from Shakib and Mushfiqur Rahim, the Tigers saw their innings restricted to 193 before facing a seven-wicket defeat.
Tamim, however, still backs his teammates. The 34-year-old finds it unwise to judge the Tigers after a couple of failures, considering Bangladesh's prolific run in the 50-over format over the past few years.
"Obviously, watching the games, definitely it feels disappointing if we don't play well. But I think we should not forget what we did in the last five years or so after a couple of disappointments. I think we are still a very good team in ODIs. [Setbacks] it can happen in one or two games and I think we should not worry about it. Those who are in the dressing room also believe that irrespective of whatever happened in the last couple of matches, they are a much better team than that," he added.
The dashing opener is expected to make a comeback with the upcoming home series against New Zealand later this month. Tamim informed that he will start batting with full intensity from September 10.