Shakib gets his 100th wicket at home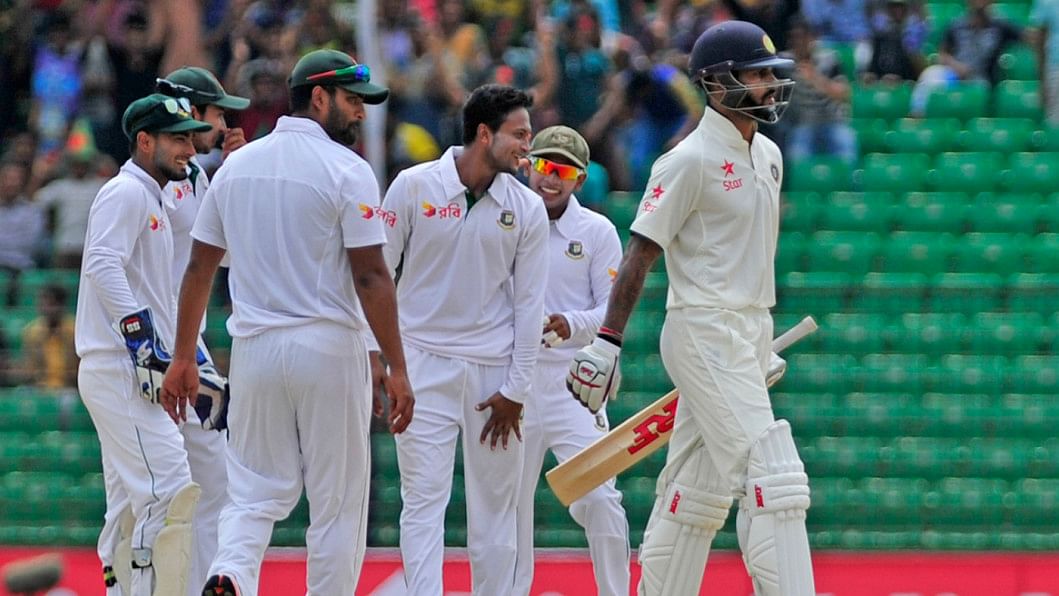 Bangladesh's ace allrounder Shakib Al Hasan captured his 100th wicket at home during the third day of the Test match against India today at Fatullah stadium.
He sent back Shikhar Dhawan and Rohit Sharma in quick succession during the first session of the third day to bring his team back into the match.
Shikhar was the first to fall when he lobbed an easy catch to Shakib after scoring 173 runs.
Shakib saw the Indian opener coming down the wicket and fired the delivery at the batsman's feet. Shikhar tried to flick, closed his bat-face early and the leading edge produced a simple catch for Shakib.
In his next over Shakib dismissed Rohit Sharma with a peach of a delivery when the batsman went for a booming drive and failed to connect properly.
Shakib's looping delivery angled in towards off-stump and Rohit tried to smash it through the covers. Unfortunately for the batsman, the ball crashed on to the off-stump.
When players left the field for lunch on day three, Shakib was the most successful bowler for his team picking up two wickets for 78 runs in 19 overs.
Shakib now has 101 wickets to his name at home in 28 matches. His bowling average is 35.09 with a strike-rate of 69.6.
His best bowling performance in an innings at home came against New Zealand in 2008. Shakib picked up seven wickets for 36 runs in 25.5 overs.
He now tops the table with 101 wickets at home. Mohammad Rafique is second with 66 wickets he took in his career.