Rio Olympics: Samba and smiles as Bolt warms up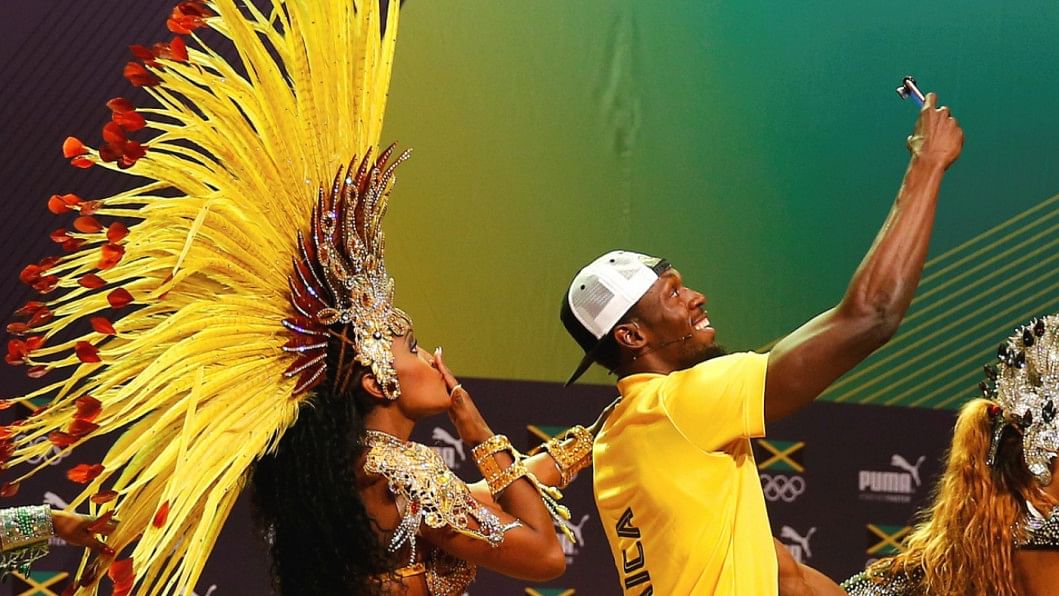 Shimmying amid a troupe of semi-naked samba dancers and wise-cracking with journalists, Usain Bolt is determined to bow out of the Olympics with a flourish.
The 29-year-old Jamaican sprint star took centre-stage on Monday at his first major press conference since arriving in Rio de Janeiro for his final Games.
And from the moment he strutted onto the stage at Rio's Cidade des Artes theater -- instructing his audience to applaud -- he was determined to entertain.
"You've got to clap much louder than that, that was weak," Bolt joked.
The setting of the largest theater in South America could not have been more appropriate for track and field's greatest showman.
"I like to entertain, because that's what people come out and see," Bolt said.
"I try to entertain and make it different. That's my personality."
And it works. A Norwegian stood up at the end of the press conference and said: "I don't really have a question I just want to say I really love you man."
It was a reminder of just what athletics will lose when Bolt walks away from the sport next year after the World Championships in London.
Before that however he has his final Olympics to think about, where he will bid to win 100m, 200m and 4x100m titles for a third straight Games, the fabled "Treble-Treble."
"This is the last one for sure," Bolt said when asked if he may yet extend his remarkable career.
"I've done enough. I've proven myself over and over again, this is the last one."
Bolt is preparing to bow out as athletics reels from two of the biggest controversies in the sport's history, the Russian doping scandal and corruption allegations against the former leadership of the International Association of Athletics Federations (IAAF).
Even so, Bolt believes athletics has turned the corner. "For me I think we're going in the right direction, I must say," Bolt said.
'Weeding out bad ones'
"We're weeding out the bad ones. I personally think we're on the right track. We have to go through the rough time to get to the good times. And in a few years' time the sport will be cleaner and everything will be great.
"I look forward to that."
Although the Russian doping scandal exposed the sophisticated lengths that drug cheats were prepared to go to avoid detection, Bolt said he was unconcerned about the possibility that he might be lining up against rivals in Rio who are not clean.
"In life nothing is guaranteed. But for me going out there, I never worry about it," he said.
"That's WADA (World Anti-Doping Agency) and IAAF and IOC (International Olympic Committee) -- these are the guys that worry about that stuff," Bolt said.
"I go out there to compete and wow the crowd and entertain. I just want to compete.
"I personally feel the sport is going in the right direction and in a few years it's going to be fine. I don't worry about that."
Bolt is set to face another duel against two-time convicted doping offender Justin Gatlin in both the 100m and the 200m in Rio.
Gatlin, owner of the fastest time in the world this year (9.80 sec), could be the biggest threat to Bolt's hopes of defending all three of his crowns.
Bolt, who has long spoken of his desire to become the first man to break 19 seconds in the 200m, acknowledged that feat may prove to be beyond even him.
"I think it might be a little but hard," said Bolt, who has never bettered the world record of 19.19sec he set in 2009.
Bolt, who ran 19.89sec in London last month, declares himself primed for another gold medal tilt.
"As a young kid you grow up looking forward to the big Games," he said.
"Championships are what matters. This is what I do, I enjoy doing it.