Rio Olympics: Phelps hails role inspiring his own defeat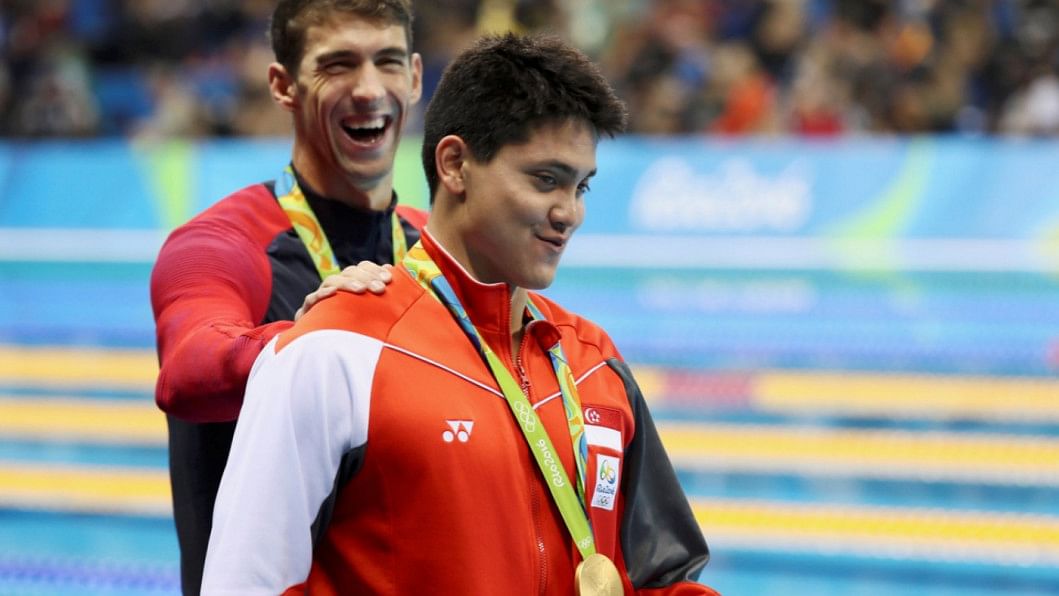 Michael Phelps has acknowledged a "small part" in his own dramatic Olympic defeat by Singapore hero Joseph Schooling but bears no grudge.
Phelps spent most of the Olympic swimming contest beating swimmers he had inspired into the pool. But Schooling, who was photographed with Phelps as a 13-year-old, stepped out of line in the 100m butterfly, spoiling the US legend's all-win record in Rio.
"It's incredible," Phelps said Monday of falling to a swimmer 10 years his junior, who unabashedly points to the American great as his inspiration and role model.
"I would have liked to have won.
"But being able to watch Joe and being able to watch what he's done over the last couple of years and to think that I was a little small part of his inspiration, it means a lot," he added.
"It's special, because it shows that I have been able to change the sport a little bit and that's something I've always wanted to do."
The defeat meant he had one silver medal to go with his five golds in Rio.
And shortly after Schooling's triumph, a photo of a 13-year-old Schooling with Phelps during the US team's pre-Beijing Games training camp in Singapore in 2008 was a social media rage.
Schooling said Phelps "is the reason why I wanted to be a better swimmer."
Two days after wrapping up his fifth and final Olympics, Phelps said he couldn't have asked for a better legacy.
Phelps had a chance to see Schooling's progress over the years, as the Singapore swimmer trained and competed in the United States first at the Bolles School in Florida and now at the University of Texas.
Schooling was on Phelps's radar after breaking NCAA collegiate and US Open butterfly records swimming for Texas, and earning world championships bronze in Russia last year.
After Schooling clocked 50.39sec to edge Phelps, South African Chad le Clos and Hungarian Laszlo Cseh -- who all tied for silver in 51.14 -- Phelps said Schooling "swam a hell of a race" adding he was "excited just to see how much faster he goes".
As Schooling returned to a hero's welcome in Singapore on Monday, newly retired Phelps reflected on his swimming legacy after winning 23 gold medals over five Olympics.
"I sat with my fiancee the other night and we were just talking about it, and we were both just in tears, because it's just a dream come true."