Kristi dedicates medal to victims of gun violence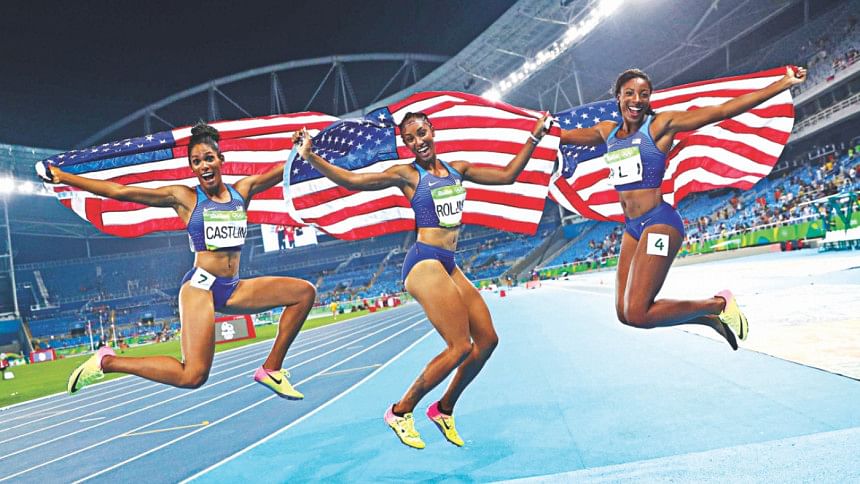 Kristi Castlin dedicated her 100m hurdles medal to victims of gun violence after helping the United States claim a historic podium sweep in the event on Wednesday.
The 28-year-old Los Angeles-based sprinter claimed bronze behind gold medallist Brianna Rollins and Nia Ali in silver as the US sealed a 1-2-3 in the event.
Castlin, whose father was shot dead in 2000 at the hotel he managed, later said she hoped to work to help victims of gun violence.
"Losing my father at the age of 12 to gun violence, I've overcome so much," she said.
"I want to connect more with young people that have been victims of gun violence. I feel, when I was young, I definitely had a lot of good guidance but sometimes I didn't have someone of my age that I really could talk too."
Castlin had earlier celebrated the unique US triumph with Ali and Rollins, close friends in what she described as a "black girl magic movement."
Ali shared the moment with her toddler son Titus, bringing him onto the track at the Olympic Stadium during a lap of honour.
"We actually came to this not as individuals but as a team and that's how we got the job done," Castlin said.
"The first US sweep in women's American history. So it definitely feels good to be history-makers and trend-setters.
"Mums, daughters, overcoming and doing a great job and representing our country well."
Rollins, the 2013 world champion, produced a silky smooth display over the barriers to win in 12.48sec ahead of compatriot Ali, who took silver in 12.59.
Castlin faced an agonising wait of a few seconds before her bronze medal was confirmed after she crossed in 12.61sec.
Ali admitted she had not expected to return to top flight competition so soon after giving birth to her son 15 months ago.
"I honestly didn't think that far ahead about the medals stand," she said. "I knew it was going to be a difficult road back. I'm happy I was able to come back and come back so quickly."
Castlin meanwhile said the trio had taken inspiration from the medal-winning exploits of other US Olympians in Rio.
"The whole Olympics had gone by and you'd seen Katie Ledecky doing great things and Simone Biles. So many amazing performances throughout all different sports - that kind of amped up our energy. We wanted to come out and get it done."
The victory reflected the USA's incredible strength in depth in the event this year. Seven different American women have clocked the seven top times this season.
They include Kendra Harrison, who set a new world record last month yet who missed out on a place on the team for Rio at the US Olympic trials.