Proteas seek revival in AB's 100th Test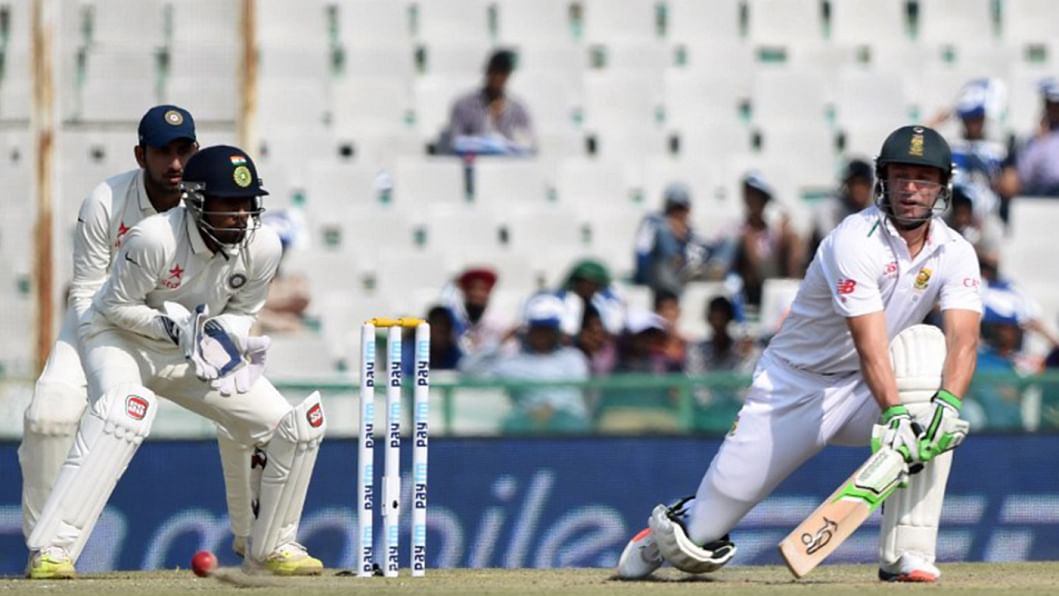 AB de Villiers makes his 100th Test appearance on Thursday hoping to inspire his South African team-mates to a series-leveling victory over India in the second Test in Bangalore.
The top-ranked tourists crashed to a 108-run defeat inside three days in the low-scoring first Test in Mohali as they found the Indian spinners unplayable on a dry, dusty pitch.
It was the fourth successive time a Test had ended in three days on Indian soil, but there could be some respite for the Proteas when they take the field at the Chinnaswamy stadium.
With wet weather around in the southern city -- rain has been predicted on at least three of the five days of the match -- the moisture-laden pitch may not be a rank turner.
De Villiers, the world's number one Test batsman, plays his milestone match at a venue he knows well as a member of the Royal Challengers Bangalore in the Indian Premier League.
A crowd favourite in Bangalore, De Villers and skipper Hashim Amla hold the key to a batting revival against the spinners led by Ravichandran Ashwin and Ravindra Jadeja.
De Villiers top-scored with 63 in the first innings at Mohali and 16 in the second, but was outfoxed by leg-spinner Amit Mishra both times and found his stumps shattered.
Amla made 43 and 16, a far cry from his amazing record in India where in six previous Tests he scored 823 runs at an average of 102.87 with four centuries.
De Villiers and Amla have hit 44 Test centuries between them -- more than what the entire young Indian team under Virat Kohli have managed in their short careers so far.
- 'We have firepower to compete' -
De Villiers, who will become the seventh South African to play 100 Tests, said the tourists were confident of bouncing back in the four-match series.
"Nobody can say the first Test was boring or uneventful, but we were obviously very disappointed to lose inside three days," the 31-year-old said.
"But we remain optimistic because, in adverse circumstances, we competed well in Mohali and showed we have the firepower to compete."
As many as 15 of the 20 Indian wickets were shared by the three slow bowlers -- off-spinner Simon Harmer, leggie Imran Tahir and part-time left-armer Dean Elgar -- used by Amla.
India's spinners, in contrast, picked up 19 wickets with Ashwin and man-of-the-match Jadeja claiming a match haul of eight wickets each.
India will be boosted by the return of premier fast bowler Ishant Sharma, who missed the Mohali match to serve out a one-Test ban for misconduct during the recent Sri Lanka tour.
But the tourists are sweating over the fitness of pace spearhead Dale Steyn who suffered a groin strain in Mohali and sat out the entire Indian second innings.
- 'Lucky to have AB' -
Steyn said he was desperate to play the Test to celebrate his close friend De Villiers' big day.
"We are all lucky to have someone like AB," the 81-Test veteran said. "I have been very lucky to make my debut at the same time as him and we have been on this journey together for all these years.
"Hopefully, there are still a few more memories that we can share together."
All-rounder JP Duminy and fast bowler Morne Morkel are back in contention after missing the opener due to injury.
Indian batting great Sunil Gavaskar, the world's first batsman to reach 10,000 runs in Test cricket, had a word of advice for both teams on how to play on a bowler-friendly wicket.
"Loads of patience and footwork, the footwork just to be able to get to the pitch of the ball," he said. "To be able to score on all kinds of surfaces is what you want as a batsman."