Shakib's Padma taste first HCT win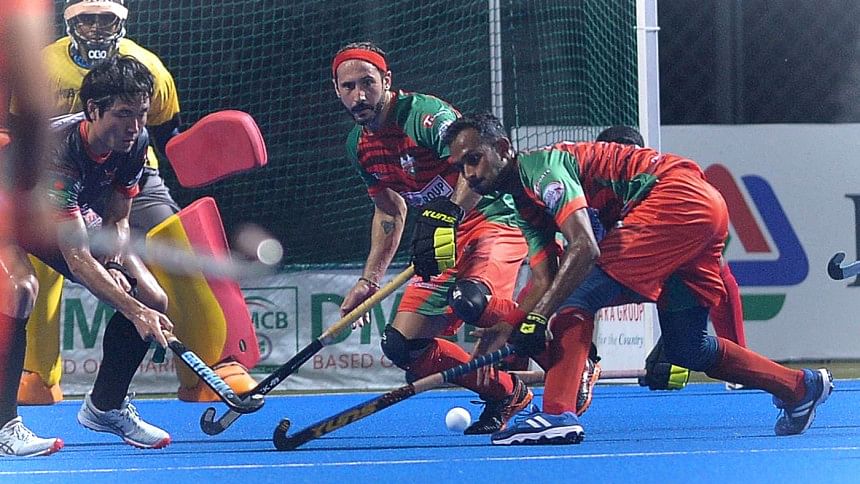 Monarch Mart Padma came from behind to notch up their maiden victory in the Hockey Champions Trophy with an empathic 6-3 win over Saif Power Group Khulna in their third match at the Maulana Bhasani Hockey Stadium on Tuesday.
On the back of two successive defeats, both Padma and Khulna were searching for their first win to keep their chances alive in the competition's long run.
It was Khulna, who took the deserving lead in the very third minute, with Khorshedur Rahman converting a penalty corner.
However, the lead lasted only eight minutes as Padma hit back in the 11th minute with a brilliant strike from national forward Rasel Mahmud Jimmy before Indian Saif Khan gave Bangladesh star cricket Shakib Al Hasan's outfits a lead in the 23rd minute.
Two minutes from the break, national midfielder Nayeem Uddin made it 3-1 for Padma with a brilliant reverse-hit before Khulna reduced the margin in the last minute of the third quarter as Khorshedur Rahman converted another penalty corner.
In the fourth and final quarter, both teams looked determined to take the result in their favour. Meanwhile, two players from Padma were suspended for a few minutes as Padma had 12 players on the ground.
Despite finding Padma on the back foot, Khulna failed to capitalise on the opportunity before Padma asserted their stronghold by extending the margin in the 54th minute as Naim Uddin again struck from penalty corner, courtesy of a deflection of a Khulna defender.
Krishna Kumar then took the match away from Khulna by tapping in a cutback from Ramim Hossain in the 55th minute while Miya Tanimitsu converted a penalty stroke in the 58th minute to ensure the first win.
Ultimately, Austrian Mortiz Frey reduced the arrear in the penultimate minute but could not avert the third consecutive defeat for Khulna.