Nepal hit BD for three after 38 years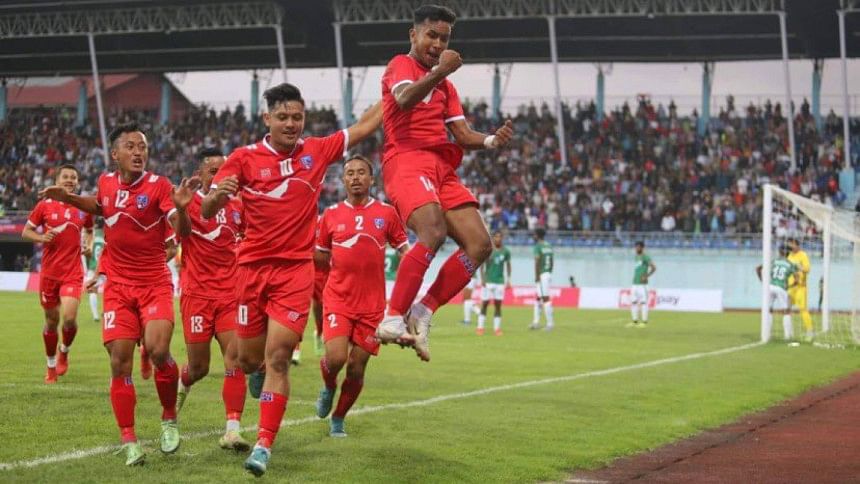 After vowing to repeat the feat of the Bangladesh women's football team in Kathmandu, the Bangladesh men's team suffered a 3-1 defeat against hosts Nepal as Anjan Bista hit a first-half hattrick in a friendly at the Dasharath Rangasala Stadium yesterday.
Following a 1-0 win over Cambodia in the prior friendly, Javier Cabrera's team promised to carry their momentum into the Nepal tie and repeat the women's team's feat, who beat Nepal in the final of the SAFF Women's Championship recently.
But the men in red and green surrendered meekly against Nepal, who were playing their first international game since the Asian Cup Qualifiers in June.
After Nepal defeated Bangladesh for the first time in 20 years during the 2011 SAFF Championship by a 1-0 margin, matches between the teams have become evenly-contested. Nepal beat Bangladesh thrice while Bangladesh won twice since, with three matches, including their last meeting in the 2021 SAFF Championship, ending in draws.
The one saving grace was that Bangladesh had not conceded three goals against the Himalayan nation in 38 years since a 4-2 loss in the 1984 South Asian Games. But that too dissipated as Jamal Bhuiyan and Co. produced a dismal performance in front of the 9,000-strong crowd in Kathmandu.
Spanish coach Cabrera made three changes to the side that beat Cambodia, with defender Rimon Hossain, midfielder Hemanta Vincent Bishwas and forward Sazzad Hossain replacing Tariq Raihan Kazi, Atiqur Rahman Fahad and Suman Reza.
The new combination did not work. Jamal Bhuiyan played deeper to allow Hemanta, who returned to the international arena after a long gap, to take up the attacking midfield position, but the latter proved less effective than Jamal in the position.
The defence also looked lackluster against counter-attacks and when it came to negotiating set-pieces.
Anjan headed a Biman Gharti Magar free-kick home from close range in the 18th minute before doubling the margin by slotting home a rebound in the 27th minute after Anisur Rahman Zico had initially stopped a drive from Tej Tamang from a counter-attack. Bangladesh looked purposeless, adopting a high line against the speedy Nepalese side.
Anjan then completed his treble by rising high and connecting with a Bishal Rai free-kick in the 38th minute.
After resumption, Cabrera made a few changes but it had little impact. Sazzad Hossain reduced the margin with a close-range diving header from a low cross from Rakib Hossain in the 55th minute.