Districts only want money from us, says BFF president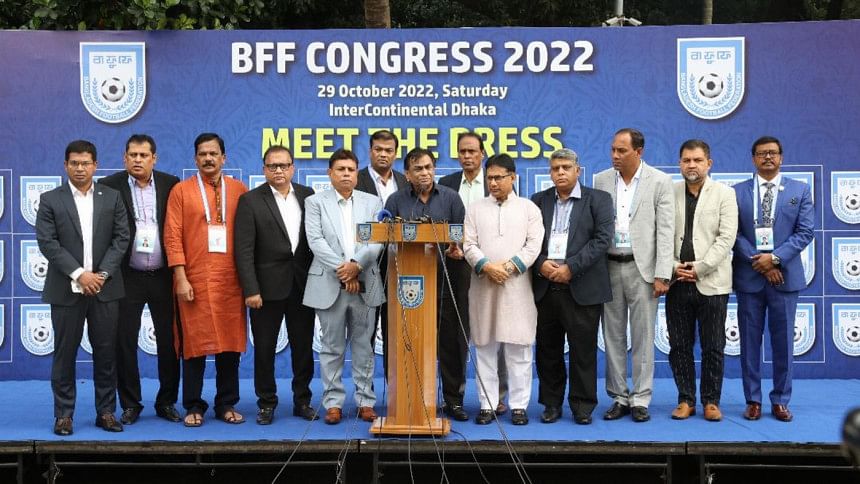 Bangladesh Football Federation (BFF) president Kazi Salahuddin said that district football association officials only want money from them instead of looking to source fund for running the district leagues.
Speaking to reporters following the local governing body's Annual General Meeting (AGM) at a hotel in the capital on Saturday afternoon, the BFF supremo said there is no directive from the FIFA to BFF to organise the district leagues, hence the onus lies on the respective DFAs to arrange money and run the leagues.
"Districts only want money from us. Whenever I got money, I gave them. Last time I gave them 50 per cent of what I got from the government. If I don't have money, where will I give them from?" said the BFF boss when asked about the absence of regular leagues in many districts.
"We don't have any directive from the FIFA to run district leagues. The DFAs should look to organise leagues instead of looking at us for money," the BFF boss added.
Some of the councillors from the districts agreed with what the BFF boss said but asserted that it was difficult for them to source funds and that BFF has a moral obligation to ensure the leagues are run properly.
Rajshahi District Football Association president Mosaddekul Kuddus Siddiqui said the BFF should engage with the National Sports Council to ensure grounds in 64 districts and eight divisions are free to hold football tournaments for a specific amount of time each year to ensure football's development. The sports organiser informed that they held third division, second division, first division and premier league this year souring their own fund after a two-year gap due to the pandemic. He, however, claimed that the councillors weren't given enough time to speak on these issues at the AGM.
Barishal Divisional Football Association president Asaduzzaman Khasru claimed that there is failure on their part and a lack of interest on the part of BFF for not being able to run district leagues regularly.
"Sports have become very expensive, but there are not many sponsors interested in giving money compared to the past," Khasru said, adding that Barishal district has not been able to hold football leagues since 2018 owing to financial crisis.
Saiful Islam Chowdhury Bhutto, president of Rangamati DFA, informed that there haven't been any league in the district since 2018. The organiser from Rangamati implied that they should be given more financial incentive compared to others as his district is a remote one and mostly an agriculture-dependent area.
Delwar Hossain Mukul, the president of Mymensingh DFA, said that they have organised district leagues each year except for one due to the pandemic and that he felt the onus lies with the DFAs to organise leagues. However, he said that there is a moral obligation for BFF to provide grants to DFAs to help run the leagues.
A total of 126 councillors out of 146 reportedly attended the event, which approved budget for fiscal year 2021-2022 with Tk 5 crore deficit and proposed a budget for the 2022-2023 fiscal, with projected expenditure around 49.340 crore taka and projected income around 41.495 crore taka.