Djokovic riding high in pursuit of 22nd Slam title and top ranking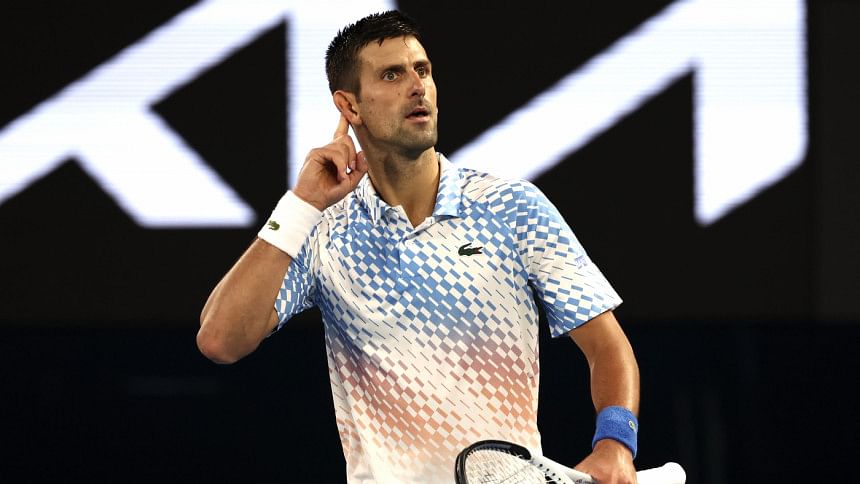 Novak Djokovic has won all nine of his previous Australian Open finals so confidence is sky-high as he bids to equal Rafael Nadal's Grand Slam record and return to world number one.
That makes the Serb heavy favourite but in Stefanos Tsitsipas his invincibility will face a major test when they meet in the Melbourne Park title match on Sunday.
While Djokovic is into a record 33rd Grand Slam final and bidding to equal Nadal's 22 major crowns, the Greek third seed will play only his second.
Adding spice to the showdown, the winner will become world number one, dethroning Spanish teenager Carlos Alcaraz.
That is added incentive for Djokovic, who last held the top ranking in June.
"Winning Grand Slams and being the number one in the world are probably the two biggest peaks that you can climb as a professional tennis player," the 35-year-old said.
In Tsitsipas's only previous Grand Slam final, at Roland Garros in 2021, he fell to Djokovic in five sets after holding a 2-0 lead.
But the 24-year-old believes he has matured as a player and a person and is now better suited to the big stage in his quest to become the first Greek player to win a Grand Slam title.
"I couldn't be more ready for this moment," said Tsitsipas, the youngest man to reach the Melbourne final since a 23-year-old Djokovic in 2011.
"This is a very humbling opportunity for me, being in the finals here means a lot.
"Having started here as one of my first junior Grand Slams and being now in the finals of the men's event is as important as my very first steps that I took on the tennis court.
"I'm going to grasp this opportunity."
In a sign of Tsitsipas's growing stature, he made the final after falling in the Melbourne semis three times previously.
Fourth seed Djokovic, who missed last year's event when he was deported over his Covid vaccination stance, said he was eager to see what his opponent would bring to the table.
"I'm of course very satisfied and pleased to be in another Grand Slam final. This is exactly what I've imagined and hoped will happen when I came to Australia," he said.
"I think that the experience of being in this particular situation and circumstances before helps.
"I think also the fact that I never lost the Australian Open final definitely serves as a great confidence-booster prior to Sunday."
- Buoyant Tsitsipas -
Djokovic is strong favourite given his vast experience on the Melbourne hardcourts and also holding a 10-2 career record over Tsitsipas.
But he has been struggling with a hamstring injury and off-court distractions after his father sparked a scandal when he was pictured posing next to a fan with a Russian flag featuring the face of Vladimir Putin.
Tsitsipas said he was ready to cause an upset.
"I'm playing great tennis. I'm enjoying myself. I just see no downside or negativity in what I'm trying to do out there," he said.
"I genuinely believe in what I'm able to produce. That is more than enough."
Both players are unbeaten this season.
Djokovic is on an 11-match win streak after lifting the Adelaide title prior to Melbourne while Tsitsipas is 10-0 following his exploits at the mixed teams United Cup.
Melbourne has big Greek and Serbian communities with both expected to be out in force to cheer on their idols.
Djokovic is looking forward to a carnival atmosphere.
"Serbian and Greek communities, are big, for sure. The Serbs and Greeks historically get along very well," said Djokovic, who won his first Slam at Melbourne Park in 2008.
"I just don't think there's going to be any conflict on and off the court in terms of the crowd."