Ironman chained by iron shackles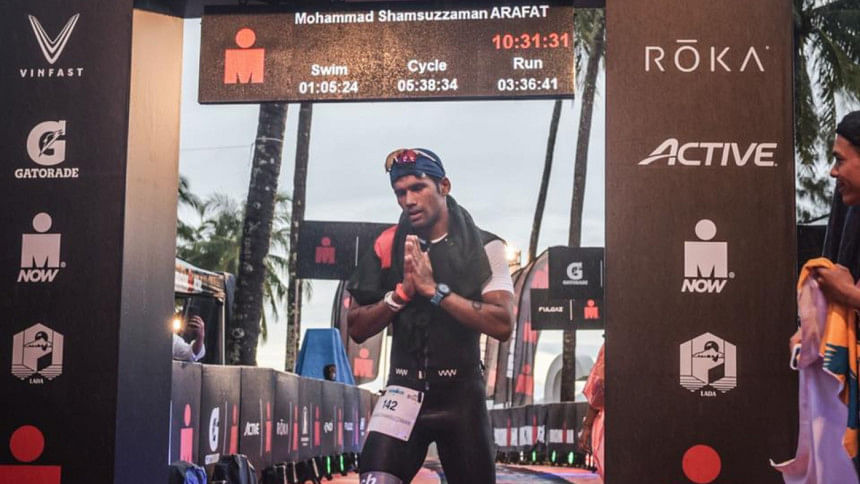 "I was fighting, trying to elevate Bangladesh to the highest level, but it seems I've lost. My job has defeated me in the battle," said Mohammad Shamsuzzaman Arafat, Ironman World Championship-participating triathlete.
Arafat etched his name in history as the first Bangladeshi to qualify for the Ironman World Championship.
Arafat was selected to take part in two Ironman World Championships, which will be held in Finland and France. Unfortunately, the government official is unable to participate in the forthcoming Ironman international Championships, scheduled for August 26-27 and September 10, including two other events, the Berlin Marathon (September 24) and Ironman Malaysia (October 7).
Arafat, a deputy director of Bangladesh Bank, was supposed to participate in four competitions and had submitted an application to his higher officials on June 20 this year, requesting leave and no objection certificate (NOC).
Despite fervent efforts, Arafat's pursuit faced a setback as the bank authorities denied his leave application.
Arafat, with a heavy heart, shared, "I sought leave and NOC approval from 15 August to 10 October. Sadly, neither permission will be granted."
With frustration in his voice, Arifat said, "There's no more time, and there are many pending tasks to do. Still, if I get permission within today, I will try."
Meanwhile, the Ministry of Youth and Sports had issued a government order for him to participate in four events on August 2, but even after that order, Arafat was not granted leave and NOC from his workplace.
Between 2018 and 2023, Arafat illuminated Bangladesh's name globally by participating in nine international competitions.
"Bank job and sports cannot go hand in hand. If I focus on sports, they [bank officials] ask me to leave the job," said Arafat.
Arafat, the first and only Bangladeshi to qualify directly in Ironman World Championship and Ironman 70.3 World Championship, wrote in a Facebook status yesterday, saying that, " I don't know why permission was not granted by office.
Expressing deep regret, he said, "Forgive me Bangladesh, I couldn't make it."
Apart from the aforementioned feats, Arafat crossed the Bangla Channel nine times, and was the first man to run from Teknaf to Tetulia in 20 days.
Being a five-time Ironman finisher, he achieved an 'All world athlete- Gold' from Ironman All World Athlete -2022 Program.