Hamilton confident Brad Pitt can take F1 to new heights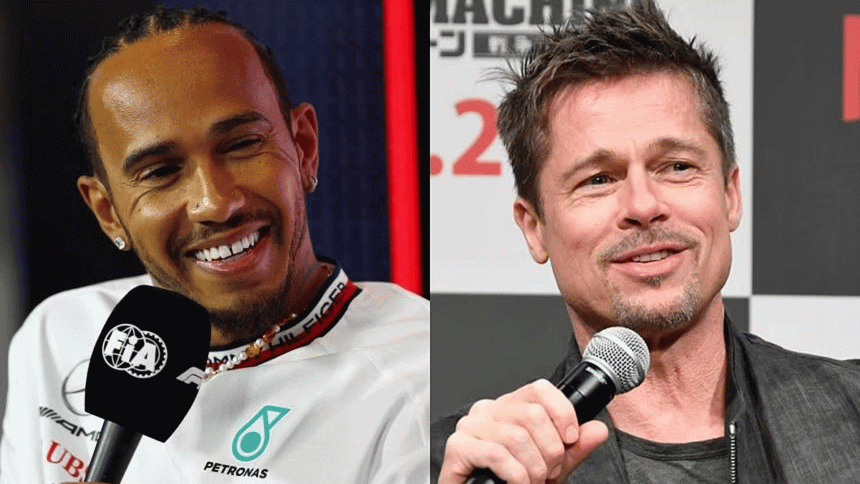 Brad Pitt's Hollywood treatment of Formula One will take the sport's already surging popularity to another level, seven-times world champion Lewis Hamilton predicted on Thursday.
The actor's as-yet untitled movie is being filmed at Silverstone this weekend during the British Grand Prix, with the production having a garage and pitwall stand as a fictional 11th 'APX GP' team.
The movie cars are also set to feature on the grid, without driving a formation lap, and be on track in between the sessions.
Formula One hopes to build on the appeal of the Netflix docu-series 'Drive to Survive'.
"We've already seen the great work and impact of the Netflix show and I think this will take it to new heights beyond that," Hamilton, who has been advising as a co-producer, told reporters.
The Apple TV film is being directed by Joseph Kosinski, the director of "Top Gun: Maverick", with producer Jerry Bruckheimer.
The oldest current F1 driver is Aston Martin's Fernando Alonso at 41 and Pitt, who plays a driver coming out of retirement to race an up-and-coming rookie, is 59 in real life.
Hamilton suggested that was no big deal.
"Brad looks like he's ageing backwards. He looks great for his age," said the Briton.
"He's super-fit, he's been training... at the end of the day it's a movie so there will be a Hollywood element to it that will make it believable."
Pitt will drive a modified F2 car and Hamilton said he had watched the actor get some laps under his belt, recently at Silverstone and before that at a track in Los Angeles, and been impressed.
"I was just watching on the wall. He was just coming by flat out," he said.
"We did do a day together at a track in LA and for someone that hasn't raced he's definitely already got a keen eye.
"He loves watching MotoGP so he's always been a racing enthusiast. He had already a knack for the lines and he was fully on it, which was good to see."
Hamilton said the movie would also do justice to a sport where cars can hit top speeds of 370kph.
"It's going to look fast. I think it's going to look faster than it does on TV," he said.
"You already saw what he (Kosinski) has done with fighter jets, what he did with Maverick... bringing that technology into our world; I think it's going to be amazing."