Boxer Zinnat fails to meet expectations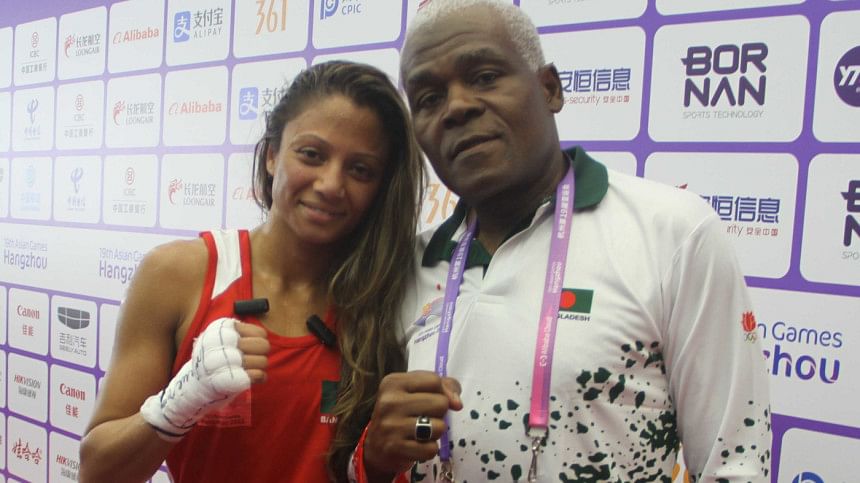 High expectations for boxer Zinnat Ferdous were dashed yesterday at the Hangzhou Asian Games as she suffered a 5-0 defeat against her Mongolian counterpart Yesugen Oyuntsetseg in the pre-quarterfinals of the 50kg weight category.
Following recent successes on the New York circuit, Zinnat was expected to be the second Bangladesh boxer to win an Asian Games medal; after Mosarraf Hossain delivered the country's first medal, a bronze, in 1986.
The New York-based boxer, who only began boxing two years ago at the age of 27, promised to come back strong. "This is not the last. I want to continue representing Bangladesh," a smiling Zinnat told reporters in the mixed zone.
"I know the stage is bigger but Bangladesh is behind me and that is a lot," said the country's first expatriate boxer, who also wants to represent Bangladesh in the Olympics.
At the Hangzhou Gymnasium, the well-built Yesugen proved too powerful for Zinnat. The 22-year-old Mongolian boxer has a deep boxing history, having finished fifth twice in the 2022 and 2023 World Champions under 54kg and 52kg categories, respectively.
A defensive strategy in the three-minute first round did not work in favour of Zinnat, who then got off to a good start in the second round. Yesugen, however, came back strong in the latter part of the round to take all five judges' decisions in her favour and proceeded to wrap up a convincing win following a fairly one-sided affair in the third and final round.
Asked what made the difference in the ring, Zinnat replied, "Usually when someone has a strong start, you have to come back harder but I could not do well and it is all right."