Boxer Selim signs off with a 'good show'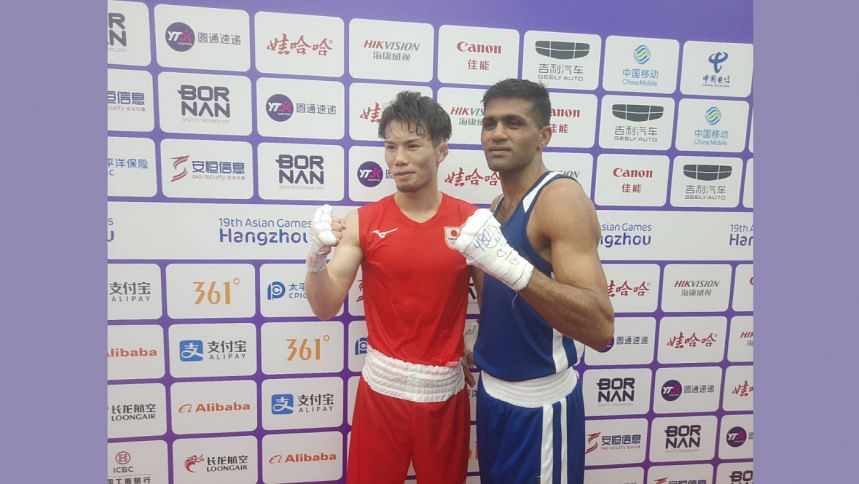 The judges from Croatia, Latvia, France, Italy and Ireland might not have given their verdict in favour of Selim Hossain, but the Bangladeshi boxer won the hearts of audiences in the gallery before he went down fighting against Shudai Harada of Japan in the quarterfinals of 57kg category in Asian Games on Tuesday.
Selim, who astonished everyone by reaching the quarterfinals by defeating Sri Lankan Arachchinge Podi and Tajik Asror Vokhidov in the first two rounds, ensured that it would not be a one-sided bout, even though the scoreline eventually suggested otherwise.
The lad from Rajshahi fought neck and neck in all three three-minute rounds, but all five judges ended up awarding 30 points to Shudai and 27 points to Selim.
"On the back of the training I received with the assistance of Bangladesh Olympic Association and Bangladesh Boxing Federation, I am satisfied with how I performed on such a big stage. I'm happy to leave by performing a good show," Selim remarked after the match.
"I worked hard to study my Japanese opponent, but he is much faster and has better power and technique. Actually, I was unable to combat him in the manner that I desired, but I did my best," Selim said of his opponent, who was placed 33rd in the World Championships held in Tashkent, Uzbekistan, in April 2023.
"I believe I could have won this match if I had trained abroad," he said, adding that if the boxers were given proper facilities and training abroad, they would have a strong chance of performing well in the future.