Bangladesh prove too hot for Argentina in kabaddi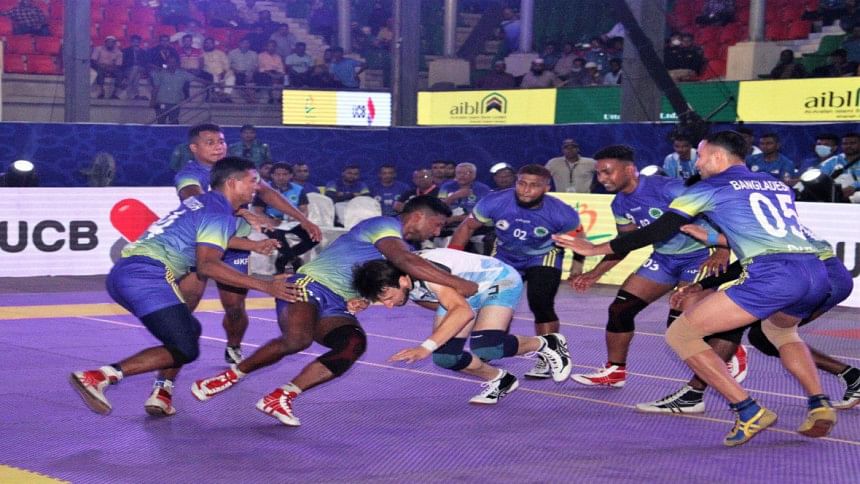 Defending champions Bangladesh notched up back-to-back victories in the Bangabandhu Cup International Kabaddi tournament with an emphatic 72-23 win over Argentina in Group A encounter at the Shaheed Noor Mohammad National Volleyball Stadium on Tuesday.
The men in red and green, who came into the match on the back of a morale-boosting 50-22 points win over Poland in the tournament opener, continued their dominance, toying with Argentina to make them out for four times in the first half. The hosts led the first half scoresheet by 44-8 points, thanks to superb performances from Al Amin, Mizanur Rahman, Tuhin Tarafer, Sabuj Mia and others.
After resumption, Bangladesh looked a bit slow in securing points, probably due to preserving stamina for the third match against Nepal on Thursday, but it did not hamper the hosts much as they secured 28 more points.
The charges of Shaju Ram picked points at regular intervals from raids and made Argentina all out twice in the second half. Bangladesh, however, lost some points while defending against the Argentinian raiders, who raised their tally to 23 points against Bangladesh's 72 following their opening match defeat of 56-28 against Iraq.
Mizanur Rahman was adjudged match of the match and received Tk 10,000 and a trophy.