Bangladesh eye maiden win in Asian volleyball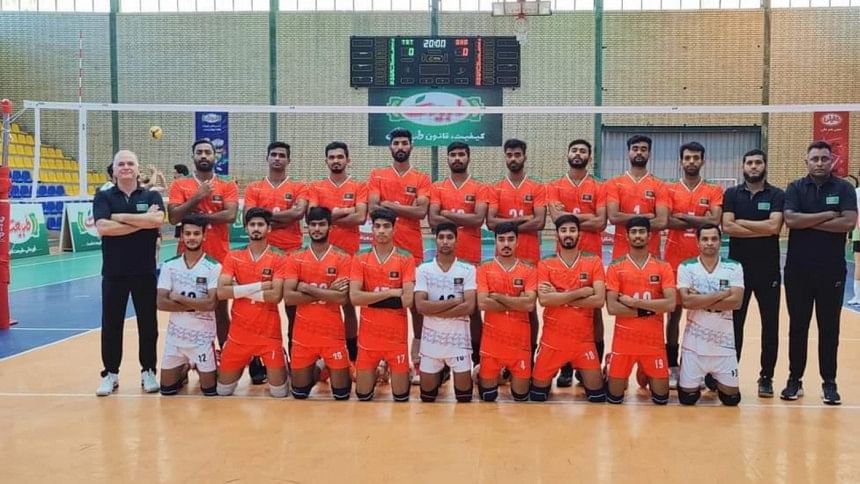 Bangladesh are looking to make a memorable return to the top continental volleyball competition as they end a three-decade hiatus in the upcoming Asian Senior Men's Volleyball Championship.
The 18-team competition, which offers ranking points, is scheduled to be held from August 19 to 26 in Urmia city of Iran, with Bangladesh pitted against South Korea and Pakistan in Group F.
Under the supervision of Iranian coach Ali Pour Aroji, Bangladesh have been training in Iran for the last one month following a month-long preparation in Bangladesh. The men in red and green have played a number of practice matches against Iran U-23 national side and a few Iranian clubs in a bid to do well at Asia's top-flight competition.
"Preparation here has been good as there are very good facilities available. We have travelled a lot to play some practice matches. Everyone is in good shape. So we are hoping to produce good results in the championship," captain Horosit Biswas told The Daily Star over phone from Iran yesterday.
"Except for myself and Masudul Islam, the squad is full of junior players, who have been performing really well in the practice matches," added Horosit.
Bangladesh made their mark in international volleyball for the first time in the Bangabandhu Asian Senior Men's Central Zone International Volleyball Championship in Dhaka, where they beat Kyrgyzstan to emerge champions.
Even though the men in red and green failed to defend their title, they did finish runners-up a couple of times since then.
Bangladesh youth team then produced their best-ever result in Asian Men's U-20 Volleyball Championship with a fifth-place finish following a nerve-wracking 3-2 sets win over four-time champions China in Bahrain in 2022. Considering Bangladesh's steady progress at international level and increasing ability in hosting international tournaments, the senior team have been given an opportunity to compete in Asian Men's Championship for the first time in 30 years.
Bangladesh previously participated in this competition in 1989 and 1993, losing all eight of their matches against Japan, Pakistan, UAE, New Zealand, China, Australia, Qatar and Philippines.
However, under the Iranian coach, Bangladesh are dreaming to notch a first victory in the event as they target Pakistan.
"Korea are undoubtedly a strong side but we are optimistic about giving a good fight against them. However, we are targeting to beat Pakistan. If all of us can put our best effort, there is a chance of beating Pakistan," said Horosit, who is taking inspiration from their performance against Pakistan in the Engro Volleyball Five Nations League in Pakistan in November last year. Bangladesh suffered a 3-0 sets defeat against the home team, but led in all three sets before going down.
Horosit is also taking inspiration from their performance in the practice matches as they beat Iran U-23 national team in one match and suffered defeat against the same opposition in another. Horosit and Co beat Tehran Volleyball Club twice, defeated Ittehad Volleyball Club, a Super League Stars team twice and lost once.
Bangladesh will start their campaign against South Korea on August 19 before playing against the following day. If Bangladesh lose both matches, they will play in the 13th-18th position matches. However, if they can finish among the top from their group, they will fight for first to 12th position matches.