Avik-Aiman set for Malaysian Championship series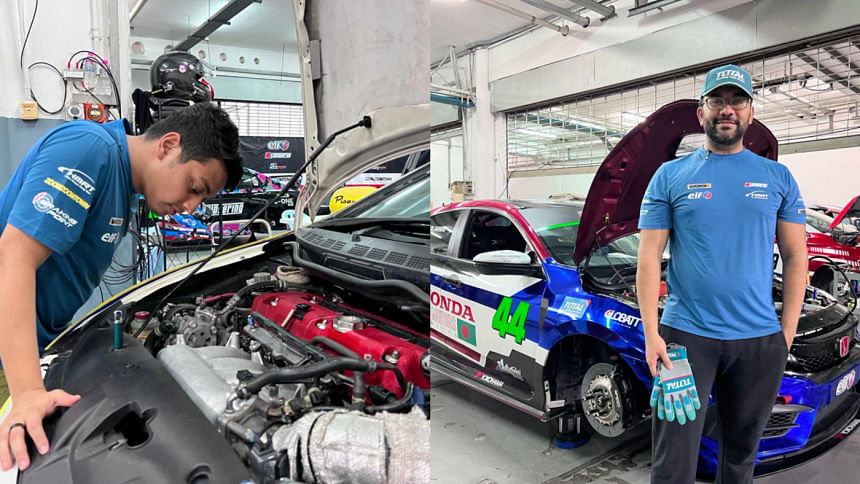 Bangladesh pro-racer Avik Anwar and emerging racer Aiman Sadat is set to take part in the Malaysian Championship Series set to held at the Sepang International Circuit on Saturday and Sunday.
Avik is participating in Touring Production [TP] category while 21-year-old Aiman is racing in Stock Production 1 [SP1] in the multi-class racing competition.
In the qualifying round held on Friday at the venue, Avik finished P3 overall while Aiman on the other hand finished P8 in his class and P12 overall.
"I think I did well in the qualifying. I have clocked my personal best time [2 minute 27 seconds] on this track and have finished P3. I am expecting and hoping to finish first in the championship despite the high competition. The driver who finished second (Xie Bayu Jonathan from Singapore) in the qualifier today [Friday] has been racing for 11 years in Malaysia and the one who finished first (Aiyub Alamghir) is the Malaysia Proton factory driver. He is the best driver Malaysia has," said Avik.
51 racers are participating in the championship in this round and about 17 drivers international coming from Singapore, Indonesia Japan and Thailand.
Aiman, participating in the championship for the first time, on the other hand was disappointed with his position in the qualifying and aims to better the in the main competition.
"My qualifying wasn't that good. It is very competitive here. There is just 2 seconds gap between P1 and P9. I have finished P8 and have finished P12 overall as it is multiclass race. I am expecting to finish at least fourth [in my category] so that I can fight for the podium," said Aiman.
The Malaysia Championship Series (MCS) is a national racing series promoted and organised by Sepang International Circuit (SIC) as an initiative to promote and develop 4-wheel racing sports in Malaysia.
 The series originated from the old Malaysian Super Series (MSS) championship, which was introduced in 2002 – three years after Formula 1 first came into the Malaysian shores as SIC took advantage of the renewed interest in motorsports amongst Malaysians. The series was rebranded as the MCS in 2015 to inject further interest and excitement into the series.