A game written vintage Pakistan all over it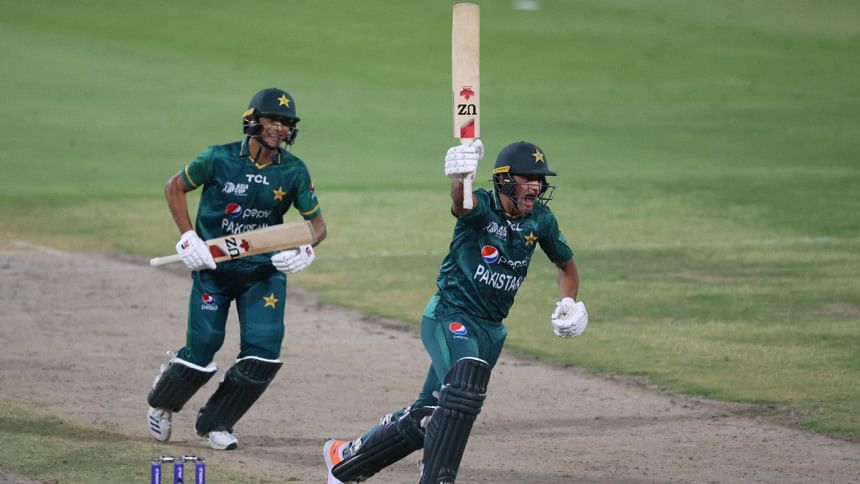 Unpredictable -- it is the one word that could historically define Pakistan when it comes to cricket.
It never required Pakistan, a nation that produced cricketing greats like Wasim Akram, Javed Miandad, Imran Khan, anything other than just cricketing brilliance to mesmerise and turn millions -- irrespective of nationality -- into their avid followers.
However, this defining trait of Pakistan -- the unpredictability that has accompanied this team through decades -- is what kept fans not only in a state of bewilderment while watching a match involving Pakistan but also, in some way, made them crave the moments of madness whenever the men in green operated on the field.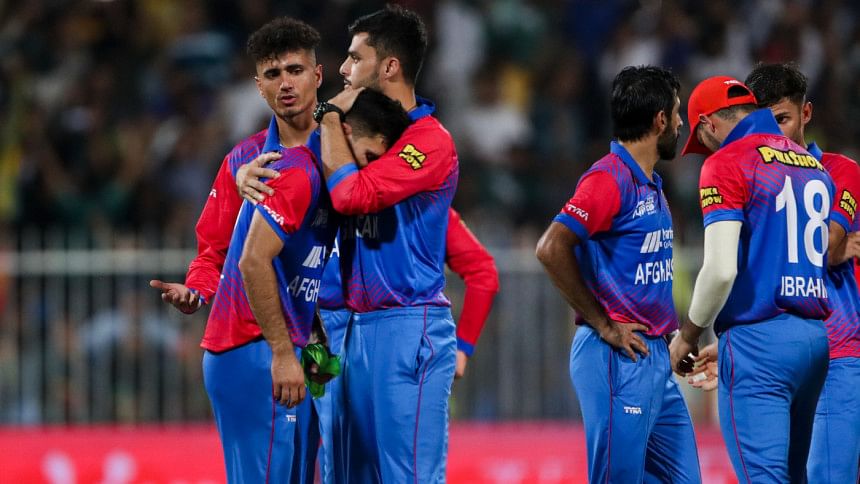 If sometimes they made a mountain of a molehill, the other times they had gotten over the line in dramatic fashion when odds were heavily stacked against them. And on Wednesday in Sharjah, the Babar Azam-led side did both.
Chasing a mediocre 130-run target against Afghanistan, Pakistan went on to lose six wickets in space of 20 deliveries, collapsing from a commanding position of 87 for three to a nerve-wracking 118 for nine.
And just when it seemed that it would be one of those occasions when Pakistan would let a rather easy game slip away, they turned the tables around. The protagonist this time was a young Naseem Shah.
With 11 required off the final over and only a wicket in hand, the number 10 batter Naseem arrived as the unlikely hero as he dispatched Afghan quick Fazalhaq Farooqi for two mammoth sixes over long-off to wrap the game up with four balls to spare.
Not only did the 19-year-old Naseem, who was out playing only his fourth T20I, show tremendous courage and self-belief to give those low full tosses the deserved treatment, but also brought back memories of Javed Miandad's six, at least for Pakistan skipper Babar Azam.
"This reminded me of Javed Miandad's six in Sharjah," said Babar at the post-match presentation, reminiscing the famous last-ball six from Miandad that broke millions of Indian fans' hearts back in 1986 during the Austral-Asia Cup final in Sharjah.
Like Miandad's six denied a Kapil Dev-led India a shot at the title 36 years ago, Naseem's sixes also effectively ended the Asia Cup campaign for the record seven-time champions India, whose tiny hope of title defence hinged heavily on Afghanistan winning this game and other Super 4 fixtures of this Asia Cup going in their favour.  
The great Kapil Dev had said even about a fortnight ago that recalling that six from Miandad still doesn't let the World Cup-winning captain sleep.
Naseem's six may not have the same effect on the current India skipper Rohit Sharma but the overall events, which had transpired on Wednesday, did bring back the flavour of vintage Pakistan.
But the fact that this group of Pakistani cricketers -- who have won nine of their last 11 T20Is under the leadership of a calm and collected Babar -- has come a long way to establish themselves as a more stable team in the cricketing world was proved when Babar insisted: "The way our momentum is going, we want to continue and not repeat our mistakes. Next game will be a new game."