Pakistan clinch thrilling final-over win over Afghanistan
Gurbaz ton goes in vain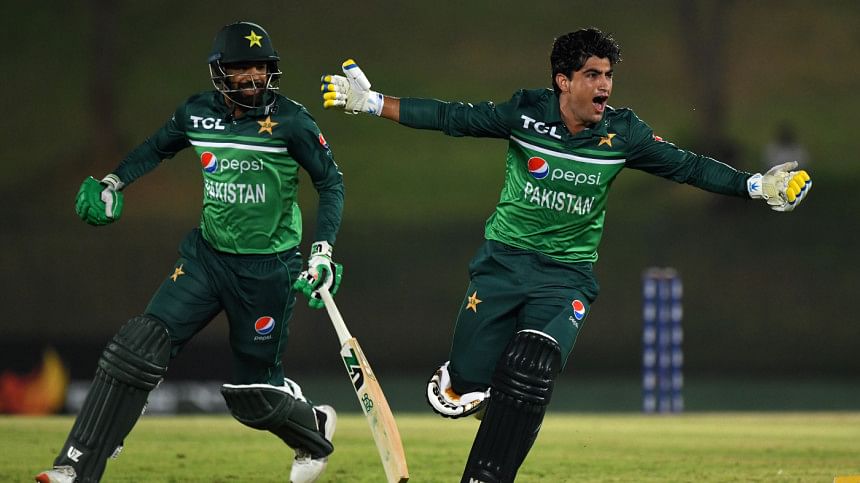 Pakistan beat Afghanistan by one wicket in a thrilling second ODI to win the three-match series in Hambantota, Sri Lanka, on Thursday.
Chasing 301 for a series-clinching win, Pakistan reached their destination with one ball to spare, riding on Imam-ul-Haq's 105-ball 91.
In the death overs of the second innings that was filled with one dramatic moment after another, Pakistan managed to hold their nerve to win the second ODI by the barest of margins – with a ball and a wicket to spare. 
Naseem Shah was once again the tormentor for Afghanistan as he snatched away what could have been their maiden ODI win against Pakistan.
The 20-year-old miscued a boundary off fast bowler Fazalhaq Farooqi and ran jubilantly towards the dressing room as Pakistan scored 11 off the final over to finish with 302-9 in 49.5 overs.
The victory gave Pakistan an unassailable 2-0 lead in the three-match series with the last game in Colombo on Saturday.
Earlier, swashbuckling opener Rahmanullah Gurbaz hit a career-best 151 to lead Afghanistan to 300-5.
The 21-year-old scored an aggressive run-a-ball century and shared an opening stand of 227 with Ibrahim Zadran, who scored a 101-ball 80, after Afghanistan won the toss and batted.
Afghanistan needed a win to level the three-match series after losing the first match by 142 runs, and Gurbaz knocked 14 boundaries and three sixes against a world-class attack that had reduced them to 59 all out on Tuesday.
Gurbaz's previous best was 145 against Bangladesh in Chattogram last month.
Zadran also hit out brilliantly, knocking six boundaries and two sixes.
Spinner Usama Mir broke the opening stand in the 40th over when he had Zadran caught at long off, while lanky pacer Shaheen Shah Afridi dismissed Gurbaz caught behind in the 45th over.
Shaheen also had Rashid Khan out for two to finish with 2-58.
Mohammad Nabi made a run-a-ball 29 before he was caught off Naseem Shah as Afghanistan piled up 73 runs in the last ten overs.
Fast bowler Haris Rauf, who picked up a career-best 5-18 in the first match, went for 48 in seven overs without success.
Scorecard
Afghanistan  
Rahmanullah Gurbaz    c Mohammad Rizwan b Shaheen Afridi    151
 Ibrahim Zadran        c Iftikhar Ahmed b Usama Mir           80
 Mohammad Nabi         c Imam ul-Haq b Naseem Shah            29
 Rashid Khan           lbw Shaheen Afridi                      2
 Shahidullah Kamal     Run Out Shaheen Afridi                  1
 Hashmatullah Shahidi  Not Out                                15
 Abdul Rahman          Not Out                                 4
 Extras                0b 11lb 2nb 0pen 5w                    18
 Total                 (50.0 overs)                        300-5
Fall of Wickets : 1-227 Zadran, 2-256 Gurbaz, 3-260 Khan, 4-270 Kamal, 5-294 Nabi
Did Not Bat : Hassan, Khil, Ur Rahman, Farooqi
 Bowling         Ov  Md  Rn  Wk  Econ  Ex
 Shaheen Afridi  10   0  58   2  5.80  1nb
 Naseem Shah      9   0  45   1  5.00  3w 1nb
 Haris Rauf       7   0  48   0  6.86
 Shadab Khan     10   0  53   0  5.30  1w
 Usama Mir       10   0  61   1  6.10  1w
 Iftikhar Ahmed   4   0  24   0  6.00
 .................................................................
 Pakistan  
 Fakhar Zaman     b Fazalhaq Farooqi                            30
 Imam ul-Haq      c Riaz Hassan b Mujeeb Ur Rahman              91
 Babar Azam       c Hashmatullah Shahidi b Fazalhaq Farooqi     53
 Mohammad Rizwan  Run Out Hashmatullah Shahidi                   2
 Agha Salman      c Rahmanullah Gurbaz b Mohammad Nabi          14
 Usama Mir        c Shahidullah Kamal b Mohammad Nabi            0
 Iftikhar Ahmed   c Mohammad Nabi b Abdul Rahman                17
 Shadab Khan      Run Out Fazalhaq Farooqi                      48
 Shaheen Afridi   c Rashid Khan b Fazalhaq Farooqi               4
 Naseem Shah      Not Out                                       10
 Haris Rauf       Not Out                                        3
 Extras           0b 6lb 0nb 0pen 24w                           30
 Total            (49.5 overs)                               302-9
Fall of Wickets : 1-52 Zaman, 2-170 Azam, 3-176 Rizwan, 4-208 Salman, 5-208 Mir, 6-211 ul-Haq, 7-258 Ahmed, 8-272 Afridi, 9-290 Khan
 Bowling            Ov  Md  Rn  Wk  Econ  Ex
 Fazalhaq Farooqi  9.5   0  69   3  7.02  2w
 Mujeeb Ur Rahman   10   0  45   1  4.50  2w
 Abdul Rahman       10   0  83   1  8.30  4w
 Mohammad Nabi      10   0  46   2  4.60  2w
 Rashid Khan        10   0  53   0  5.30  2w