Domingo will take Sriram's inclusion positively, believes Sujon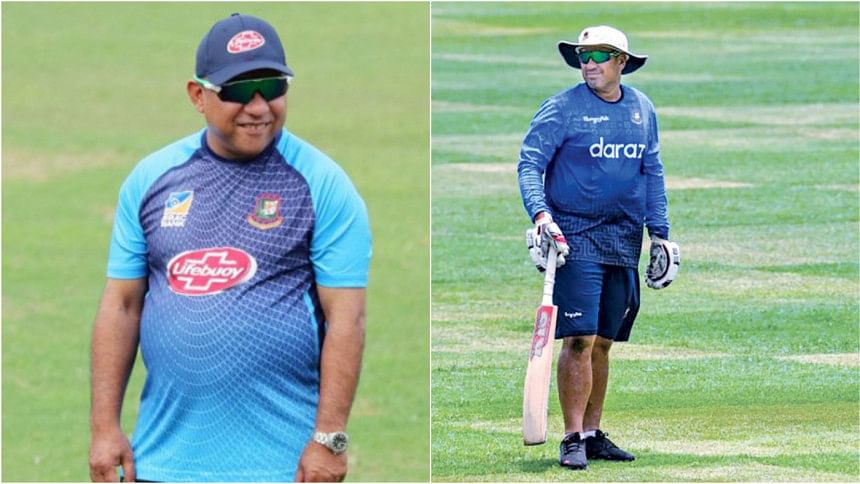 Bangladesh team director Khaled Mahmud Sujon said that 'positive human being' Russell Domingo will take former India all-rounder Sridharan Sriram's inclusion in the Tigers' coaching panel in a positive manner. 
Just a day after warning that 'drastic changes are imminent' in the Bangladesh coaching staff, Bangladesh Cricket Board (BCB) president Nazmul Hassan Papon announced Sriram as the new 'technical consultant' for the side on Friday ahead of the Tigers' Asia Cup campaign. 
However, it was initially rumored that Sriram was on his way to replace Domingo as the head coach of the Bangladesh side. 
Sriram, who has worked with the Australia national team for six years and was also a part of the coaching staff of Indian Premier League outfit Royal Challengers Bangalore, is set to arrive in the country tomorrow and will have a meeting with the board president on August 22.
Mahmud said whether Sriram will lead the Tigers in the Asia Cup as the head coach will be decided after his meeting with the board president on Monday.
"Sriram is coming to the country tomorrow [Sunday]. The board is yet to have a discussion with him. Maybe, I know him as I have played with him. But even I have not seen how he goes about his coaching duties. As he has a strong background and is reputed to be good at his job, hopefully we will take a decision after Papon bhai meets with him. After that we will decide who will go [to the UAE with the team] or who will lead [the side in the Asia Cup]. But so far, he [Sriram] is coming to Bangladesh as a technical consultant," Mahmud said to the media today at the BCB premises. 
Asked how Domingo is taking Sriram's onboarding in the coaching panel, Mahmud said the BCB is yet to have a discussion on the matter with the South African, who arrived in the country on Friday. 
"Actually we did not have any talks with Russell regarding the matter. He is a professional. As we already have a head coach for Bangladesh, which is Russell Domingo, we are not bringing anyone in that capacity. We are onboarding a technical consultant. 
"And Russell did not ask any questions regarding this as well. For as long as I have worked with him, I found him to be a very positive human being. I don't think it will be a problem. Definitely, BCB will have a meeting with him," Mahmud added.
The BCB president Hassan had said on Friday that the board is thinking about splitting the coaching duties, with Domingo being considered to lead the ODI and Test side. 
In reference to the matter of splitting coaching duties, Mahmud said that Domingo would see that positively as well.
"Every coach wants a break. So I don't think Russell will take this negatively. I think he will take this positively. It is not entirely about giving a break to Russell, it is more about bringing a change with something new [in the side]," Mahmud said.