Malinga's knee issue a 'substantial injury'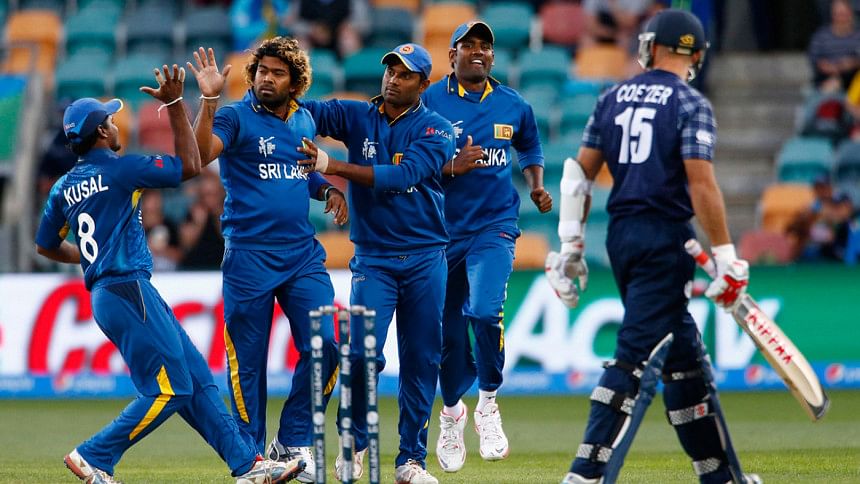 Sri Lanka Cricket's doctors have confirmed a "substantial injury" to Lasith Malinga's left knee, after the bowler was ruled out of both the World T20 and the ongoing IPL. The SLC medical team has not advised surgery, but said the injury requires rest and periodic reassessment.
For now, it appears that the bone bruise will rule Malinga out of the forthcoming tour of England, at least. The limited-overs leg of Sri Lanka's tour of England begins in June.
"Malinga is suffering from a stress reaction in the knee," said SLC medical committee chairman Dr. Harindu Wijesinghe. "This has been caused by pressure being put on the knee. There is a chance that a stress reaction could worsen to a stress fracture, at which point he would need surgery."
Malinga has only played one competitive game since sustaining the injury during West Indies' tour of Sri Lanka last November. He has repeatedly missed prospective recovery dates, and as such, SLC doctors were reluctant to specify a fresh timeframe for his return to top level cricket.
"A few doctors have been advising Malinga, and we feel that he needs to rest his knee, while undergoing physiotherapy and strengthening," Wijesinghe said. "Only after seeing how he the injury reacts to this, will we be able to say how long he might be unavailable. It might be a number of months before we decide to scan and test him again. It's difficult to put a time frame on his recovery."
Wijesinghe added that when Malinga had a similar injury in his right knee in 2009, he was forced to spend a year out of the national side. That injury had also ostensibly prompted Malinga's retirement from Test cricket at the age of 27.
After the England tour there is also ODI and T20 cricket against Australia scheduled for August, but Malinga appears in doubt for those series as well.