ICC CRICKET WORLD CUP 2015
India not carrying any scars: Rohit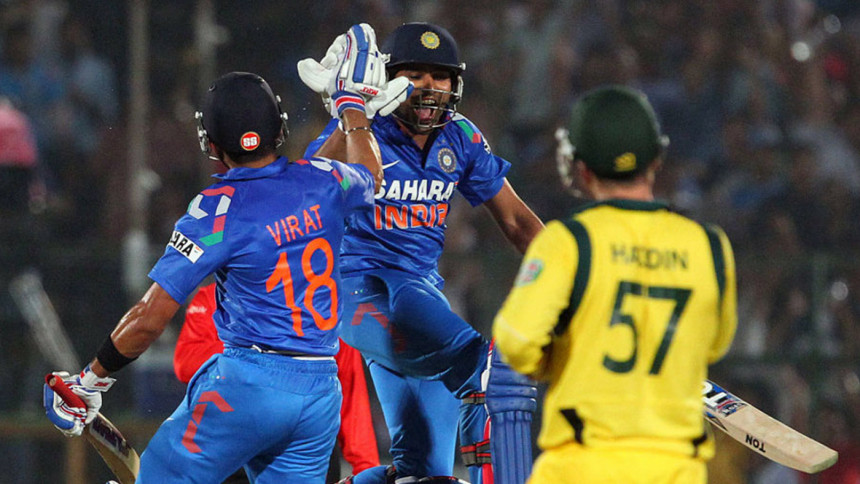 Scars? What scars? Everyone's talking about scars, but Rohit Sharma sees none. The scars being discussed do not concern cosmetic surgery for a movie star, but the Indian team's memory of what Australia had been like around six weeks ago.
Defeat followed by defeat followed by defeat, with a drawn Test or two bunged in. India had traipsed around Australia, unable to defeat any team they ran into. Even England in the ODI tri-series, an idea so absurd today that it instantly turns Monty Python-esque.
The memory of those games is now so distant to the Indian team, as if erased from memory. The last six weeks in Australia have involved victory followed by victory followed by more victory, seven times over. But now it is time for the semi-final of the World Cup, and they are up against that same team they were unable to beat. Australia, in the World Cup semi-final. With a title to defend. Hence the scars.
"I don't think it matters," Rohit said. "What happened was in the past. We never wanted to carry it [the Test and tri-series results] into the World Cup. We always spoke about this. We know how important the World Cup is, and [for us] to come out and play some good cricket. So now it is just the matter of two more hurdles."
India have spent the last four months in Australia. Rohit said: "We have to make the last four months worth it." He said the team had come to Australia with a "mission", with the World Cup being the focal point. After two and a half miserable months, Rohit said, "None of the guys thought about going back. We were there on a mission, we wanted to achieve history."
It is India's ability to play the big, "historic" games (particularly in ODIs) that was the team's strength in the last four years, winning 64 off 106 ODIs played since becoming the world champion. For all their wobbly overseas Test record, of those 64 ODI wins, 39 have been overseas and 25 at home. India's ability to turn up on the big days, regardless of what may have transpired earlier, is their X-factor going into this game. Rohit said, "We know how to play big games, we've been a part of it. It brings out the best in everyone."
If there ever was any semi-finalist that Australia would have preferred avoiding in Sydney in this World Cup, it would have to be India. The India that turned up after Valentine's Day, that is.
The run-up to the semi-final has been what one writer in the Sydney Morning Herald called a "one-team phoney war", given that the Australians are talking things up - James Faulkner has spoken about sledging, Steven Smith about scars - only for the first Indian to speak to the media in days to play it down. Questions around any verbal and psychological battles were met with an eyes-half-closed signature Rohit flick: after dismissing the scars, he said India will not back down in the face of any aggression, but effectively executing cricketing skills was more important.
"You must have noticed this throughout the Test matches that when we played Australia, none of the teams backed down, both the teams were right in each other's faces. It's part of the game.
"But see, it has been my belief, we need to stick to our game plan. If there is a bit of banter going around, so be it. There will be times where you'll see a lot of bowlers and fielders getting right in their faces… But as a team, we have to stick to our game plan and try to execute what we've been doing for the last seven games."
One of the areas India will have to execute to precision in is against a suitably revved-up Mitchell Starc, who is as punishing with the new ball as with the relatively-old one. In the first match against Pakistan, they did tackle Wahab Riaz adequately but this was before he got angry. Speaking on the matter, Rohit said: "Our approach has to be the same as it has throughout the series… the opening partnership sets up the game for the rest of the order to come and bat. We know what he [Starc] is capable of but we should stick to our strengths. It is important for the top three to lay the foundation for the others to follow." India's top three have all produced centuries in the tournament, and that is something the Australians would have noted.
Rohit was also asked about possible Australian weaknesses, and couldn't leave without guiding one through the slips. "Every team has some kind of weakness, and Australia has got some as well, they have definitely struggled against quality fast bowling. If you look at the game against New Zealand, they got all out for 150. Even the other night in Adelaide against Pakistan, they seemed to be in a bit of trouble. Overall they are good batting unit...We are a different bowling attack, we have to stick our strengths. We have our ways to come and counter them, whether it will be spin bowling or fast bowling. You will see that tomorrow."