ICC CRICKET WORLD CUP 2015
Bangladesh's first WC quarterfinal in history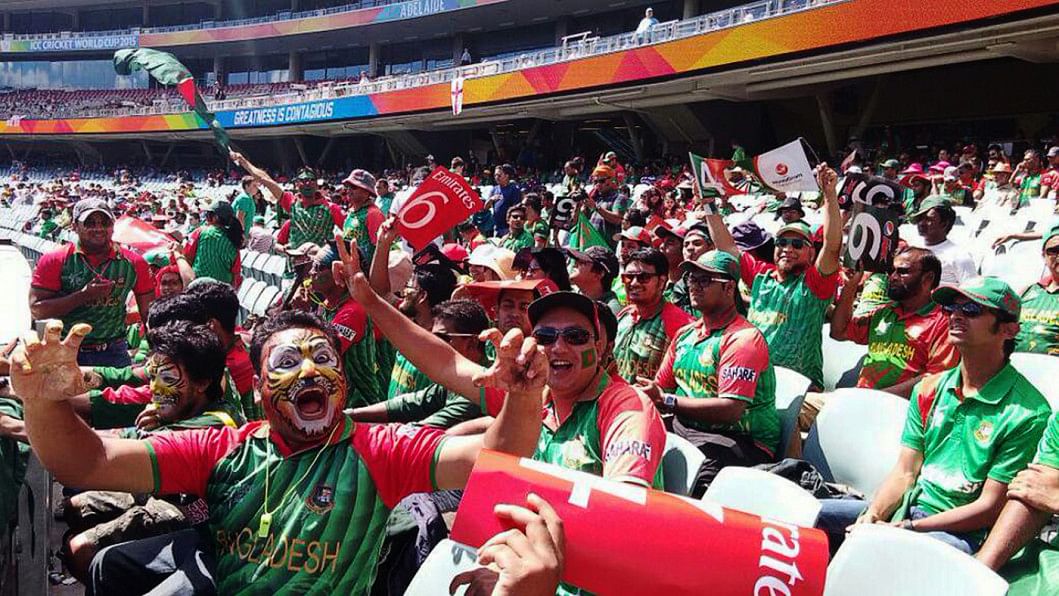 MATCH 32: BANGLADESH VS ENGLAND
Bangladesh 275/7 (50 Overs)
England 260 (48.3 Overs)             Bangladesh won the match by 15 runs
For the first time in history, Bangladesh qualified on to the quarterfinals of a World Cup with a nerve-wrecking 15-run victory over England at the Adelaide today.
This will bring relief for Tamim Iqbal that Bangladesh did not learn the hard way why "catches win matches" – dropping a crucial catch right at the depth of the emphatic run chase.
For England, their hope for advancing to the final 18 of the tournament was run over. Bangladesh, meanwhile, have advanced as number three to the next round from Pool A.
Today's match will be memorable for Mahmudullah, who struck his maiden and Tigers' first 100 in a World Cup, and Rubel Hossain who took a four-wicket haul to topple England.
Choosing to bowl first, England was off to a flyer with James Anderson dismissing openers Tamim Iqbal and Imrul Kayes with the new ball's swing before Mahmudullah, 103, and Soumya Sarkar, 40, put a record 86-run 3rd wicket stand for Tigers in World Cup.
In another spell of double wicket fall, Soumya and Shakib Al Hasan, 2, departed in quick succession sending Bangladesh on a slide. Chris Jordan and Moeen Ali claimed the wickets.
Mahmudullah made the crucial and anchoring 141-run stand with Mushfiqur Rahim, 89, to guide Bangladesh to a challenging total of 275 against England.
James Anderson and Chris Jordan ended with two wickets each with Moeen Ali and Stuart Broad claiming one each for themselves.
| | | | |
| --- | --- | --- | --- |
| Bangladesh |   | Runs | Balls |
| Tamim Iqbal | c Root b Anderson | 2 | 7 |
| Imrul Kayes | c Jordan b Anderson | 2 | 2 |
| Soumya Sarkar | c †Buttler b Jordan | 40 | 52 |
| Mahmudullah | run out (Woakes) | 103 | 138 |
| Shakib Al Hasan | c Root b Ali | 2 | 6 |
| Mushfiqur Rahim† | c Jordan b Broad | 89 | 77 |
| Sabbir Rahman | c Morgan b Jordan | 14 | 12 |
| Mashrafe Mortaza* | not out | 6 | 4 |
| Arafat Sunny | not out | 3 | 3 |
| Extras  14 | Total | 275 |   |
Coming down to chase, England started cautiously and confidently with the first wicket falling to a run out, that of Moeen Ali, in the eighth over.
England were almost running away with the game before Bangladesh pulled the game back with a double strike from Rubel Hossain after Mashrafe Mortaza's first.
From then on, the game swung into balance from one side to the other with Bangladesh making dismissals at regular intervals and England gaining pace with hard-hitting batting.
Right down the end, Tamim Iqbal dropped the catch of Chris Woakes, who made the final stand for England and remained unbeaten till the end at 42, at long on.
That was the time when Bangladesh fans thought they lost the match before Rubel Hossain sent the remaining English wickets tumbling. Apart from his 4-for, Mashrafe and Taskin Ahmed ended with two wickets each.
| | | | |
| --- | --- | --- | --- |
| England |   | Runs | Balls |
| MM Ali | run out (Soumya Sarkar/†Mushfiqur Rahim) | 19 | 21 |
| IR Bell | c †Mushfiqur Rahim b Rubel Hossain | 63 | 82 |
| AD Hales | c †Mushfiqur Rahim b Mashrafe Mortaza | 27 | 34 |
| JE Root | c †Mushfiqur Rahim b Mashrafe Mortaza | 29 | 47 |
| EJG Morgan* | c Shakib Al Hasan b Rubel Hossain | 0 | 3 |
| JWA Taylor | c Imrul Kayes b Taskin Ahmed | 1 | 4 |
| JC Buttler† | c †Mushfiqur Rahim b Taskin Ahmed | 65 | 52 |
| CR Woakes | not out | 42 | 40 |
| CJ Jordan | run out (Shakib Al Hasan) | 0 | 1 |
| SCJ Broad | b Rubel Hossain | 9 | 6 |
| JM Anderson | b Rubel Hossain | 0 | 2 |
| Extras  5 | Total | 260 |   |
Bangladesh Team
Bangladesh Team
Tamim Iqbal, Imrul Kayes, Soumya Sarker, Mahmudullah, Shakib Al Hasan, Mushfiqur Rahim (wk), Sabbir Rahman, Mashrafe Mortaza (C), Arafat Sunny, Rubel Hossain, Taskin Ahmed
England team
MM Ali, IR Bell, AD Hales, JE Root, EJG Morgan (Capt), JWA Taylor, JC Buttler (wk), CR Woakes, CJ Jordan, SCJ Broad, JM Anderson