ICC Cricket World Cup 2015
Umpiring confusion reigns again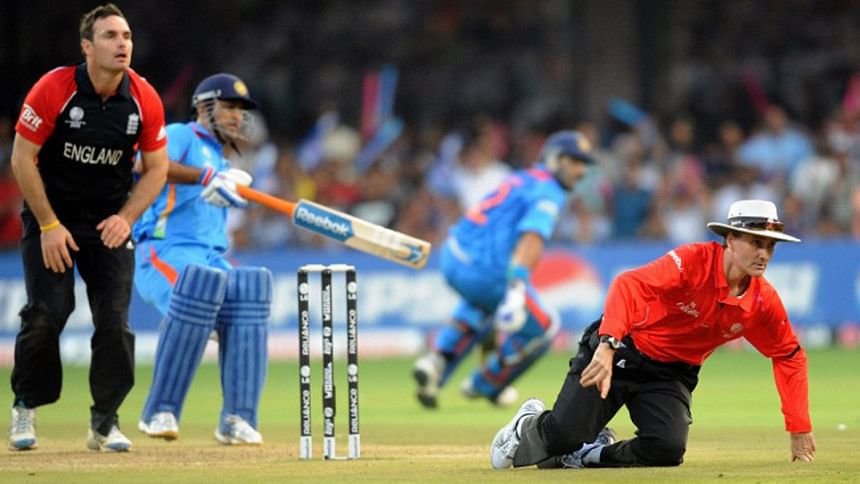 It took only seven balls for Samiullah Shenwari's delight at Afghanistan's first appearance in a World Cup to descend into personal disaster as the focus turned once again onto the umpiring confusion that has scarred the first week of cricket's biggest tournament.
Seven balls for Afghanistan's designs on a victory against Bangladesh to adorn the greatest day in their cricketing history to run into difficulties as Shenwari was barred from the attack for running on the pitch amid unclear umpiring signals that had countless millions of viewers mired in confusion.
The ICC insisted that Steve Davis, the Australian umpire, had twice warned Shenwari for running on the pitch and that correct protocol under Law 42.12 had been followed.
Andy Moles, Afghanistan's coach, made no protests, merely indicating that Shenwari had never before fallen foul of umpires for running on the pitch.
But that did not disguise the fact that Shenwari's punishment caught commentators and many millions of viewers by surprise - and that for the second time in a matter of days umpiring standards were under scrutiny.
Three officials - Aleem Dar, Kumar Dharmasena and Billy Bowden - were involved in another controversial decision during the World Cup opener between Australia and England in Melbourne, where James Anderson was adjudged run out on the same delivery after James Taylor had reviewed a leg-before decision against him, which was overturned by the DRS. The ICC later admitted that the ball should have been deemed dead.
Even the ICC's assurances could not hide the fact that the visible protocol employed by umpire Ian Gould when Mohammad Irfan ventured on to the danger area in Pakistan's opening match against India was markedly different to that displayed by Davis, who was less clear.
Against India, Irfan was obviously warned twice after which he switched his line of attack to round the wicket for both right- and left-hand batsmen and finished his quota of 10 overs. Gould signalled a first warning and second warning for everyone to see. By contrast, Shenwari's fate took onlookers by surprise. Umpire Davis issued what was assumed to be the first warning from the last ball of Shenwari's first over then banned him after the first ball of his next. Presumably, an earlier caution had been missed.
What occurred therefore was inconsistency in protocols at best; ordinary umpiring at worst.
Law 42.12 requires an umpire to "caution the bowler and inform the other umpire of what has occurred" in the first instance, and also "inform the captain of the fielding side and the batsmen". If in the same innings the bowler runs on to the danger area again, the umpire has to repeat the procedure indicating that it is a final warning.
In Irfan's case, during the 26th over of India's innings, Gould was clearly seen to warn Irfan and his captain on two occasions. At the first warning, after the first ball, he was seen raising one finger. After the fourth delivery of the same over he was seen raising two fingers to suggest it was the second warning. Nobody could be in any doubt.
The commentator, and ESPNcricinfo contributor, Mark Nicholas remarked that Irfan had also been unofficially warned when bowling from the other end by umpire Richard Kettleborough - a friendly piece of advice prevalent in the game.
Davis' gestures - hardly designed for the masses - were so understated that the ICC felt compelled to state that correct procedure had been followed. According to the ICC, the match officials stated that Shenwari, the bowler, and his captain were nevertheless warned twice in the first over and that after bowling the first ball of the second over, Shenwari was therefore quite correctly removed in accordance with Law 42.12.
But in Shenwari's case, only at the end of Shenwari's first over, does the video show Davis issuing a clear warning, with the raising of one finger. When Shenwari came back to bowl the first ball of his second over, he contravened the law again, and was taken off immediately.
Even allowing for the official explanation that Davis did issue a first caution earlier in Shenwari's opening over - and there is no visual evidence to support that - then the signals and gestures made by the two umpires were inconsistent and were designed only to create confusion.
Umpires have their own variations of signals and gestures for various decisions, but they rarely differ as wildly as Gould and Davis have in this scenario: a fact the ICC might now have to consider tightening up to be more accessible in an age of mass TV.
And, if Nicholas was correct that Irfan also received an unofficial, friendly warning from Kettleborough that he was in danger of punishment before Gould then twice issued official warnings then, by comparison, Shenwari, on the greatest day in Afghanistan's history, seemed to have fallen foul of umpiring at its most authoritarian.
Moles, typically for all those who knew him in his county days at Warwickshire, took a lugubrious view. Afghanistan have had tougher challenges than authoritarian umpires with dodgy hand signals.
"It's disappointing for him, but I don't think it had an effect on the outcome of the game," he said. "It's something we'll have to go and work on. In the seven months I've been in the job I've never known him to be called for it before but looking at the TV evidence he certainly was in the infringing area."
If Afghanistan did not know that it is tough playing cricket with the big boys in a World Cup, they certainly know that now.